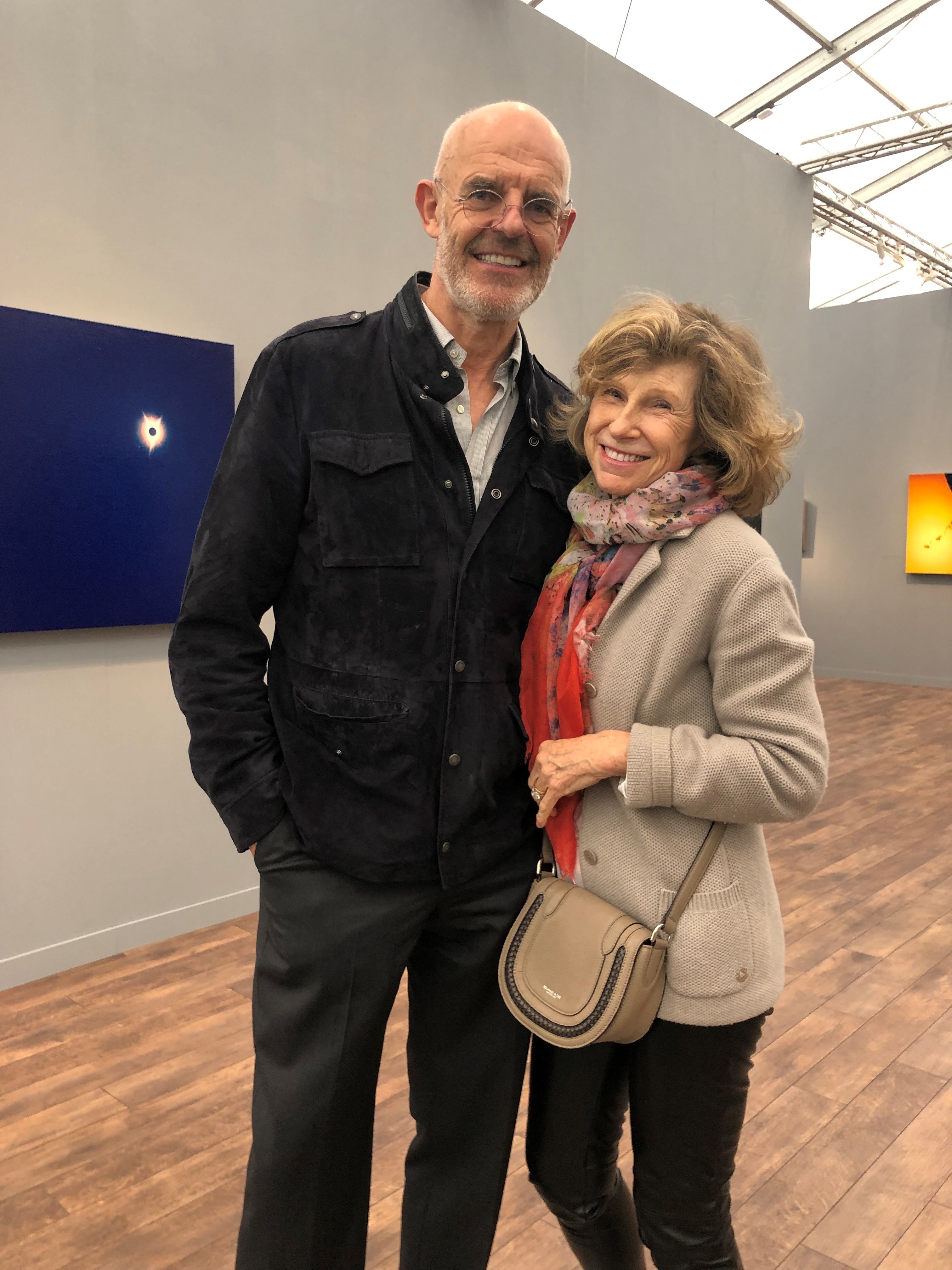 Dec 1, 2020
Q&A With Andy & Christine Hall
Andy and Christine Hall –– founders of the Hall Art Foundation –– have contributed a great deal of support to the Artist Adjunct Fund as well as pledges to scholarships in support of Black artists through the Dreyfoos School of the Arts Foundation. On December 8th at 2 PM, the couple, through the Hall Art Foundation, have organized a benefit sale to be held as part of Phillips' 20th Century & Contemporary Art Day Sale in New York, in which hundreds of thousands of funds to bring direct support to low-income Black artists at Dreyfoos is estimated to be raised. This interview transcription has been edited for brevity and clarity.
Can you tell us about the beginnings of the Hall Art Foundation?
Andy: We founded it about 15 years ago with the purpose of sharing our collection with the public. We had become what I would call 'serious art collectors' about 20 years ago. We've been collecting art for much longer than that –– you know, buying art to hang on the walls of your living room is one thing, buying it obsessively is something else. Once that started getting some momentum, and we were in a position to put together exhibitions to share with other people, it then made sense to have a vehicle with which to do that. That's when and why we founded the Hall Art Foundation.
What motivated you to organize the art benefit and fund scholarships for Black artists?
Andy: Earlier this year we were locked down in our apartment in Palm Beach [at the] same time [as the historic summer of protests for the] Black Lives Matter [movement]. After the murder of George Floyd, we were getting more and more sort of engaged with this and, frankly, enraged by it, and saying, you know, what can we do? Somehow, we should do something -- and I said, we can at least write a check to someone. We thought supporting a charity begins at home and there must be some appropriate way. We could write a check where it would actually move the needle right here in Palm Beach. Dreyfoos, I think is obviously providing opportunities to a lot of people who maybe otherwise wouldn't have the opportunity to really do something meaningful with their lives. I think education is the most important thing a parent, community, society, country can do for its people. I mean, it all comes from education.
What kind of impact do you two hope to make on our community through the scholarship funds and adjunct artist donations?
Andy: By giving money to Dreyfoos [School of the Arts Foundation], you can change someone's life.
Christine: Give them the opportunity to go to college.
Andy: Christie and I came from fairly modest backgrounds, but we both were fortunate to go to absolutely first-rate schools in England. And because of that, we both benefited from extremely good educations, and I think that's what I would attribute my success in life to. And if we can facilitate... you know, hopefully this [benefit] will raise a significant amount of money combined with what we've already given or pledged — maybe that can make a measurable difference to the outcomes of some students at Dreyfoos. And if it does, well, those students then hopefully can do the same, and it becomes a domino effect.
How do you hope to make an impact with your upcoming art benefit?
Andy: We've never really done anything like this before… but we do make the occasional exception. So, this was a first for us. But I knew that Black Lives Matter is really important to me, and I knew it was important to at least a significant number of the artists that we were approaching. And we were doing this for Black Lives Matter, but the actual beneficiary was going to be an establishment like Dreyfoos. It was a very tangible, specific institution in an interesting location because it's Palm Beach. And Palm Beach in many ways epitomizes America, where you have this stark contrast between extreme wealth and poverty. So, it was a rather unique combination of circumstances that got us involved in this.
What advice would you give to young artists?
Andy: That's a really difficult question for me to answer. Don't give up. I mean, that's a life thing. That's the advice you give to anybody.
Christine: Study, study, study, study.
Andy: Be the best. Go for excellence. And don't get distracted. Sometimes I look back on my youth and think yeah, you know, I kind of wish that I was even more engaged in what I was doing back then. But… I think [Dreyfoos students are] in a great school and they should take every advantage of it. Aim high, don't sell yourself short.
You can learn more about the Hall Art Foundation here.
For more information on the Art Benefit on 12/8 go here.
Written By: Kaja Andric and Sophia Roud