MISSION STATEMENT
The Alexander W. Dreyfoos School of the Arts will provide an outstanding arts-centered education, in concert with a strong academic program. The school serves students with exceptional ability in communication arts, dance, digital media, music, theatre, or visual arts. The faculty and staff, in partnership with students, parents, and the community will strive to meet the individual creative and academic needs of the students.
ABOUT THE DREYFOOS SCHOOL OF THE ARTS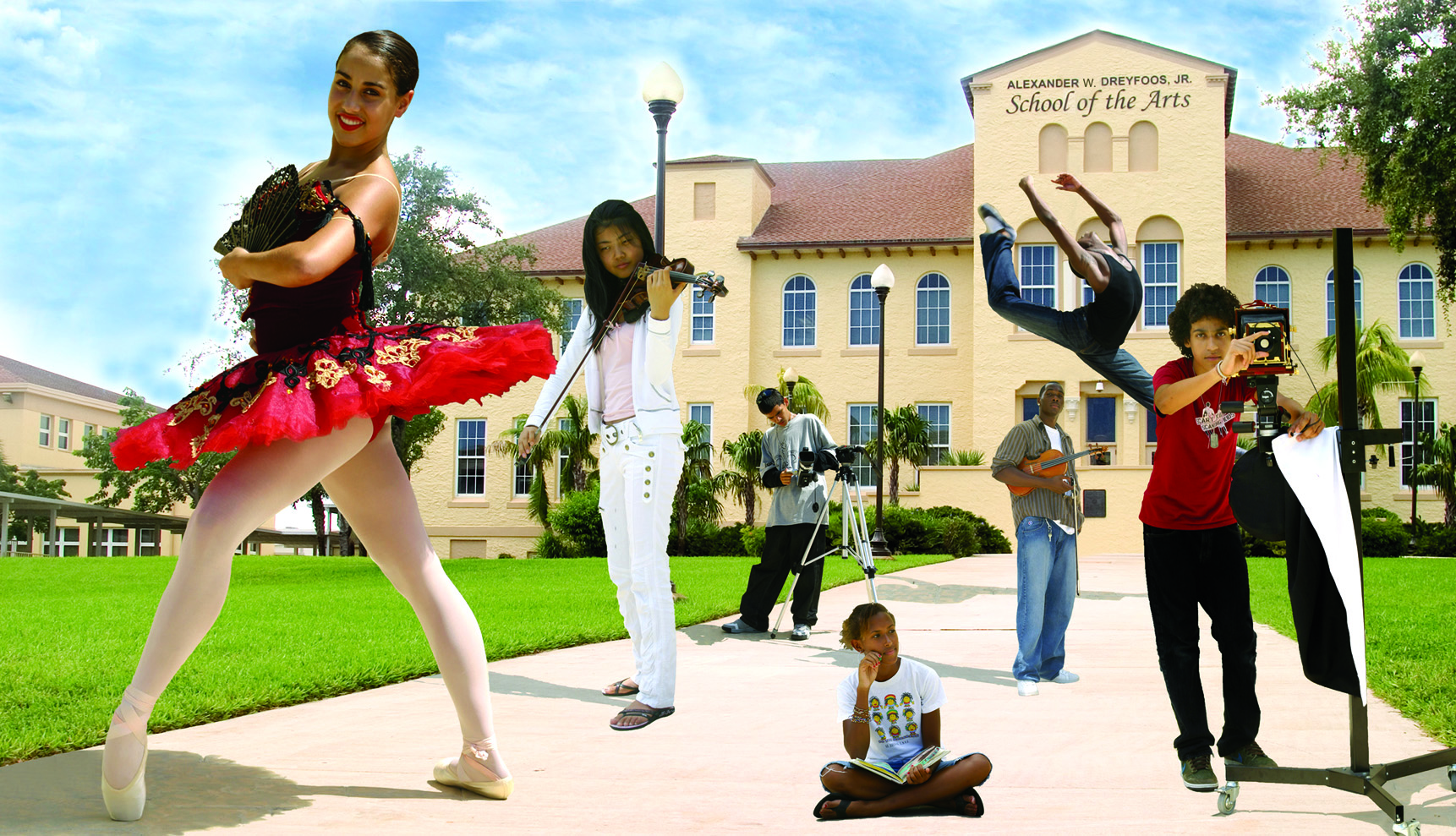 Alexander W. Dreyfoos School of the Arts was founded in 1989 as the premiere arts high school in the School District of Palm Beach County, the nation's eleventh largest school district, which serves a county geographically larger than Rhode Island or Delaware.
Located on the historic Central Schools campus in the heart of downtown West Palm Beach, this Choice Program school accepts students from all public and private middle and high schools in the county based upon a competitive audition process.
With a current enrollment of 1,400 students, the Alexander W. Dreyfoos School of the Arts offers its students intensive study within their art area and a rigorous college preparatory academic curriculum. The innovative program has led to the school receiving a multitude of awards and recognitions on all levels, local to international.

CAMPUS LIFE
Students from the Alexander W. Dreyfoos School of the Arts travel to school via car, bus, train, or foot. Since students come from all over palm Beach County, the commute can be upwards of an hour and a half.
Once on campus, students are enrolled in seven classes which are offered on a block schedule. Three classes meet every other day for 100 minutes and one class meets every day for 50 minutes. All ninth, tenth, and eleventh grade students are required to take seven classes, two of which must be in their art area. Seniors must take at least six classes, two of which must be in their art area. Additionally, many students complete coursework online through dual enrollment, Florida Virtual School and Palm Beach Virtual School. As a result, it is not uncommon for upper-level students to take between three and five art area classes their senior year.
In their time at Dreyfoos, students are encouraged to become involved in a wide spectrum of interest clubs, honor societies, and councils. There are also eight FHSAA-sanctioned sports teams.
For more information about the Alexander W. Dreyfoos School or the Arts, contact the school at (561) 802-6000 or visit their website at www.awdsoa.org.