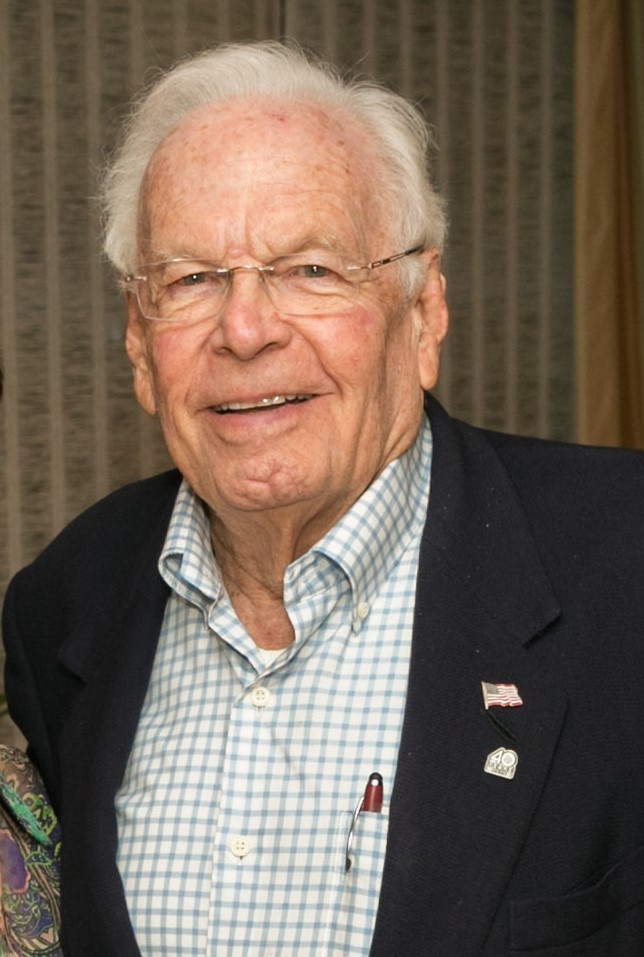 Alexander W. Dreyfoos (Jr.), born in 1932, is chairman and owner of The Dreyfoos Group, a private capital management firm, which grew out of the success of Photo Electronics Corporation (PEC), a company Mr. Dreyfoos formed with George W. Mergens in 1963 to manufacture electronic equipment for the photographic industry; and from the sale of his controlling interest in WPEC TV-12, the CBS television affiliate in West Palm Beach, Florida, which he owned from 1973 to 1996.
Thanks to the MIT loan program, Mr. Dreyfoos holds a BS degree from the Massachusetts Institute of Technology (1954), where he was active in Sigma Alpha Epsilon fraternity and completed an ROTC program. After serving in the USAF in Germany as a captain, managing a photo reconnaissance laboratory, he earned an MBA degree from Harvard Business School (1958), under the GI bill.
Mr. Dreyfoos is an inventor, holding ten U.S. and numerous foreign patents in the fields of electronics and photography, many of them jointly with George Mergens. Before starting his own company, he was employed by Technicolor NY Corporation and as a development engineer at IBM's Advanced System Development Division.
Photo Electronics Corporation was the designer and manufacturer of the digital image processing Professional Video Analyzing Computer (PVAC) used by color laboratories to make high quality color photographs. An earlier version (1964), the Video Color Negative Analyzer (VCNA), was selected by the Smithsonian Institution in 1990 to be included in their permanent exhibit, "The Information Age: People, Information and Technology." In 1970, PEC received an Academy Award from the Academy of Motion Picture Arts and Sciences for its development of a motion picture version of the VCNA.
PEC also invented the LaserColor Printer, which produced extremely high quality electronically generated color prints from color slides that were marketed as LaserColor Prints.
From 1977 until 2004, The Dreyfoos Group owned and operated The Sailfish Marina, a marina-restaurant-motel in Palm Beach Shores, docking one of the largest charter fishing fleets in South Florida.
Mr. Dreyfoos was instrumental in forming and served as first chairman of the Palm Beach County Council of the Arts (now the Cultural Council of Palm Beach County), which mounted a referendum in 1982, creating a "bed tax" that has been funding local arts ever since. Beginning in 1978, he spearheaded efforts to build a world-class performing arts center in Palm Beach County and, until June 2007, served as chairman of The Raymond F. Kravis Center for the Performing Arts through fifteen successful seasons; he remains a lifetime member of the board. The $67 million, 2,189-seat multipurpose facility opened fully funded, largely privately financed, in September 1992, when the board named the concert hall in Mr. Dreyfoos's honor. In the fall of 2003 the Kravis Center completed a $31 million expansion under Mr. Dreyfoos's leadership.
Mr. Dreyfoos is a Life Member Emeritus of the MIT Corporation at Massachusetts Institute of Technology. He has served on the MIT Visiting Committees for Electrical Engineering and Computer Sciences, and the Media Laboratory/Media Arts and Sciences, which he chaired for nearly a decade. The Alexander W. Dreyfoos Building at MIT, part of the State Center designed by Frank Gehry, is the result of his single largest gift as a donor, $15 million. Professor Pattie Maes of MIT's Media Lab is the current holder of the Dreyfoos Chair.
In 1997 Mr. Dreyfoos made the largest private contribution ever made to a public school in Florida, when he pledged $1,000,000 to support Palm Beach County's public arts magnet high school, which was subsequently named for him. The Alexander W. Dreyfoos School of the Arts offers concentrations in communications, dance, music, theatre and visual arts, with admission decided only by an applicant's talent and only through an audition process. Graduates are consistently accepted at the top colleges and universities.
In February 2004, Mr. Dreyfoos was elected to the board of trustees of the La Jolla, California-based Scripps Research Institute. With grants totaling more than $500 million from the State of Florida and Palm Beach County, Scripps built a major (360,000 square-foot) bio-medical research campus in Jupiter, Palm Beach County, which opened in February 2009. The entrance lobby was named in honor of Renate and Alex Dreyfoos.
In October 2004, Mr. Dreyfoos was made a fellow of the American Academy of Arts and Sciences.
Mr. Dreyfoos is a former Governor-appointee to the Florida Council of 100 and a founding member, director, and former chairman of the Economic Council of Palm Beach County. He is a founding member of The International SeaKeepers Society; an active member of the Chief Executives Organization and the World Presidents' Organization; and a former member of Young Presidents Organization. For seven years, until mandatory retirement, Mr. Dreyfoos served on the board of FPL Group, Inc. (NYSE-NEE). In 2006, Mr. Dreyfoos was elected to the board of trustees of the Henry Morrison Flagler Museum.
Mr. Dreyfoos is a trustee of the Max Planck Florida Institute for Neuroscience in Jupiter, the first and only Max Planck Institute in the United States. In 2014 the central atrium at the research institute was named the Alexander and Renate Dreyfoos Atrium.
The numerous distinctions Mr. Dreyfoos has received for community involvement include: Palm Beach Post Business Leader of the Year (1980), Palm Beach Post Man of the Year (1992), and their centennial recognition of the 100 people who "changed the way we live" (1999); Palm Beach Chamber of Commerce Board of Directors Special Award (1985) and One and Only Award (1992); Nova University's Entrepreneur Hall of Fame Award (1991); Florida Master Entrepreneur of the Year Award from Ernst & Young and Merrill Lynch (1992); Palm Beach Atlantic University's American Free Enterprise Award (1992); Northwood University's Outstanding Business Leader Award (1994); Florida Atlantic University's Entrepreneur of the Year (1996); Junior Achievement's Inaugural Business Hall of Fame Award (2001); American Diabetes Association Valor Award (2005); MIT's Marshall B. Dalton Award (1997) and Bronze Beaver Award (1997).
In 1999 Lynn University bestowed upon Mr. Dreyfoos an Honorary Doctorate of Science degree. In 2006 the Kellogg School of Science and Technology of The Scripps Research Institute bestowed an Honorary Doctor of Science Degree on Mr. Dreyfoos. Also in 2006, the Woodrow Wilson International Center for Scholars of the Smithsonian Institution presented him the Woodrow Wilson Award for Corporate Citizenship.
At a luncheon held at the Kravis, on March 23, 2007, celebrating 27 years as chairman of the Kravis Center, Mr. Dreyfoos was presented with proclamations from the Palm Beach County Commission and the City of West Palm Beach declaring March 23, 2007, Alexander W. Dreyfoos Day. In addition, the mayor presented him the key to the City of West Palm Beach.
In 2008 Mr. Dreyfoos received the Lifetime Achievement Award from the Association of Fundraising Professionals. In 2011 he was named one of 42 Centennial Ambassadors (who had done the most for the Town of Palm Beach during its first century) as part of the Town's centennial celebration. In 2012 he received the Palm Beach Civic Association's Community Service Award, as a town resident whose contribution to the town has significantly improved the quality of life in the community. The Palm Beach Police Foundation presented him with their 2013 Palm Tree Award.
The Historical Society of Palm Beach County chose Mr. Dreyfoos as their 2012 honoree for their Eleventh Annual Archival Evening as a "Man of Vision, Culture and Community." Most recently, in May of 2013, he was proud to accept the prestigious Ellis Island Medal of Honor.
Mr. Dreyfoos and his wife, Renate, live in West Palm Beach, Florida, and spend their summer months traveling on their boat Silver Cloud and relaxing in the Adirondack Mountains of New York State. His daughter, Cathy, a widow, and her two adult children reside in Tampa. His son, Robert, is a Lead Program Manager at Microsoft and is married and living in Seattle. Rob's two sons have both graduated with mechanical engineering BS degrees, one from Gonzaga University and the other from MIT.
Since earning it as a teenager, Mr. Dreyfoos has maintained an active license as a ham radio operator (K4BDM). He has had a lifelong interest in outdoor activities, such as scuba diving, freshwater and deep-sea fishing, and ocean sailboat racing (as navigator). In May 2010 the Dreyfooses received the Boat International World Superyacht Voyager's Award in conjunction with their 44,000-nautical-mile, 19-month odyssey aboard Silver Cloud. Mr. Dreyfoos holds an ATP pilot certificate with jet aircraft and turbine helicopter ratings and has logged over 5,000 hours as pilot in command. The photographs he has created during these activities are highly regarded. Many can be seen in his book, A Photographic Odyssey: Around the World with Alexander W. Dreyfoos (2014).
Mr. Dreyfoos is a member of the New York Yacht Club, Sailfish Club of Florida (Palm Beach), First Unitarian Church of Palm Beach County, and The National Society, Sons of the American Revolution.