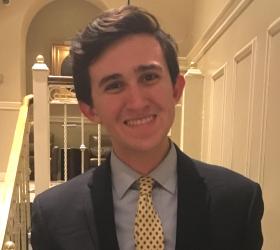 Sep 26, 2017
Speaking of Success
Spotlight Date:
September 27, 2017
Download Original
]" class="imagefield imagefield-lightbox2 imagefield-lightbox2-spotlight_thumb imagefield-field_spotlight_photo imagecache imagecache-field_spotlight_photo imagecache-spotlight_thumb imagecache-field_spotlight_photo-spotlight_thumb">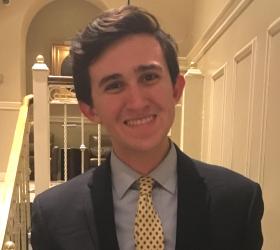 Dreyfoos Communication Arts senior Alexander Gordon has just returned from the Yale Invitational Debate, where he took first place for the second year in a row. A member of the Speech and Debate team at Dreyfoos for four years now, Alex's talent for communications was apparent from a young age. "My parents tell me that I've always had 'the gift of gab.' Whether that meant negotiating a later bedtime or my preferred pizza toppings, or having little hesitation talking to adults, communication was a part of my nature."
That gift has served him well. "Winning the Yale Invitational in Congressional Debate for the second year in a row was an incredible honor. The final round of the tournament was intense, with some of the top debaters in the country. To have won the tournament was very humbling and it validated all of my hard work and dedication to debate. It was shocking to have won once, but twice? That was beyond my wildest dreams. Dreyfoos brought 12 students to the Yale tournament, and we came home with 8th place overall team sweepstakes out of 212 schools. We were small but mighty, and it is such an honor to be part of and President of such a welcoming and successful team."
In addition to the Yale Invitational, Alex and the Speech and Debate team participated in the National Speech and Debate Association (NSDA) National Tournament in Birmingham, Alabama this summer, which the Foundation helped fund travel expenses for. "The NSDA National Tournament this past June was an amazing experience, which without the generosity of the Foundation, I would not have been able to attend. I participated in Congressional Debate in which students simulate the United States Congress, drafting proposed legislation, and debating the merits and consequences. Advancing to the final round, I learned and debated about pressing issues that face the American people, such as Russian sanctions, concealed carry reciprocity, and digital privacy from law enforcement. It is eye-opening to debate issues that not only have an impact on the country, but on my community, and my future. Dreyfoos, as a team, was a Speech School of Excellence, putting us in the Top 20 of the nation, and our coach, Mrs. Anyzeski, was awarded her 4th Diamond by the National Speech and Debate Association."
"The Dreyfoos debate team has become a second family to me. Being able to travel the country with a great group of team members, and to learn from each of them, has been a vital part of my high school experience, and I would not have had such an incredible opportunity at any other school."
Like many students at Dreyfoos, Alex has more than one passion and his focus in the Communications department includes being a staffer on the award-winning newsmagazine, The Muse. "My sophomore year, I was a news staffer, covering important events in the Dreyfoos community. My junior year, I was Co-Cover Story Editor, working to write stories about issues or events that warranted attention from the whole student body, and accordingly, designing layouts, holding interviews, and conducting school-wide surveys. This year, I am the Managing Editor of The Muse, where I work to maintain the day-to-day operations of the publication and collaborate with the entire staff, from the Editors-in-Chief to staffers. Journalism is a way, like debate, for me to communicate a message, but this time, through written means."
To further his studies in Communications, Alex has attended multiple summer programs, including the Florida Forensics Institute, the Champion Briefs Institute, and the Invicta Debate Institute. He has also attended the Notre Dame Leadership Seminars, a program taught by Notre Dame professors on Global Issues, and the Coolidge Senators Summit in Washington, D.C. as part of the Coolidge Foundation's Presidential Scholarship.
"Debate and public speaking have not only afforded me the skills to effectively convey my message to an audience, but have taught me to see both sides of a story, and how to respectfully disagree with others while simultaneously defending my arguments. Everything I have learned from debate will carry forward with me for the rest of my life."
Outside of his department, Alex is the Vice President of the Student Government Association, volunteers with Palm Beach County Youth Court, the Morikami Museum and Japanese Gardens, and the Palm Beach Chamber Music Festival. This past summer he was an intern for Congressman Ted Deutch.
"The teachers at Dreyfoos are truly one-of-a-kind. They want you to succeed, not only in your academics, but at your arts, too. Dreyfoos has afforded me a dynamic education where I fuse my learning into my art and my art into my learning. I apply my argumentation skills to my writing, my American and European history lessons into my speeches, and my critical thinking to maths and sciences. I have an interdisciplinary education that provides me with unparalleled opportunities. Earlier this year, some of the journalism students attended the Forum Club of the Palm Beaches, where I was able to ask a question to the Democratic gubernatorial candidates. The arts at Dreyfoos, not only Communications, have enriched my overall experience. I am surrounded by creative and collaborative minds, and the people of Dreyfoos truly make it what it is."
Alex is in the midst of deciding where to apply to college and plans to study political science, public policy, or government. "Dreyfoos has expanded my breadth of knowledge and skills in public speaking and writing. Through extensive research from debate, I've become well-versed on a variety of real-world legislative subjects. I want to take these lessons out of the student congress chamber and into a real political platform. I've gained a clearer perspective on how to generate improvements through legislation, piquing my interest in pursuing public policy as a way to effect positive change across my community and beyond. I want to do some good, create some change, improve some lives, and enjoy doing it. Everything I have learned at Dreyfoos, both inside the classroom and outside of it, will continue to shape me in the future, and I cannot be more grateful.