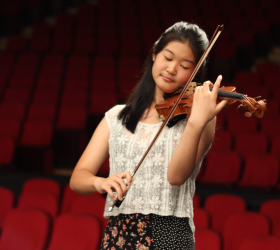 Apr 21, 2019
Sophia Zheng: Senior Class Valedictorian
Spotlight Date:
April 22, 2019
Download Original
]" class="imagefield imagefield-lightbox2 imagefield-lightbox2-spotlight_thumb imagefield-field_spotlight_photo imagecache imagecache-field_spotlight_photo imagecache-spotlight_thumb imagecache-field_spotlight_photo-spotlight_thumb">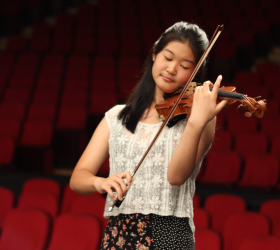 Strings senior Sophia Zheng has walked many stages. She's crossed the globe twice and stood in front of crowds big and small. From Sydney, Australia, to Beijing, China, to Dreyfoos' own Meyer Hall, she has bowed to applause, same smile always spreading wide across her face. Yet no stage she has crossed quite resembles the one she will face on May 17th. Trading her violin for a microphone, Zheng will look up at a unique crowd, a sea of bobbing black caps, poised for an unusual performance. Some faces will be familiar, some won't, all will share with her one thing: their time at Dreyfoos has come to an end. They've each reached the culmination of, like Zheng, four years of a passionate mix of arts and academics, and today is their graduation day. They're ready to hear from the leader of their class, a student who represents Dreyfoos' values, and who has earned the responsibility of giving the commencement address.
Zheng is this year's valedictorian, and there's no denying her merit. In her four years of high school, she has founded both a student club and non-profit organization, attended prestigious summer institutions, and participated in various music programs year-round to advance her artistic pursuits. Yet in reflecting on her high school experience, it's not her accomplishments and experiences that she feels stand out most in making her four years the best they could be.
"The most gratifying thing about my high school experience was realizing the amazing community of friends I am surrounded by," Zheng said. "During events like Prom and Grad Bash, I truly felt the support and kindness of the Dreyfoos community and my friends.
Though "specifically becoming valedictorian" was never a goal for Zheng, her hard work in both the arts and academics and consistent dedication to learning helped to pave her path to valedictorian.
"I did strive to be at the top of the class. I wanted to take stimulating classes and learn more," Zheng said. "I worked hard and efficiently. I took courses that truly interested me and gave me a deeper understanding of diverse topics."
In her sophomore year, Zheng took her work ethic and began applying it to a personal goal of hers: to spread her art form with those less fortunate than herself. In founding her own student-led non-profit organization, Find The Keys Bedrock, Zheng committed to providing "free music to underprivileged children in [the] community." Over the past three years, with the help of her peers, the organization has grown and now offers six free music programs, "Available for All (A4A) Music Camp, UB Kinsey Elementary School Morning Music Program, Salvation Army Afternoon Music Program, Rising Artists Competition, Free Private Lessons, and Benefit Concert Series." Outside of her work with the non-profit, Zheng took it upon herself to join music groups and engage in further community service.
"My sophomore year, I founded the heARTS Club at Dreyfoos School of the Arts, collaborating with Trustbridge Health, a community non-profit hospice program. As President, I oversee meetings, volunteer orientations, and events," Zheng said. "I [also] play the violin in programs like the National Youth Orchestra of the United States of America (NYO-USA)."
Throughout high school, Zheng also committed her summers to her musical pursuits. After gaining admittance to the six-week intensive Heifetz International Institute of Music in Virginia, Zheng was afforded the opportunity to study under distinguished professors and soloists. Her musical endeavors have taken her to some of the most prestigious concert halls in the world—she played as a "violin concertmaster and soloist" at both Carnegie Hall in New York and the Sydney Opera House in Australia. And her travels don't end there—her participation in the NYO-USA led her to stages across Asia on a professional tour.
"I was a violinist and music ambassador with the NYO-USA, a five-week summer program beginning with a three-week training residency of intensive rehearsals with professional musicians.," Zheng said. "After a performance at Carnegie Hall, I embarked on a tour through Taiwan, Shanghai, Beijing, Seoul, and Daejeon with the Music Director of the San Francisco Symphony, Michael Tilson Thomas, and renowned virtuosic French pianist, Jean-Yves Thibaudet."
Though Zheng doesn't have every aspect of her future figured out, she is certain violin will stay a part of her life, no matter the direction she takes. In terms of her education, she will most likely be attending Princeton University in the fall, where she plans to study public policy or economics. Her biggest take-away from her four years? To "Take a look around and relax." Keeping a "broader and open perspective," she said, was key to her success and happiness in her high school experience.
"It is easy to get so focused and consumed in the homework, extracurriculars, and excitement of high school life," Zheng said. "However, it is important to take a look around and relax. Keep your eyes and mind open. Imagine your future. Be happy."
By: Maddy Rubin