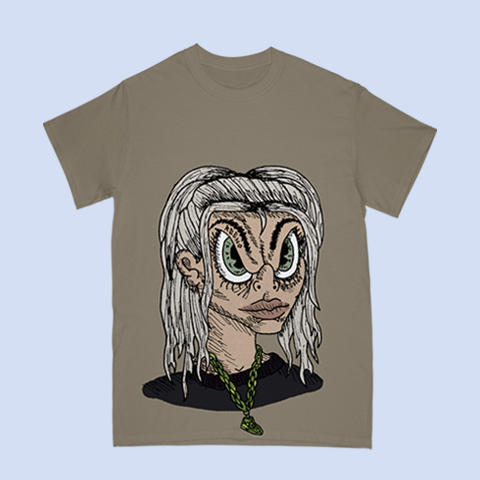 Dec 6, 2019
Sam Mazzarino
Billie Eilish. Travis Scott. Playboy Carti. A$AP Ferg. These names are a few on a long list of those who have recognized visual senior Sam Mazzarino's artworks. With a following of over 17.5 thousand on his art and clothing company's Instagram (@reenostus) in a little under two years, Mazzarino has taken his passion for art and turned it into a profit.
"What first inspired me was seeing other people making art their careers while I was working a job I didn't enjoy," Mazzarino said. "I felt entitled to be able to do what I loved [as] my job."
Mazzarino originally began a clothing line titled Faceless in his sophomore year in an attempt to make money from his art and spread his artwork around. However, he chose to discontinue Faceless after three seasons of clothing.
"Faceless made me realize if you try to do something just for money you won't make a lot of money," Mazzarino said. "So, I decided to take many more risks with REENO, and put my entire force into it; heart, soul, mind, hours of work, everything. I wasn't going to let my success be left up to chance, I took full control."
In May of 2018, Mazzarino started the Instagram for REENO to post to his online community for feedback. He accumulated support through engagement groups with other artists, where they would provide each other shout outs, likes, and comments. In addition to this, Mazzarino drew portraits of celebrities and direct messaged them to fan accounts, giving a shout out in return for a repost.
"It was all a numbers game in the beginning, and it was very effective in creating a small fan base full of real people," Mazzarino said. "I am happy to say I now generally get 100-200 comments on my work with no engagement groups, all genuine fans."
Making the decision to devote himself to REENO, Mazzarino quit his job at a pizza parlor, and began to find a balance between schoolwork and artwork. Often spending rides to school and lunch periods working on homework assignments, he prioritized his time at home on the creative aspects of his business.
"My favorite part of what I do is the feeling that I am really making a positive difference in the world - specifically the art/entrepreneur world," Mazzarino said. "The scale of which I know couldn't have been possible without me going full-time with REENO. Seeing that initial big risk of quitting my secure job pay off. It's better than money, it's fulfillment."
Engaging both the Dreyfoos community and online support, the REENO brand has become a personal platform to speak for Mazzarino.
"My biggest supporters outside of Dreyfoos are my Instagram followers, easily," Mazzarino said. "I would like them to know that it's hard to express how much I appreciate them through a screen, and there's only so many ways I can say it, but I truly do appreciate them and their support fuels me at times."
Through dedication and consistent uploads, Mazzarino built an empire with his clothing designs and art. The first celebrity to notice Mazzarino's art was singer and songwriter Billie Eilish, when fans tagged her on a portrait he created. The REENO design is now featured on her merchandise website www.billieeilishmerch.com, and she posted it on her Instagram as well.
"Collaborating with Billie Eilish made me realize there's value in not only creating art for myself but creating art for myself that other people can access and enjoy as well," Mazzarino said. "It made me realize if you can get people to connect with your art, that's the key to making a living off of it."
Since then, various artists and creative collaborators have taken notice of REENO, recognizing Mazzarino's commitment to his talent, including Nike's senior design director, rappers Travis Scott, Playboy Carti, and YNW Melly, and Dreyfoos alum and comedian Eric Andre.
"Gaining a big following has forced me to create more consumable art," Mazzarino said. "This doesn't mean art of a [lower] quality, the quality remains consistent, but my communication of the piece has improved. I'm more focused on making art that can make multiple people's lives better, rather than just my own."
REENO has expanded beyond its original purpose as a business, and onto various platforms. Mazzarino now utilizes Twitter (@ReenoStudios) and posts to his YouTube channel: REENO Studios, answering commonly asked questions and further explaining concepts he wants to discuss with his followers.
"I mainly post philosophy/ mental health/ mindset/ business-centered videos, along with other specific tips and tricks for operating life," Mazzarino said. "As I learn, I teach. This helps me learn better and spreads the knowledge further. It also means I add more value to the lives of my supporters, making them take more pride in supporting me."
REENO has now dropped 5 seasons of clothing, and the most recent set titled "the KanYe West T-Shirt" sold out in a matter of minutes. Mazzarino looks back on all his efforts satisfied with the results.
"As far as what else I want people to know about REENO, I want people to realize it's not just about art, it's mainly about personal development. Both mine and yours (You are being a part of the brand's community). My main goal is to empower/ inspire/ motivate as many people as humanly possible.

Written By: Anamaria Navarrete