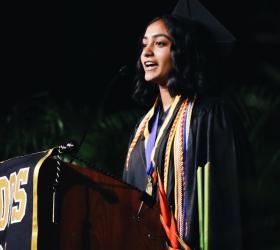 May 30, 2018
Perseverance is Key
Spotlight Date:
May 31, 2018
Download Original
]" class="imagefield imagefield-lightbox2 imagefield-lightbox2-spotlight_thumb imagefield-field_spotlight_photo imagecache imagecache-field_spotlight_photo imagecache-spotlight_thumb imagecache-field_spotlight_photo-spotlight_thumb">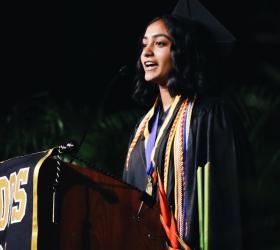 In her time at Dreyfoos, Class of 2018 Valedictorian Mounika Vattigunta has been challenged academically and artistically. Mounika will be attending the University of Miami as an Isaac Bashevis Singer scholar and Foote Fellow. "I am in the HPM program which is a pre-med program and will be double majoring in Microbiology and Healthcare management. My plan is becoming an oncologist in the future." Mounika said.
Mounika's interest in science began around middle school. "I was often intrigued about the various applications of science. Over summer, I attended SSTP at the University of Florida. I learned about gene therapy over the summer, and I'm excited to learn more about that particular application in college by working in a lab." Mounika explained.
Mounika has also interned at Scripps Research Institute. Regarding her time at Scripps, Mounika said, "I started my internship in sophomore year. I manufactured chemical libraries that contained millions of different compounds that are used for chemical screening for drug discovery. I know how to perform aldol reactions with different reactants to see which products have increased chirality and 3D shape, which allows these compounds to target specific proteins more efficiently. This internship has allowed me to apply what I learn in the classroom to the outside world. It has allowed me to delve deeper into a specific branch of science and see how science can potentially aid in fixing societal problems." During her junior summer, Mounika also attended Secondary Student Training program at the University of Florida where she performed research on Idiopathic Pulmonary Fibrosis.
Mounika's passion for science had led her to start a club known as the "voice for cure". She said, "This club provides music therapy for cancer patients who are going through chemotherapy. I also volunteer at the hospital regularly." Additionally, Mounika has tutored students at foster homes and Place of Hope, an elementary catholic school.
"Though academics are important and what I choose to focus on in college, I think arts are equally as important. They provide a sense of stress relief, but also allow students to grow their passion in something that brings them joy." Dreyfoos has been challenging academically and artistically for Mounika. "I've had to work hard, but I think this has actually helped in many ways." Mounika said.
Besides focusing on science and academics, Mounika has also dedicated her time to excelling vocally as well. "The hard work I apply in vocal has paralleled the same sense of ambition in my academics." She continued, "My internal drive to improve on my technique has inspired me to hone my skills in the art of singing. My father has also played a large role in pushing me out of my comfort zone when singing."
Perseverance seems to be the underlying theme to Mounika's success. She has persevered academically, artistically, and has even dedicated her time volunteering for various charities and fundraising groups. "Watching my parents come to the United States and work hard to give me the life I have now has inspired me to take advantage of all the opportunities presented to me. I think this is what paved the way to my achievement of becoming valedictorian." Mounika explained.
When asked what Dreyfoos means to her, Mounika replied, "Dreyfoos has a student body like no others. Every student I have met has come from a different background that has made me more receptive and open to a multitude of issues. I've also received a top-notch arts education. The art of singing and being in a choir has instilled principles of discipline and determination in me, and I think this strongly correlates with my academics as well. Dreyfoos means stepping out of your comfort zone and exploring the different interests you have. It means finding your passions in separate spheres, mine being music and science."