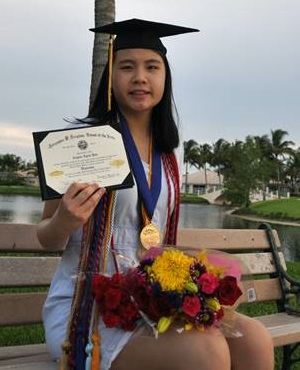 Jun 12, 2020
Paving the Path to Her Future: Angela Yan
Throughout her high school career, Class of 2020 valedictorian and visual senior Angela Yan has totaled 20 AP classes, various dual enrollment credits, alongside her visual arts classes and extracurriculars. With determination and aptitude, she has achieved accolades.
"Being valedictorian is significant to me because it shows I was able to learn as much I could and delve into my interests, Yan said. "Honestly, my end goal was more to prove to myself that my hard work pays off rather than to be valedictorian. I would have been happy knowing that I challenged myself even if I wasn't valedictorian."
While studying at Dreyfoos, Angela cultivated her visual arts talents in Building 9. She describes some of her fondest memories as moments at stayafters for Open Studio Wednesdays, or in the classroom for courses such as Senior Portfolio and AP Drawing.
"I loved being part of the crazy energy as we prepared for art shows and worked on our pieces," Yan said. "Everyone in the visual and digital community is so supportive of each other.
In her four years at Dreyfoos, Yan was no stranger to involvement in her community. She was an Organizing Fellow for the Florida Democratic Party, as well as co-founding and serving as Director of Graphic Design for Asian Youth for Civic Engagement.
"I worked for political organizations throughout high school," Yan said. " I planned field strategy and organized get-out-the-vote drives...The AYCE team and I publish articles and graphics to politically engage Asian American youth, a traditionally underrepresented and underserved group in American politics. Civic engagement is extremely personal to me - my brother and I are the first people in my family born with the right to vote in a free election."
In addition to her participation in the civic issues around her, Angela was actively involved in various extracurriculars, as a member of various clubs, a part of the varsity cross country team, and the speech and debate team in the high school circuit all four years.
"My favorite Dreyfoos club to be involved in was St. Baldricks. It was fulfilling to see the event evolve from one year to the next as we thought of more creative ideas," Yan said. "Raising money each year and seeing Dreyfoos students' enthusiasm to volunteer and shave their heads validated my belief that young people can make a difference."
Yan participated in both local and travel debate tournaments as a congressional debater.
Following the final classroom date in early March, along with the rest of her class, Yan saw unprecedented cancellations take hold of her final days as a senior, due to the international pandemic scientifically known as Covid-19.
"When school was canceled in March, I expected the crisis to be contained and for us to return to school for prom and graduation," Yan said. " I didn't expect for all of the senior rites of passage to be canceled. Despite this, I'm optimistic that by staying strong and following social distancing, we can get through this."
Following graduation, Yan plans to attend Vanderbilt University on a full Cornelius Vanderbilt Scholarship, which provides her with full tuition and a summer stipend. She will be majoring in economics and public policy, and would like to one day work internationally in global development initiatives. Her dream career is to "lead economic development at the World Bank," and she wishes to steer development policy to focus on a more individualized, experimental approach.
"Dreyfoos has allowed me to learn from brilliant academic teachers without sacrificing my love for the arts," Yan said. "I will continue to use that multidisciplinary approach in college, my career, and beyond. I would advise underclassmen to not stress too much and to forge their own paths. Be your own person. Don't try to do what the person next to you is doing just because they are superficially successful. Chances are they don't know exactly what they want to do or who they want to be either."
Written By: Anamaria Navarrete