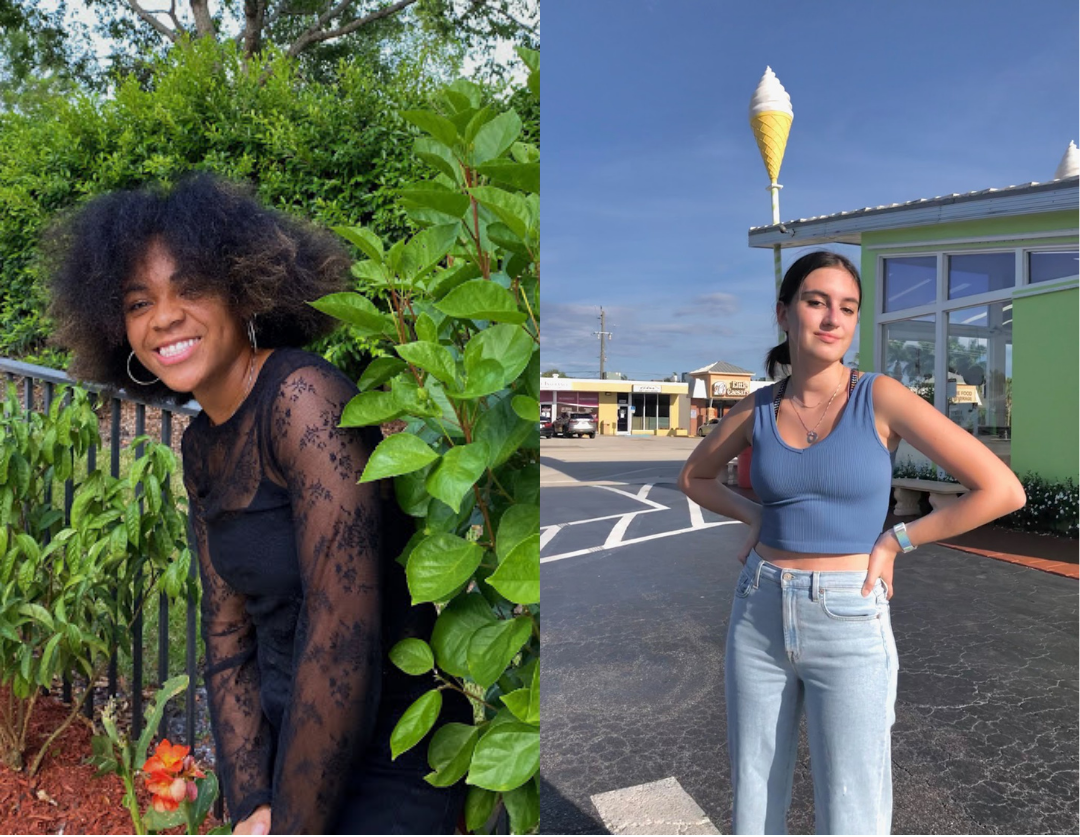 Oct 8, 2020
Kailyn Bryant & Mayah Bernstein: Student Activists
With 2020 bringing so much turmoil and uncertainty into our daily lives, two passionate Dreyfoos seniors are taking action! Mayah Bernstein (on the right), a technical theatre major, and visual arts major Kailyn Bryant (on the left), have spent their free time highlighting the accomplishments of Black artists.
By shining a spotlight on the cultural contributions of Black creators, Mayah and Kailyn are bringing appreciation and awareness for Black creators around the world. "In June of 2020, many people, including myself, participated in the Instagram initiative #blackouttuesday to show solidarity with the Black Lives Matter movement. I am trying to bring activism [into] my daily life beyond posting on my Instagram story," Bernstein says.
#ArtHeals Bernstein continues, "I decided I would use my love of art and art history. I shared the work of my favorite Black creatives with my followers. This blossomed into a daily post about different creatives highlighting Black actors, singers, artists, and dancers. Wanting to create a space where I could reach a broader audience than my personal Instagram followers, I collaborated with Kailyn Bryant, to create [our website] Embrace Black Voices."
Their website is updated weekly with shoutouts to Black creatives and is full of resources. "The site provides resources for its viewers to support Black women, The Human Rights Campaign, and the Black Lives Matter movement." says Bryant. They welcome submissions from the public for their weekly spotlights.
Both of these young women feel the Dreyfoos community has helped them thrive. "I love how supportive the Dreyfoos community [is]. I know that my teachers and friends are there to help me out. My favorite thing about being a Dreyfoos student is that I have a place where I can be myself." Bryant says.
On September 13th in West Palm Beach, the two led and organized an equity parade to speak out against racial injustices. When asked what aspect of social activism was most fulfilling, Bernstein said, "I enjoy the comradery of social activism. I love that people are able to get together and stand up for what is right. I love when someone is in need, activists are out there to fight for them and support them. There is true compassion, I believe, in every social activist's heart and it brings us together."
Mayah looks toward Black Lives Matter co-founders Alicia Garza, Patrisse Cullors, and Opal Tometi for inspiration. "I am inspired by their ability to create this movement from a Facebook post and the tenacity that they will not give up until everyone knows Black Lives do Matter," says Bernstein.
Bryant tells us how more people can get involved. "I want people to know that they can get involved in activism no matter how old they are. Everyone can make an impact; you just have to know what you are fighting for and put in the effort. It's worth it!"
The pair have plans for continuing their activism in the future: "[We] plan on growing outreach and voice in the future by continuing Embrace Black Voices. I plan to involve my college student body," Bernstein said. So be sure to follow them on Instagram for the latest.
Written By: Mariel Silpe
Equity Parade Photos By: Allison Robbert