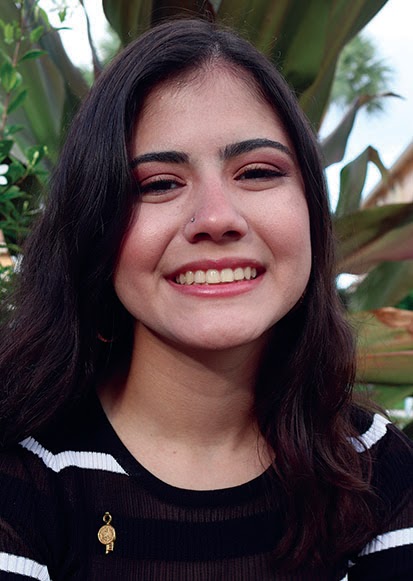 Nov 6, 2020
Isabella Ramirez: National Student Poet
DSOA communications senior Isabella Ramirez is awarded the title and praise of National Student Poet for her submission to the Scholastic Art & Writing Awards. This is one of the highest possible honors a high school student can obtain in creative writing.
Isabella says she got into creative writing and specifically poetry fairly recently, but has grown to express herself through this art form. "I got into writing poetry my junior year. I was more into journalism and I wanted to explore the verbal and spoken word aspect of communications."
Isabella is on the staff of both the Marquee and the Muse on campus, so she is well versed in journalistic writing, but poetry was somewhat foreign to her.
Isabella explains that it was slam poetry that got her into writing. "My [biggest success] was probably the slam poetry team. I didn't really consider myself a poet and it was very much new to me. My [Dreyfoos] teacher [Ms. Brittany Rigdon] pushed me toward it, and I ended up being a finalist [in competitions]. It gave me a lot of confidence and trust in myself and my ability."
"My favorite aspect [of poetry] has probably been the community of people I've been able to access. It is a very community-oriented program that brings awareness to poetry and literacy." Isabella says she is working with the Alliance of Young Artists and Writers as well as the Institute of Library Services to bring poetry to communities in her region.
"So, in the National Student Poet Program, I represent the Southeast region of the U.S. 20,500 poems were received, and of those 1,400 received gold keys. These recipients proceed to national judging where 400 receive awards, then there are five finalists, one from each region." Ramirez explains.
"Beyond being simply a cash reward, it is a year-long ambassadorship. So, this gives me the title of Literary Ambassador. I do poetry workshops and tap into local and community resources."
Isabella knows that poetry as an art form has some difficulties, "poetry is regarded as this elitist platform, and it has been a struggle to be different in this community. It is hard to be so underrepresented in the arts." but, she says "I'm not afraid to say how things are from my perspective, from a minority perspective. I'm glad I have been able to focus on myself and my story and tell it so others can resonate with my story."
Isabella discusses themes of introspection, perspective, and identity in her poetry and opens up a discussion for people of all cultures and ages. "In my themes of identity, I want to speak from my experience. I am someone who has both struggled and faced successes [with my identity]. As someone who is Latina, who is queer, all people can relate in some way to my story and how their identity has affected their stories as well." Isabella feels her poems are more relevant now than ever and plans to continue highlighting the youth perspective.
"I like to listen to powerful female poets who aren't afraid to be themselves and be proud of who they are." Isabella says that her biggest inspirations are the Latina spoken word poet Melissa Lozada-Oliva and Olivia Gatwood. She says Lozada-Oliva's poem entitled My Spanish inspired her. "I take inspiration from her. She is a Latina slam poet, and she combines language as well as cultures in her poems."
Isabella attributes much of her own successes in poetry to Dreyfoos. "I think Dreyfoos is the biggest thing that has contributed to my success. I have received massive support from the community of the communications department and my teachers."
"My teachers have helped me step outside of just confining myself to one aspect of my art and really expanding it." Ramirez explains, "I am beyond thankful for the resources Dreyfoos provides."
"There is no better place to be an artist than Dreyfoos."
Watch Isabella perform her spoken word poem "Mama" here.
Written By: Mariel Silpe