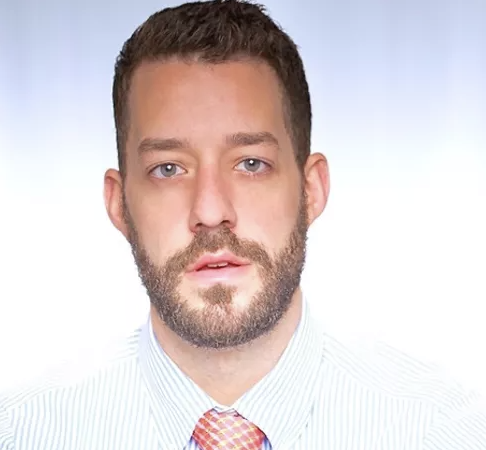 Oct 18, 2021
Getting to Know Mr. Swan
Getting to Know Mr. Swan
Charles Swan has been a lot of things: an actor and director off-Broadway in New York, a performer in Germany, and, most recently, the newest musical theatre teacher at Dreyfoos. You can tell Mr. Swan is passionate about his art form when you step into his classroom, where next to "Black Lives Matter" and pride flags hang dozens of posters for plays and musicals.
Mr. Swan's love for theatre started young — his high school choir, to be exact. After getting his Bachelor of Arts in musical theatre, he took up gigs in New York and toured the country until finally, he took up the opportunity to teach musical theatre in Texas.
"I'm really glad I did," Mr. Swan said. "Because I feel like it was the combination of two passions of mine, which is sharing my passion about musical theatre with others and doing musical theatre."
Mr. Swan tries to instill in his students what he has learned from working in real show business. By working in several productions around the country, including Pulitzer Prize-winning play "Young Man From Atlanta," Mr. Swan has been able to capture what is needed to succeed in theatre and seeks to help his students in achieving their goals in the field.
"I think it's important for an educator to be current in the fields," Mr. Swan said. "[My experience] allowed me to be on the frontlines of what's happening in our industry and also to see what the good pedagogy practices are, like what is actually needed in rehearsal."
Mr. Swan values an unconventional approach to education. He believes in the artistic value of theatre and distinguishes it from normal subjects taught in a classroom. He has taken what he's gathered from his experience in the industry to make criteria to evaluate his students in the classroom setting.
"I think when we try to do things in a prescriptive nature, we miss people's inherent artistry," Mr. Swan said. "Which is something that's fun to wrestle within a public education setting where we love to do things by assessment and rubric. That doesn't always match up with the subjective art form … It's fun to think about things that I learned from my professional career in the industry and trying to merge those in a very standardized place like public education."
Though it is only his first year, students seem to already have taken a liking to Mr. Swan, developing almost a cult following around him. When he walks down the hallways, students run up to him and smile. At the annual International Thespian Society picnic, held by the theater department, Mr. Swan joined the students in their antics, allowing them to tackle him and cover him with shaving cream.
"The students that go to this school are amazing," Mr. Swan said. "They're not just great artists; they're also like really good humans. I think that makes it really easy as a teacher to want to do everything you can to make their life [and] their classes as meaningful and rich as possible … I think that happens when you find members of your own tribe."
His love for theatre is infectious, as the students he teaches have picked up on. With Mr. Swan being the musical director for the upcoming Dreyfoos spring musical "The 25th Annual Putnam County Spelling Bee," the whole school will be able to see what he brings to the Dreyfoos theatre department.
"I think part of our job is to share stories," Mr. Swan said. "And let people figure out how those lessons and moral motifs fit into their lives … Theatre is also a great way to teach people how to feel and how to connect with others."
Story by DSOA Communications Student Jenna Lee.