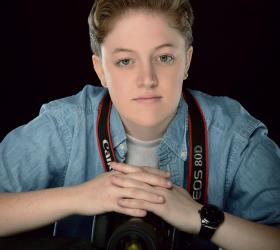 Jan 16, 2019
Fascinated by Film: Valerie Betts
Spotlight Date:
January 17, 2019
Download Original
]" class="imagefield imagefield-lightbox2 imagefield-lightbox2-spotlight_thumb imagefield-field_spotlight_photo imagecache imagecache-field_spotlight_photo imagecache-spotlight_thumb imagecache-field_spotlight_photo-spotlight_thumb">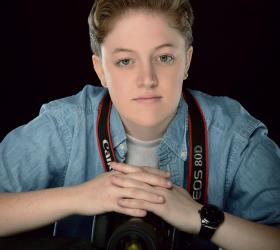 Throughout the years, as a Flip video camera was traded in for a Canon 80D,and basic iMovie editing
transformed into an Adobe Premiere Certification, one thing remained consistent: pursuing a passion.
Communications senior Valerie Betts has discovered a love for videography and found great success
within it. Though she has only been participating in film classes since her middle school years, her
admiration for it as a hobby began much earlier in her life.
"I would record everything from my pet hamsters to family events," Betts said. "Eventually, my parents
realized I was dedicating so much of my time to filmmaking, they encouraged me to apply to Bak MSOA
for Communications. At the time, I had no idea what that meant, but when I look back now I am
extremely grateful for the opportunity my parents and the teachers at Bak gave me to discover my
passion."
In her four years at Dreyfoos, Betts has acquired many leadership positions that allow for growth as an
artist, and a filmmaker. As president of The Film Association Club, Betts is in charge of hosting film
workshops for underclassmen seeking to learn more about film, as well as organizing the school's annual
Streaming Canvas event, which is a student film festival, featuring the highlights of work produced
throughout the school year. In addition, Betts is the Multimedia editor for The Muse the school's
student publication, consistently creating and overseeing content for the website, as well as the social
media and Youtube channel.
"Another thing I've done with videography [in school] is filming Dreyfoos' Spirit Week and Pep Rally
these past two years," Betts said. "Putting together videos of the class dances and events has been a
great experience because it gives me the opportunity to create videos about the school that I love while
also getting an incredible reaction from my peers who watch the videos of the class dances on repeat."
As a result of the hard work within her department, Betts received the nomination for the Pathfinder
High School Scholarship Awards in the Communications Department. The Pathfinder High School
Scholarship is an award presented to students across the county in 18 different categories for their
general excellence in areas of expertise. The awards provide $4000 for first-place winners, $3000 to the
runner-ups, and $2500 to third place winners. Winners for the scholarships will be announced on May
14 in the Raymond F. Kravis Center for Performing Arts.
"It feels incredible to receive the nomination for Pathfinders and to be recognized by teachers that I
have looked up to for years," Betts said. "All the work I have put into the Communications department
feels appreciated and it makes me want to work even harder."
Both inside and outside of school, Betts has been motivated to continue her pursuit of her passion by
those around her.
"Some of my inspirations include Casey Neistat and Gary Vaynerchuk because of their determination
and drive to be successful, Betts said. "Another is Ellen DeGeneres because she is unapologetically
herself."
With teachers guiding her through the learning process of becoming a creator at school, Betts has
bonded with and esteemed the help of educators in her department.
"The teacher that has helped me the most by far, especially this year, has been Ms. Hernandez," Betts
said. "She gives me advice on how to negotiate with clients and ensure that my work is the best quality
possible. She pushes me to do better because she sees potential in me. Outside of videography, she is
always there to support me whether with college applications or just personal advice."
Recognizing an opportunity, Betts took the initiative to create a brand out of her talent. She has started
a videography company titled "Valography", a combination of a nickname people use for her and the
word videography itself.
"I started "Valography" because I wanted to establish myself as a creator." I needed some way for
clients to contact me and take me seriously as a high schooler," Betts said. "Creating a website, social
media, business cards, stickers, etc. with the same name and branding shows people that I am dedicated
to my work and produce quality content. To me, Valography is the transition from just some kid making
videos to a serious creator with a career in videography ahead of them."
As a content creator, Betts produces videos for weddings, live events, and personal projects for
commissions. Using her devotion as her driving force, she films each event awaiting the audience's
reaction.
"Filming weddings, although very difficult, are always a fulfilling experience because I love having the
privilege of documenting a day that is so special, Betts said. "In the end, being able to watch the couple's
emotional reaction of seeing themselves on their big day fills my heart and makes all the hard work
worth it."
Though she is not decided on what college she will be attending yet, Betts knows one thing for sure:
film will come with her.
"Seeing a musician react to watching themselves play on video for the first time or watching a couples'
face light up as they watch their wedding video is the best feeling in the world," Betts said. "My plans for
college are not definitive as of right now, however I know I will be going to a school with either a Film
Production or Communications program with a focus in videography.