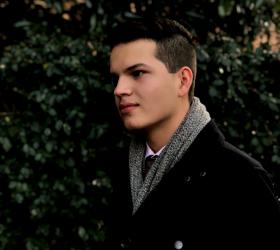 Aug 26, 2018
Debating to the Top
Spotlight Date:
August 27, 2018
Download Original
]" class="imagefield imagefield-lightbox2 imagefield-lightbox2-spotlight_thumb imagefield-field_spotlight_photo imagecache imagecache-field_spotlight_photo imagecache-spotlight_thumb imagecache-field_spotlight_photo-spotlight_thumb">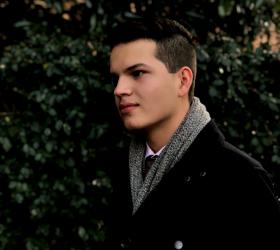 Countless hours of research and preparation throughout the years. Various speeches and bills written. Sleepless nights in anticipation of tournaments. And most importantly, a passion for using his voice. These are all defining characteristics of Dreyfoos Communication Arts senior and debate team Co-President Michael Bole. An avid debater, Bole began competing in middle school, and continues to utilize his talents in the highschool circuit.
"When I joined my Speech and Debate Team, I fell in love with learning new things and then using that knowledge to persuade others," Michael said. "More than five years later, I have been incredibly fortunate enough to continue to compete and grow in an activity that has given me the power to spread my message."
This summer, Michael attended the National Speech and Debate Association's (NSDA) national tournament in Fort Lauderdale, Florida, for which the Foundation sponsored travel expenses. There, he placed 4th Best Speaker of the tournament and was a member of the 5th Best team, among more than 900 competitors and 200 teams from around the nation.
"I was so proud of how far we had come as a team," Michael said. "I received a call from a teammate who told me I was within the Top 14 speakers of the tournament. I was awarded the 4th Best Speaker of the tournament and to this day hold it as one of the most important achievements of my entire [debate] career. I wouldn't have even been able to attend Nationals if it weren't for the support of the School of the Arts Foundation."
In the summers leading up to his senior year, Michael participated in various summer programs to hone his skills in debate, which the Foundation has provided financial support for.These summer programs include the Champion Briefs Institute in 2016, American Speech and Debate Foundation in 2017, and the Global Debate Symposium in 2018.
"The Dreyfoos community has pushed me to do better and be better," Michael said. "I simply wouldn't have been able to spend weekends traveling across the country or weeks on end at debate summer camps if it weren't for the generosity of the School of the Arts Foundation. I don't think a support system for high schoolers like the SOAFI exists anywhere else in the country. They have made sure that I can chase my dreams and reach my full potential without any financial restraint, and for that, I am forever grateful."
Among his most recent accolades, Michael has been selected as a member of USA Debate Team, as one of just 12 across the nation. The team will travel to California, Texas, Illinois, Massachusetts, Colorado, Croatia, Germany, Singapore, before finishing the season at the 2019 World Championships in Sri Lanka. He is the first ever member of the USA Debate Team from Dreyfoos and Florida in the history of the team.
"Being a member of the national team has been a dream come true. To have the honor to represent the United States on the international level while doing something I love is more than I could have ever asked for."
In his successes, Michael has received the backing of Communication Arts Dean and debate coach Angela Anyzeski, as well as the support from former teachers who encouraged him in his art in his middle school years at Bak Middle School of the Arts (MSOA).
"While I've had countless role models and teachers that have truly inspired me, I owe a lot to my former teachers Elizabeth Bornia and Natalie Sharp from Bak MSOA, and my current debate coach Mrs. Anyzeski. Many years ago, Ms. Bornia was the one who convinced me to go to my first speech and debate tournament and gave me the tools I needed to succeed and make the most of competitive speech and debate. Ms. Sharp opened my eyes to a world of graphic design and creativity like no other. I was never able to express myself visually and Ms. Sharp opened my eyes to a career that called my name. Mrs. Anyzeski has always been there to support me and my aspirations, and has always been there when I needed help or advice. But more than anything, she has been a friend that I can always rely on. I wouldn't have been able to do what I've done if I didn't have such inspirational educators who taught me everything I know about being an artist."
Outside of the communications department, Michael has spent his high school career actively involved in extra-curriculars, as a 4-year member of both Class Council and Student Government Association, Co-president of A.R.T.S. Club, Layout Editor of Dreyfoos' yearbook: Marquee, and a graphic design intern for the SOAFI.
"My favorite extracurricular has been being a part of A.R.T.S. (Artists Reaching to Society) Club for the past four years. A.R.T.S. Club has really taught me the value of community service and making a difference in your community. We put on many events throughout the year including the Jefferson Jubilee and Arts Camp, both tremendous tasks to complete but when the Dreyfoos Community works together to do so, all of the work is worth it," Michael said.
Regarding his passions, Michael hopes to major in Business Administration with a concentration on Marketing, and a minor in graphic design once he reaches college.
"I've always been told that you will never work a day in your life if you love what you do, and I hope to continue in a field that I have fallen in love with and truly make a living off of it," Michael said.
Being a part of the Dreyfoos community for the past three years has presented Michael with countless opportunities to excel in both his art area and in extracurricular activities that he believes to have helped shape the person he is today.
Michael explains "To me, Dreyfoos means never saying 'I can't do this' or 'I'm not good enough.' Dreyfoos means never giving up, always giving it 100%, and doing what you love even if when not easy."