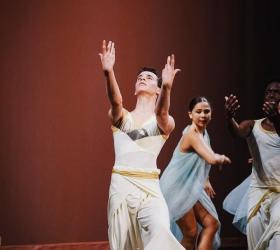 Oct 29, 2018
Dancing Dreamer: Alec Mittenthal
Spotlight Date:
October 30, 2018
Download Original
]" class="imagefield imagefield-lightbox2 imagefield-lightbox2-spotlight_thumb imagefield-field_spotlight_photo imagecache imagecache-field_spotlight_photo imagecache-spotlight_thumb imagecache-field_spotlight_photo-spotlight_thumb">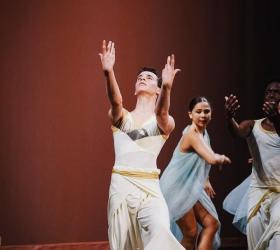 He danced.He practiced.He danced. He practiced. He danced. Since he was 9-years old, dance senior Alec Mittenthal has paved the way for himself in the dance community, attending dance studios both in school and out of school, at locations such as That's Dancing and Performance Edge 2.
"My favorite part of dancing is the joy I get from moving your body in a way that correlates with the music," Mittenthal said. "And per each style of dance, your movement quality varies according to the style that you're doing, so there are so many diverse ways to move your body with different dynamics."
Mittenthal is currently co-president of the National Dance Honors Society at Dreyfoos along with dance senior Charleigh Peters.In order to get the position, they had to apply, and then be vetted by the officers, do an interview, and give a campaign speech.
"Getting to run NHSDA means I can use my art form to benefit others," Mittenthal said. "From flash mobs and aiding the efficiency of the dance department, it's all events performed by NHSDA. Dance is something I have so much appreciation for, so being in charge of dance honor society and getting to perform these deeds means a lot to me."
Of his seven classes at Dreyfoos, five of Mittenthal's are dance classes.
"Since I had all the required credits to graduate, I decided that I needed to take 5 dance periods during school," Mittenthal said. "This is helping me maximize my time left at Dreyfoos, getting the most dance training possible. I also ensured that I'd be taking dance classes again outside of school at Performance Edge 2.
When he's not inside of a dance studio, Mittenthal spends time with his friends, enjoying activities such as going to the beach or the pool, and travelling.
"As a dancer, when I'm not dancing, I try to rest my body as much as possible since the training I'm doing during dance class is extremely strenuous on the body," Mittenthal said. "Relaxing would be the biggest thing for me."
In his time at Dreyfoos, Mittenthal has found various opportunities to improve upon himself as a dancer, utilizing the guest speakers that arrive, as well as in-class critiques to strive for his best.
"Dreyfoos opens up your eyes to the many opportunities in the dance world," Mittenthal said, "Each guest artist that is brought in comes from a different background whether it be Alvin Ailey, Boston Ballet, or the Verdon Fosse Estate. At Dreyfoos, you're exposed to so many different aspects of the dance world and the different styles of dance because of all the opportunities and the guest artists provided, which has helped me grow the most as a dancer."
Along his journey, he has encountered many mentors that have shaped his experiences in the dance world.
"A person who's really helped me along with the way is Ricardo Pena," Mittenthal said. "Ever since I've strongly considered dancing professionally, he's been the best mentor that I could've asked for."
"The person who has helped me grow the most as a dancer would be Mrs. Lescaille," Mittenthal said. "She's invested in me and my training since I started at Dreyfoos, and she has attained to much of my needs throughout my years here."
Mittenthal leaves Dreyfoos behind with fond memories.
"Dreyfoos to me, is a place where we can all be our true selves without fear. Individuality thrives at Dreyfoos and it's a place where our art form is our safe haven," Mittenthal said.

Written by Anamaria Navarrete