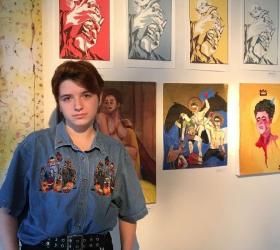 Sep 23, 2018
All Things Art: Gillian Dickinson
Spotlight Date:
September 24, 2018
Download Original
]" class="imagefield imagefield-lightbox2 imagefield-lightbox2-spotlight_thumb imagefield-field_spotlight_photo imagecache imagecache-field_spotlight_photo imagecache-spotlight_thumb imagecache-field_spotlight_photo-spotlight_thumb">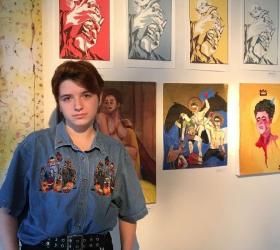 Having a passion is one thing—knowing what drives that passion is another. For visual arts senior Gillian Dickinson, art is a passion; love, determination, and hard work are the fuel. Since coming to Dreyfoos as a sophomore, Dickinson has worked tirelessly to refine her artistic talents and immerse herself in all things art.
"I've become so much more ambitious and confident in my own abilities," Dickinson said. "I've learned a lot of new techniques and information that inform my style."
Finding her artistic voice has been one of Dickinson's most important pursuits and has defined her time at Dreyfoos. In creating art over the years, she's worked with various mediums, yet after time and persistence, has developed a love for printmaking that has inspired lots of her current work.
"Over the summer I did a two layer screen-print that represents a lot of stylistic progress for me—my sophomore year I tried screen-printing for the first time and I absolutely hated it," Dickinson said. "I kept at it, though, and learned to love it, so to me this piece represents character development within myself as well as artistic growth. It's also currently serving as the basis for my Young Arts portfolio."
Dickinson's four-layer screen print, which will also be included in her Young Arts portfolio
Like any artist, Dickinson's personal style is influenced by the artwork around her—that which she both seeks out and is surrounded by at Dreyfoos. Nonetheless, she places emphasis on making each piece uniquely her own.
"For my personal work, I draw a lot of inspiration from vintage posters and religious imagery," Dickinson said. "Recently, I did a four layer screen-print that was a remake of a piece I did last year. I'm really excited for how that came out and I loved the way I was able to use color, which is super important to the overall tone of my work."
Aside from personal projects, Dickinson has also helped out with a number of Dreyfoos events, such as Center Stage, Dreyfoos in White, and the recent Summer Art Show.
"I had a lot of fun working on the banner for Center Stage; I thought the final result was really successful, and seeing it on stage was cool because that's not something I'm used to as a visual major. Coming up with an idea for that was weird at first because we were told to abstract music and digital media in one image, and I think we really pulled it off in the end," Dickinson said of her collaborative effort working on the banner that hung atop the stage at the Center Stage event. "I also designed and printed some shirts for the Save the Arts campaign which we sold during the Summer Art show. I helped a bit with the curation of the gallery as well, which was super fun to watch all come together."
Dickinson's original design for the Center Stage banner
For the past two years, Dickinson has used her summers to grow as an artist as well, attending two pre-college summer programs—one in 2017 at the School of Visual Arts (SVA) which was geared specifically towards cartooning, and one this past summer at the Maryland Institute College of Art (MICA) which focused on oil painting. Both three week programs made their mark on Dickinson as an artist, and her attendance to one of them was made possible by the School of the Arts Foundation.
"I ended up getting a partial scholarship through the Foundation for my pre-college program this past summer. Originally I wasn't going to go to one, but the money really helped, and without it, I probably wouldn't have discovered my top choice school," Dickinson said. "MICA had a really big impact on me and the people I met there ended up being some of the best friends I'll ever make. The class itself was super intense; I'd never touched oil paint before in my life so going in I was super intimidated. Despite being completely outside my comfort zone, I made some really nice work and I rediscovered my love for painting.
Dickinson's self portrait, created with linocut and copper leaf.
In the future, Dickinson has aspirations to take her passion for art through college and hopefully to New York one day. She's interested in expanding her artistic voice to cover more mediums, such as experimental fashion. For now, though, she intends to focus on her immediate goals for the nearer future—her plans for art in the coming school year, and college.
"I'd love to major in printmaking and hopefully attend Maryland Institute College of Art. With what's left of my senior year, I'm definitely going to try and open a solo show in the Building 9 gallery," Dickinson said.
Regardless of where her future takes her, Dickinson will always remember Dreyfoos as a part of her past, whether it be through commemorating the work she created there, or remembering the people she met.
"The environment here at Dreyfoos is super accepting and supportive; obviously it can be rigorous, but that's what's been pushing me to improve and work harder over the past few years," Dickinson said. "I don't know if I would have come as far as I have without the teachers here at Dreyfoos."