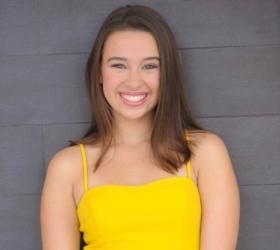 Oct 29, 2018
Taking The Lead: Olivia Payson
Spotlight Date:
October 30, 2018
Download Original
]" class="imagefield imagefield-lightbox2 imagefield-lightbox2-spotlight_thumb imagefield-field_spotlight_photo imagecache imagecache-field_spotlight_photo imagecache-spotlight_thumb imagecache-field_spotlight_photo-spotlight_thumb">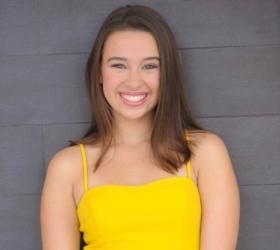 Since the age of six years old, theatre senior Olivia Payson has been working hard towards her passion. Various dance numbers, monologues, and performances have deepened her love for theatre.
"Anytime I am not participating in the theatre department in school, I am training and acting, singing, and dancing outside of school," Payson said. After running last school year, Olivia was elected by students and faculty as the International Thespian Society's president. As President, she has dedicated herself to creating opportunities for those within the theatre department, such as mini showcases during lunch to allow students to practice their pieces, as well as tutoring underclassmen on juries, attire, and character analyses.
"Now, joyfully serving as president, I am working to bring a motto of positivity into the department," Payson said. "I have done this by creating positivity necklaces to be given to students who have exhibited a 'happy to be here, ready to work' attitude, and posting positive mantras on the boards."
In addition to taking the lead within her department, she has continued taking the stage. Most recently, Olivia received the role of dance co-captain of the Dreyfoos' production of "Cry Baby: The Musical" which opened Oct. 26th and closes on Nov.4.
"As a dancer, my favorite part of being a dance captain is that we sometimes got to run a rehearsal for the ensemble by ourselves, and clean a number," Payson said. "This was especially rewarding because we got to see a piece transform [in front of] our eyes."
Outside of her major, Olivia is a part of various other leadership roles on campus. She is the Dreyfoos chapter of the National English Honors Society's Co-Secretary and the National History Honors Society's Co-Vice President.
"For balancing everything going on, it's all about time management and maximizing my time," Payson said. "When I am in rehearsal and we go on break, I take that break to work on college apps, and I will often wake up early to get work finished. It's hard, but it is worth it to do everything I get to do."
Academically and artistically, Olivia has pursued opportunities to better herself even when she is not in school. She has attended the National Student Leadership Conference, as well as the Broadway Artists Intensive. In addition to this, she was a returning member to The Performing Arts Project. At these summer intensives, actors received the chance to interact with Broadway professionals such as Dave Clemmons and Lynzy Lab.
"[The Performing Arts Project] has taught me how to become comfortable with making mistakes and that no one should be perfect; that this art form will love and embrace us in all our imperfections," Payson said.
In her four years at Dreyfoos, Olivia has remained an active member of the school community. With nearly 1500 out of school hours, Olivia has participated in crews, performance casts, ushering, cleaning up the department, and helping her teachers with whatever was needed.
"Throughout my four years, I have attended all the shows, all department events and meetings, and stayed around to help however I could," Payson said. "With all of this, the department has truly become my home away from home."
Payson is currently focused on a career in musical theatre and is applying to various colleges for BFA musical theatre programs, simultaneously in search of a double major in political science. Though she will leave Dreyfoos behind, she takes many lessons with her.
"Dreyfoos has taught me how to be a more well-rounded artist," Payson said. "In my final year at Dreyfoos, my attention is truly focused on college. I believe theatre draws from the real world in order to reflect social change."
Written By Anamaria Navarrete