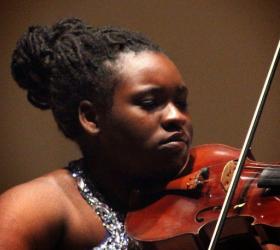 Aug 28, 2017
All the Right Notes
Spotlight Date:
August 29, 2017
Download Original
]" class="imagefield imagefield-lightbox2 imagefield-lightbox2-spotlight_thumb imagefield-field_spotlight_photo imagecache imagecache-field_spotlight_photo imagecache-spotlight_thumb imagecache-field_spotlight_photo-spotlight_thumb">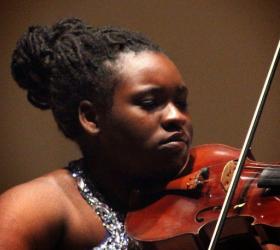 Cameren Anai Williams, a senior violist in the strings department, never takes a summer off. Each summer since she was 9, she has been hard at work at a summer program, beginning with Palm Beach Atlantic University's Stringendo program. Cameren's summers away read like a list of the top conservatories in the Nation, attending programs at Oberlin, Interlochen, Indiana University, and Curtis. Before her junior year, Cameren received a full scholarship to the Aspen Music Festival, where she was the youngest violist and held a tenure spot in the Aspen Philharmonic Orchestra as the assistant principal.
"Every year I go somewhere different, with a goal, and learn so much. The most memorable piece of information I have taken from every one of these festivals is that if you really want something, you have work to your hardest to get there."
This past summer was spent at the University of Michigan in the Center Stage Strings Program (CSS).
"I studied with Caroline Coade, a viola professor at University of Michigan who sits 3rd chair violist in the Detroit Symphony Orchestra (DSO). I performed in almost every concert, viola masterclass and studio class in weeks 2-4 and it was so much fun. I worked hard to get my college audition repertoire up to where I want it to be. Professor Coade helped me by scheduling lessons 4-5 times a week having me perform as much as possible. I was also part of the side-by-side quartet program at CSS, which only 12 student (3 violists) are chosen for. From this experience, I was most astonished with the precision in intonation we accomplished. I had never worked so in detail in a chamber setting on intonation. It was a lot of tedious work, but it was a lot of fun and the performance was spectacular."
Studying at the University of Michigan wasn't all Cameren did this summer. She also attended the Violin Craftsman Workshop at Pomona College in California. "This was made possible by receiving an MPower Grant from the Sphinx Organization to enhance my foundation, www.CamAnaiStrings.org which was founded in 2014 to donate refurbished (and eventually make) instruments to talented students who do not have the resources to acquire quality instruments."
While at home, Cameren plays across South Florida in the Millennium Quartet, including at various events for the Foundation, such as last year's Dreyfoos in White.
"Being at Dreyfoos I am allowed to do what I love with my closest friends almost all day. The students at Dreyfoos are very highly trained musicians who take their craft just as serious as I do, and being able to practice my art at school has allowed me to grow tremendously. I can play standard orchestral repertoire with a very high level high school orchestra, I am able to take music theory, and this is only the surface of the classes Dreyfoos has offered. I play gigs and performances for my school and its Foundation on a regular basis which gives me even more exposure and the opportunity to perform."
Although Cameren relishes every opportunity to perform, the Prism Concert is one of her favorite. "I love Prism because not only do I perform holiday music with Philharmonic, but my quartet performs a piece, and I perform in Klezmer. The music we perform is always so much fun and we usually have a performance for elementary and middle school students which my younger sister, Musiq, comes to. She isn't able to see me perform often so I am excited when she is able to see Prism which is such a spectacular and fun performance for the audience."
When she graduates, Cameren plans to continue her studies in viola performance at a Conservatory. Her goal is to play in a major orchestra and to travel the world doing so; we believe she is well on her way.