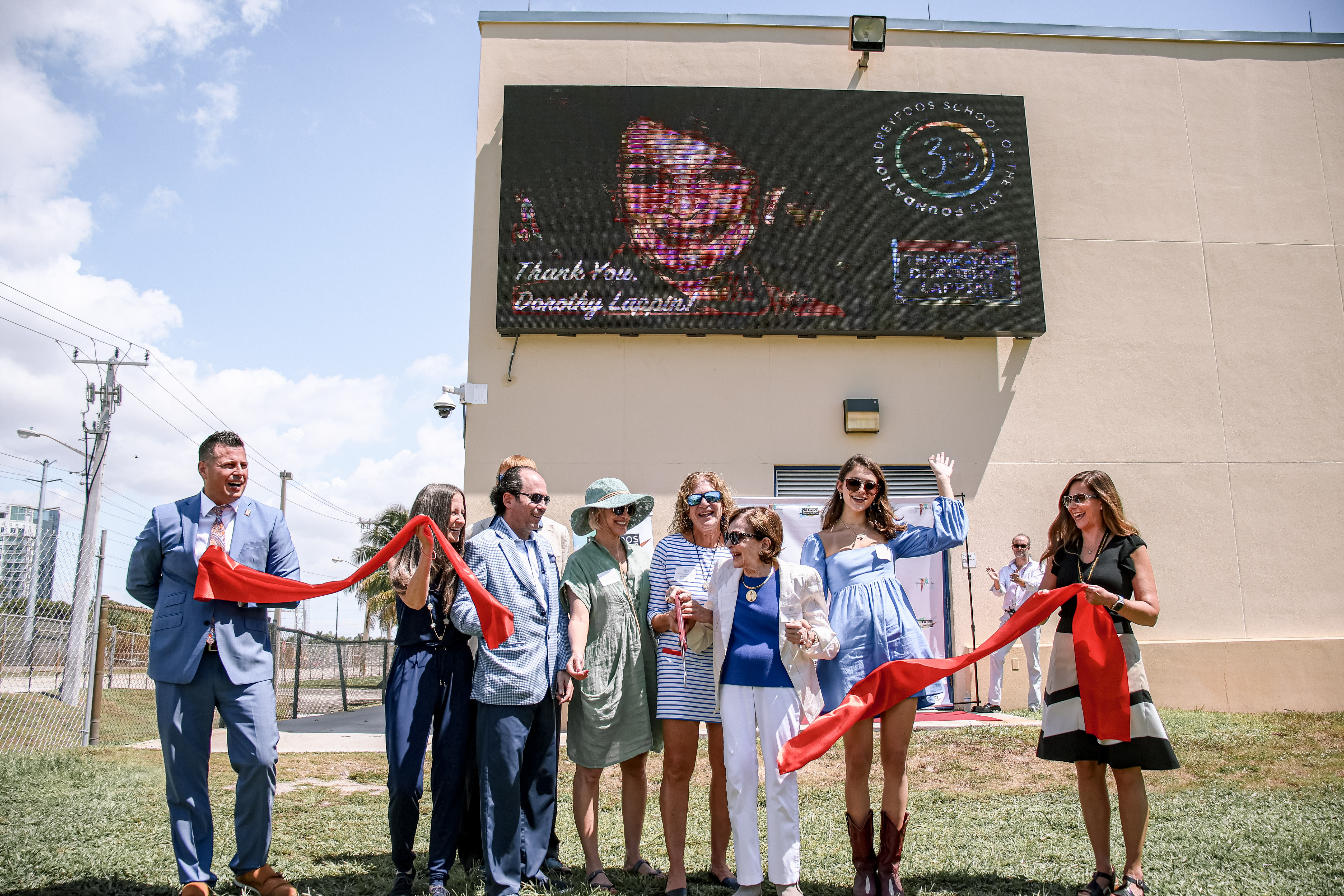 Jun 26, 2023
Video Marquee Dedication
Thanks to a generous gift from Dorothy Lappin, and in celebration of the Foundation's 30th Anniversary, Dreyfoos School of the Arts Foundation purchased and installed a new video marquee on the back side of Building Seven facing South toward the Kravis Center and Tamarind Avenue. The new marquee will showcase daily Dreyfoos news and is sure to catch the attention of the many travelers of Downtown West Palm Beach.
Dreyfoos School of the Arts Foundation CEO Dr. Chris Snyder, and Dreyfoos School of the Arts Principal Blake Bennett, invited Dorothy Lappin, along with her family and friends, to celebrate with a Ribbon Cutting and Marquee Dedication Ceremony on Monday, August 15th at 11:15 AM on campus.
Dorothy Lappin has supported Dreyfoos School of the Arts and the Foundation for 30 years. She served in various roles on the Board of Directors and continues to provide scholarships and monetary support for many students and programs. As one of our original Board Members, with Simon Benson Offit, Dorothy has played a pivotal role in keeping the arts and academics alive at Dreyfoos.
Ms. Lappin, originally from Hartford, Connecticut, graduated from Emerson College in Boston. Ms. Lappin was a soloist with the New Haven Symphony Orchestra and was active with the Milford Playhouse in Milford, Connecticut. She was formerly Vice President of the Pepsi-Cola Bottling Company of Hartford, Springfield, and New Haven and President of Lappin Communications, Inc., a network of radio stations in Massachusetts and Florida.
As a resident of Palm Beach for almost 40 years, Ms. Lappin has found many ways to give of herself to the many organizations she supports. She is a founding supporter of the Kravis Center for the Performing Arts and served on the boards for Palm Beach Dramaworks, International Council of the Salk Institute, Emerson College in Boston, and the School of the Arts Foundation Guild. She was a founding member of the Dreyfoos School of the Arts Foundation Board of Directors. We are excited to kick off our 30th Anniversary celebrations with her incredible and long-lasting support.