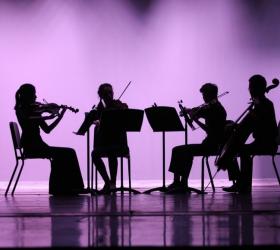 Feb 12, 2019
Student Talent Showcased in Annual Center Stage Performance
Spotlight Date:
February 13, 2019
Download Original
]" class="imagefield imagefield-lightbox2 imagefield-lightbox2-spotlight_thumb imagefield-field_spotlight_photo imagecache imagecache-field_spotlight_photo imagecache-spotlight_thumb imagecache-field_spotlight_photo-spotlight_thumb">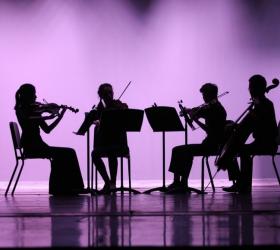 Over 100 student performers took center stage Friday night, January 25th, in one of the School of the Arts Foundation's most unique events of the year. With approximately 200 guests in attendance, the night began with a reception in the cafeteria, complete with hors d'oeuvre and soft drinks for guests. After everyone shuffled into Meyer Hall, the curtains opened to a welcome message from host and communications senior Michael Bole.
"Being a part of Center Stage for a second year made me even more excited to welcome the crowd," Bole said. "It was great to see that so many people came out to support the event and the greater Dreyfoos Community."
Dreyfoos takes Center Stage is an annual fundraising event exhibiting a performance collaboration between students of all six majors at the school. The 2019 show was the second annual performance, renewing the tradition of creating a united, school-wide display of student talent.
"The people that are coming to see this will see every art department working together as a unit," dance teacher and Center Stage talent director Garry Lewis said. "It's just a joy to sit and watch how theater interacts with music, and dancers interact with visual and communications."
Before the performances began, Bole made sure to shout out some of the special people in the audience, including those that made the event happen—notably, Kimberly Ramia and other members of the School of the Arts Foundation—those that manage Dreyfoos students every day—Principal Dr. Susan Atherley—and Mr. Alexander W. Dreyfoos himself—the school's namesake.
"[Center Stage leads to] exposure," Mr. Dreyfoos said. "It lets people see how they're [the students] progressing even before they get a chance to be in the professional world and share it. I think the brightness of the kids makes the Foundation workable."
Sonata no.9 sounded throughout the auditorium as a violinist and a pianist played a musical duet, followed by a mock-newscast to showcase the behind-the-scenes efforts of the school's broadcast journalists on DSOA Today, featuring communications juniors Sasha Monaco and Tommy McCabe.
"I was approached by Mrs. Anyzeski [dean of the communications department], who asked if I would be in Center Stage, and I of course said yes," McCabe said. "It's a great opportunity to show off the hard work of the school, and of the Foundation, as well as of all the people involved."
Representing the vocal department was a quartet made up of seniors Tristan Butler, Christian Michaelis, Ethan Mills, and Giovanni Pignotti, performing a rendition of the jazz piece "Every time We Say Goodbye" by Cole Porter.
"It's great to be in the show," Pignotti said. "It's provided us with an opportunity to perform the music that we worked so hard on and you don't get to hear this music a lot, so it's a treat for both us and everybody else."
The quick but eloquent number by the quartet served as a nice segway into a lively theatre piece, organized by theatre sophomore Jaime Brustein. "What a Game" is a comedic musical number that portrays the experience of a father-son duo attending a baseball game, with the surrounding "fans" playing a large part in the act, which received straight superiors, or highest marks at Districts, a district-wide theatre competition.
"It feels really good because last year I remember looking up at the seniors and juniors who were in this event and being like, 'I want to do that,'" theatre sophomore Seth Greenberg said. "Looking at them, I was like, 'I can do that, and I want to do that, and I can't wait until I do.'"
Next, an improvisational dance piece engaged the audience members, featuring dance seniors Amanda Servidio, Tatiana Nunez, and Jasmine Santos, as well as dance junior Salma Kiuhan. Accompanied by a string quartet, the dancers crossed in front of and behind each other as they moved across the stage.
"[Performing is] so rewarding. The foundation does so much for us, and what they do for our department has a direct effect on me," Kiuhan said. "To be able to represent and show what they have done for us as a department has a lot of weight to it, and it means a lot to know that I represent my major well."
Four hands then struck the piano as piano seniors Lylybell Zhou, Giancarlo Llerena, Alessandra Fang, and Karen Copeland played Mozart's Virtuoso Turkish March. When the piece came to close, Llerena spoke to the crowd about the Foundation's efforts to help him pursue his passion, discussing the financial support he's received to attend various summer programs. Most recently, with the help of the Foundation, Llerena has traveled to both the Boston University (BU) Tanglewood Institute (BUTI), a pre-college program of BU's College of Fine Arts affiliated with the Boston Symphony Orchestra and Tanglewood Music Center, and the 2018 Aspen Music Festival, where he was able to work one-on-one with the head of Juilliard piano department. Since its inception in 1993, the Foundation has grossed in about $19 million to aid Dreyfoos as a school thanks to financial support garnered from annual events like Center Stage.
"I'm always pleased to see the enthusiasm that people have for the school," Mr. Dreyfoos said. "What I love about walking through the school is that, in so many schools, mostly, its hearsay [that the students love the school]. You kids goof off and all—but I've seen kids come out of the classroom, sit down and just do their art in the breaks between classes, [and] I think that's exciting."
Next up was a scene from the play Blithe Spirit, brought to life by theatre juniors Dylan Lugosi, Jaob Littell, and Abigail Garcia. Theatre and communications then blended in one act as the film "Ellipsis," created by communications freshmen, aired on the projector screen. Throughout the night, the show intermittently featured other student-made films, such as "Renee," as well as digital animations like "Paradise."
"I feel really honored to be able to perform in Center Stage and show everyone what the theatre department does and our work ethic," Lugosi said. "But, my favorite part of Center Stage is by far seeing all the other pieces performed."
As the projector screen was pulled up and the curtains once again drawn, theater sophomore Sailor Kate Ashley and senior Makenzie Rivera entered stage left and stage right, performing consecutive musical theater pieces "No one Else" and "Times are Hard for Dreamers." Two dance performances, a solo by vocal senior Carolyn Lord accompanied by piano senior Karen Copeland, and a slam poetry piece by communication senior Haley Johnston closed out the individual acts. As strings junior Elliot Weber played her cello, an animation depicting a student from each of the 8 departments was projected above her head against the curtains. Upon its end, Weber was joined on stage by a student from each major who resembled that of the animation.
The synergistic feel of second to last act of the night served as a perfect representation of the concept behind the event as a whole: a blending of all of Dreyfoos' unique departments. Host Michael Bole then took to the stage to wrap up the night by introducing the final performance.
"I don't really ever get the opportunity to see other majors. I think it's refreshing to see the way that other people work to get their outcome," Kiuhan said. "I like the way we all get to work together, because it's something we've never really done."
The show concluded with the largest number of the night, in which students of all majors joined each other on stage, dancing and singing along to the number "Get on Your Feet," and jumping into the crowd to encourage them to dance as well. Every student who participated in the production took a bow, and guests were invited back to the cafeteria.
"It is nice to see [Center Stage] come together with such a short amount of rehearsal time," Mr. Lewis said of the event. "The kids work really hard, they commit themselves, and they're fantastic."
In addition to the reception preceding the show, the Foundation held a reception afterward, where the audience members were given the opportunity to inquire more about the school from students and Foundation members themselves.
"The state doesn't give enough money for a proper [arts] education. We attract so many talented kids and many of them don't have the funds that really give them a "no problem" education, so anything we can do for the Foundation is great," Mr. Dreyfoos said of Center Stage. "It leads to scholarships and opportunities [and] sparks the willingness to support these [students]."
The Foundation's Director of Development Kimberly Ramia and Mr. Lewis worked to coordinate the talent throughout rehearsals in the weeks leading up to the event, but planning extended far before then as well. Kimberly and the Foundation began thinking about Center Stage back in June of 2018, and watching their months of preparation take the stage was gratifying, with the artists across the school coming together to create a project of passion.
"I was so incredibly proud of everyone that night," Ramia said. "I think I had a smile from ear to ear the whole show because I was just so excited for the guests to see each piece. And to be able to watch the show from the audience and see the positive reactions from the guests was so gratifying. It just made me so proud that the students put in so much time and hard work for this event and that it went off without a hitch…They really brought to life the magic of Dreyfoos!"
By Maddy Rubin and Anamaria Navarrete