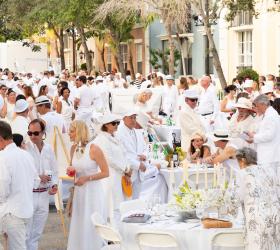 Nov 1, 2018
Sixth Annual Dreyfoos In White Event
Spotlight Date:
November 2, 2018
Download Original
]" class="imagefield imagefield-lightbox2 imagefield-lightbox2-spotlight_thumb imagefield-field_spotlight_photo imagecache imagecache-field_spotlight_photo imagecache-spotlight_thumb imagecache-field_spotlight_photo-spotlight_thumb">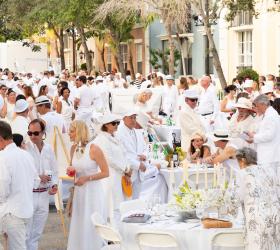 A blanket of white covered the extent of Sapodilla Ave. between Gardenia St. and Hibiscus St. Sat., Oct. 21, as guests adorned in the signature color of this annual event flocked to the streets to set up their festive tablescapes. As the School of the Arts Foundation's most anticipated and well-known marquee fundraiser, Dreyfoos in White never fails to disappoint. For the past six years, this fun-filled evening has entertained anywhere from 300 to 500 guests with performances from students and alumni alike, a raffle with multiple prize options, and a tablescape competition. Planning for this unique event is a group effort on the Foundation's part that begins practically a full year before its occurrence.
"Dreyfoos in White is a major fundraising event that the foundation hosts," School of the Arts Foundation Director of Development Kimberly Ramia said. "As soon as we finish wrapping up the budget from this year's event, planning for next year will already be underway."
Since the first ever Dreyfoos in White in 2013, the size, location, and breadth of the event have changed, catering to a now-larger audience that has grown with time. The traditions, however, remain, carried on from the original fundraiser and now part of what makes the event so unique.
"For the most part, it [Dreyfoos in White] has been structured the same way for the last six years now and is still a must-attend event," Ramia said. "We provide the tables, chairs, and entertainment which are spectacular Dreyfoos students and Alumni, but the guests bring the rest; from their picnic dinners to their own table decor. During the event we have a raffle for fabulous vacation prizes; and growing more popular each year is our tablescape competition for Most Fabulous and Most Humorous tablescapes for which prizes are given to the winning tables."
Without the meticulous planning of a committee of 10 to 15 dedicated members, Dreyfoos in White would not exist. Made up of Foundation staff, alumni, sponsors, and donors, committee members work to coordinate every aspect of the event to ensure the event is a night to remember for the guests.
"I have been a member of the Dreyfoos in White Committee for the last six years," committee member and sponsor Amy Price said. "My firm, Akerman LLP, has been a sponsor of the event for the last 5 years. We work together to combine our own individual resources, whether that be of time, knowledge, skill, connections, [or] friends, to plan the most successful event possible in favor of the school."
One of the most awaited and exciting facets of the night, the raffle drawing, is funded by donors and prepared by committee members. Each year, guests can purchase as many tickets as they like, and both attendees and those not present are eligible to win prizes.
"We have some fabulous donors that have consistently provided us with [raffle prizes such as] a resort Mexico stay in either Cancun or Puerto Vallarta and Airfare and hotel for 4 night stay for 2 people in Paris." Ramia said. "We [SOAFI] as an office and committee gather donations and compile an all-encompassing staycation for the area [to roundoff the raffle prizes]."
Aside from the raffle, the committee works hard to coordinate the logistics of Dreyfoos In White's most interactive, exciting affair: the tablescape competition.
"Every guest can really make the event what their own. We provide the tables, chairs, and entertainment, and the location of course, but the guests provide everything else," Ramia said. "They gather the spots they need, and they create their own tablescape decor. We have guests each year with beautiful, creative, witty, and just over-the-top tablescapes; this year we had several five to six foot [centerpieces] atop the tables."
English teacher Theresa Beerman has attended every single Dreyfoos in White event, and tends to sit in the same spot each year. Filled with alumni, past teachers, and faculty staff from the visual department, her table always goes all out for the tablescape competition in the hopes of taking home first place.
"Every year they [the other guests at the table] spend months coming up with a fabulous theme for the decorations and then executing their vision for the table," Ms. Beerman said. "This year it was Moulin Rouge, and the table had a working Ferris wheel, windmill, and train on it. I just try to support them by bringing food, plates, wine, [and] whatever they need."
Though the raffle and tablescape competition are part of what makes Dreyfoos in White a fun event, perhaps its most defining characteristic is its secret location. Chosen by Foundation staff, the location of this premiere event is kept hidden from guests until approximately two hours before the start of the evening.
"I think the most unique thing about it is that you don't really know where you're going," Ramia said. "We send out the notification via email, social media, and on our website about an hour before registration starts–at 4:30pm. The event doesn't offically start until 5:30pm, however we expect guests to begin arriving as early as 4:00pm in order to be first in line to pick their tables. I think everyone was pleasantly surprised that we had the school as the backdrop to this years location."
The only criterion to be met in choosing the location are that it is to be held at an outside venue no more than 15 minutes from the school's campus that will hold the growing number of attendees each year. This allows for lots of variation from one year of Dreyfoos in White to the next.

"Each one is different because of all the unique venues," Ms. Beerman said. "[I] loved having it on Clematis because of the lights, and loved watching the moon coming up when it was staged on the Norton's east lawn."
Though Dreyfoos in White succeeds in providing a fun and entertaining evening for all who attend, its main purpose is to raise money to keep the arts alive at Dreyfoos. Without sponsors, donors, and all who help to plan the event, Dreyfoos would lose the approximate 40,000 to 50,000 dollars this event brings in annually.
"This event is important because I believe it attracts a larger variety of supporters and potential supporters of DSOA," Akerman said. "It maintains and increases the demographics of potential donors. This type of connection with several different age groups in the community is crucial for the School of the Arts Foundation to continue to collect and distribute the funds the school needs."
Dreyfoos in White offers an entertaining evening for guests, and can foster a strong sense of satisfaction for those donating their time to ensure the event goes off without a hitch.
"I felt pride, happiness, and reminiscence, celebrating and supporting DSOA, while having the school as our background," Akerman said. "It felt like a true tribute to the school."