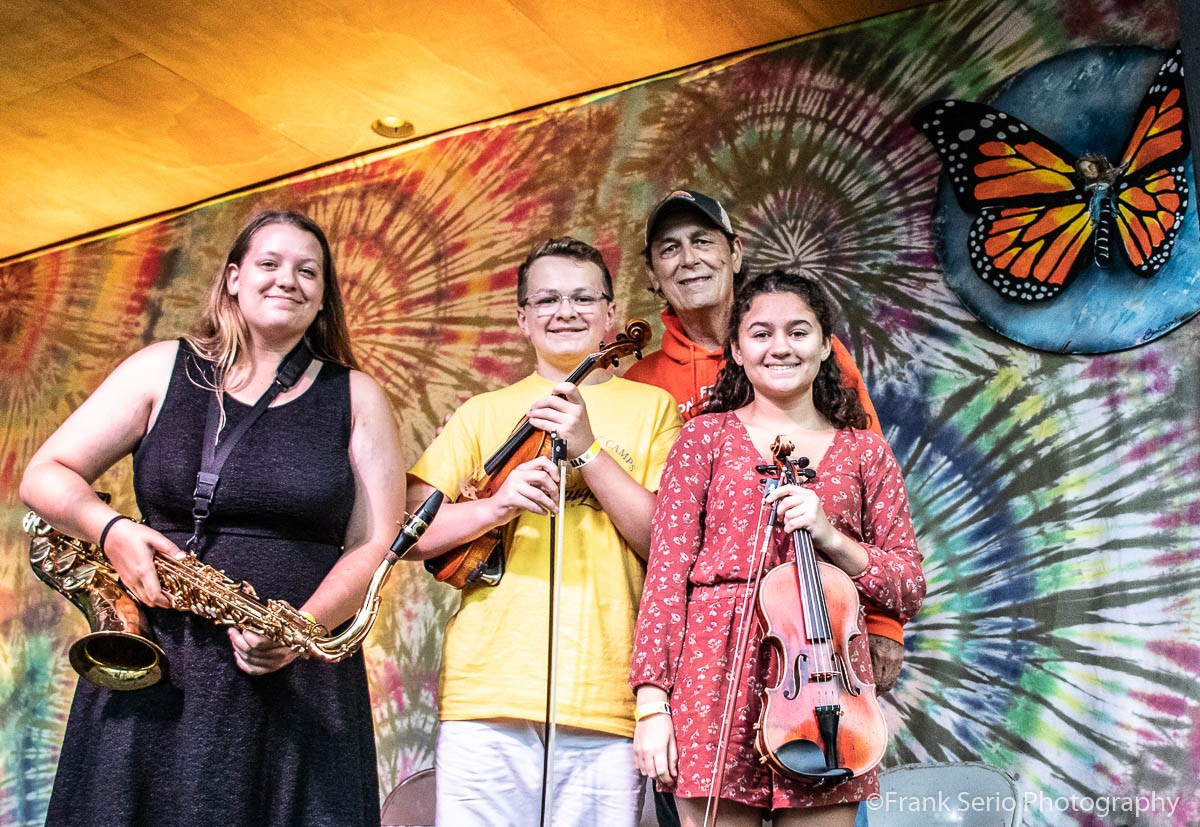 Feb 4, 2020
Frank Serio
To most people, packed church pews signify the start of a service. For Little Hickory Productions President Frank Serio, the scene holds a different meaning entirely.
"I live in Jupiter and the town of Tequesta is right next to it, and Sue used to do concerts at…the Church of the Good Shepherd Episcopal Church," Serio said. "She was in a trio—basically, there was guitar, mandolin and violin. And when she passed away we held her Celebration of Life there, it's a wonderful church full of special people."
On Sunday, January 26, Serio entered the Church of the Good Shepherd to the familiar picture of packed pews. His concerts, the proceeds of which go towards multiple charities, typically draw a crowd. Yet instead of preparing to hear "the love of his life" and professional violinist Sue Cunningham take the stage as she usually did, Serio waited with anticipation for Dreyfoos strings junior Annabella Paloucci to rise from the pews and begin playing the opening notes of Sue's violin piece 'Prelude,' beginning the evening performance.
"Since Sue's passed, we do concerts there—a couple concerts in the winter—and the proceeds go to all of these scholarships... although we try to specifically [have] the money go to Dreyfoos [for fundraisers in Florida]," Serio explained.
After Sue Cunningham lost her battle with cancer in September 2015, Serio knew he wanted to commemorate her life as a "a rocket scientist...playing music on the side" in a meaningful way. As a Pratt and Whitney Aerospace employee for 15 years, and a Florida Turbine Technologies engineer, and a word-class violinist, Sue had "a whole group of...colleagues that [wanted] to do something" after she passed. His concerts at the Episcopal Church to raise money for a School of the Arts Foundation music scholarship, the Sari Asher Center for Integrative Cancer Care, and a number of other charitable organizations are just one example of the ways in which he has carried on Sue's legacy. Most recently, his Jan. 26 concert featured Paloucci playing alongside Grammy-nominated songwriter Verlon Thompson and raised $500 for the School of the Arts Foundation.
"Sue was in two worlds in a big way— the music world, as well as the engineering, professional world, so...we decided to honor her legacy by starting a music scholarship in her name,'" Serio said. "Her family—her dad, step mom, sister and I—got in touch with the folks at the Foundation, and... we started the Sue Cunningham Memorial Music Scholarship, which honors her in a beautiful and fitting way because she loved nothing more than mentoring young musicians. This will be our fifth scholarship coming up this spring, [and] my involvement is both raising money for the scholarship [and being]...on the selection committee."
Serio and Cunningham initially got involved with the School of the Arts Foundation through Dreyfoos alumnus Jeff Atkins, who performed and recorded music with Sue's Rowan Cunningham Band. When contemplating where to start her memorial scholarship, Serio and Cunningham's family were drawn to Dreyfoos because of this connection and the school's "stellar reputation," Serio said. For the past five years, Serio, Sue's father Jim Cunningham, Dreyfoos Magnet Secretary Naomi Wagner, and Foundation Director Kris Lidinsky have met in March to personally interview and assess the music skills of top applicants before choosing one to send to a violin summer program.
In order to garner the funds necessary for both his Dreyfoos scholarship and two similar scholarships for students at schools in Wellsboro, Pennsylvania, where Serio lives part-time, he fundraises year-round. Recently, Little Hickory Productions created a new scholarship, the Sue Cunningham Endowed Music Scholarship, at Mansfield University in Mansfield, PA. Hickory Fest, the three-day bluegrass, acoustic, roots music festival Serio produces Wellsboro is also a large source of funds, and church concerts in Tequesta contribute a substantial amount to his efforts.
"How we raise money is...I continued the music festival [Hickory Fest] that Sue started up in Pennsylvania…before we were together in 2002, so this will be the 18th year [it occurs]. I have produced it since 2016." Serio said. "In the past year, we turned the festival and all of our concerts into a 501c3...which is a charity organization, so...all the money we make goes to the various scholarships that we started, Dreyfoos being one of them."
Money raised from Hickory Fest also goes towards Tioga County Relay for Life, a program associated with the American Cancer Society. While most of his philanthropic work is inspired by Sue, Serio's connection to the arts, specifically, has spanned the majority of his life.
"I'm a songwriter and a photographer… and that's what I did for most of my life," Serio said. "I also managed Sue's touring bands... I still write songs and work as a photographer at various music festivals around the country."
What started as a memorial project for Sue quickly turned, for Serio, into much more—he now recognizes that "the public schools don't support [the arts] either at all or very little," and has grown passionate about promoting music education.
"The money that we raise that we give to these various [charities], that feels good, but it feels really special to create and give these scholarships," Serio said. "I know Sue loved teaching kids and up until the end she was Skyping lessons to various young violinists from around the country… I think that the world is a better place [with] young people that play music [and] ... the public schools have really dropped the ball on that. Anything that that me and my team can do feels like a drop in the right bucket."