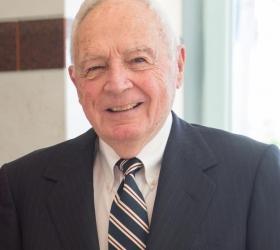 May 29, 2018
Generations to Come
Spotlight Date:
May 30, 2018
Download Original
]" class="imagefield imagefield-lightbox2 imagefield-lightbox2-spotlight_thumb imagefield-field_spotlight_photo imagecache imagecache-field_spotlight_photo imagecache-spotlight_thumb imagecache-field_spotlight_photo-spotlight_thumb">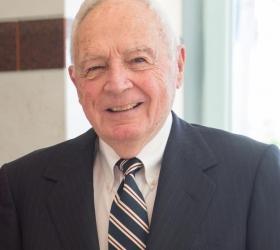 Manley Thaler has been a supporter of Alexander W. Dreyfoos School of the Arts (then the Palm Beach County School of the Arts) and the Foundation since its inception. He was asked by our founding board more than 25 years ago to help with the legal work to create the School of the Arts Foundation. "I was one of the people who was consulted in 1993 about forming the Foundation so people could make a donation directly to the school right in their community. I was always aware and interested in the school. I was a neighbor of Alex Dreyfoos and we often talked about the school. I even have a painting done by one of the students in my office."
This spring, Manley surprised the Dreyfoos Foundation when he announced he wanted to establish the Thaler Theatre Endowment specifically to support the theatre productions at the school. This generous gift has provided us with a very special opportunity. Every year, for the next 5 years, the Thaler Foundation will match gifts for the Theatre Endowment up to $50,000. That has the potential to create an endowment of $500,000!
Manley and his wife first became enchanted with the Dreyfoos theatre department when they saw our production of West Side Story. "We were so impressed with the way it was performed, staged and even the costumes. We had seen it on Broadway and it was comparable to the professional production. That is what motivated me to get on the board of the Foundation."
When asked about his favorite performance at Dreyfoos he said it was Shrek the Musical . "I loved the play, especially the student who played the part of Donkey. The casting was amazing. The faculty had to select the performers and their selection was marvelous."
Manley's vision for this endowment is to add to the culture of the community because of the abilities of the students we attract. "Their performances are very good. Pupils at the school learn how to the create costumes, backdrops and everything so they can do the whole production. This endowment will give the Theatre Program the ability to continue and expand the theatre productions."
Manley said, "We want to continue to support the school and the reason we did a challenge grant is so we can attract other members of the community to support the school. It is an asset to the culture of the community. The school is ranked very high nationally." He goes on to say, "It impacts the culture of the community similar to the Kravis Center that I was also involved with. The effects of the school will be here for a long time and that is the reason for the endowment funds. It will outlive you and me and guarantees this asset to the community. I encourage others in the community to join us financially in supporting this school. It will be here for generations to come."