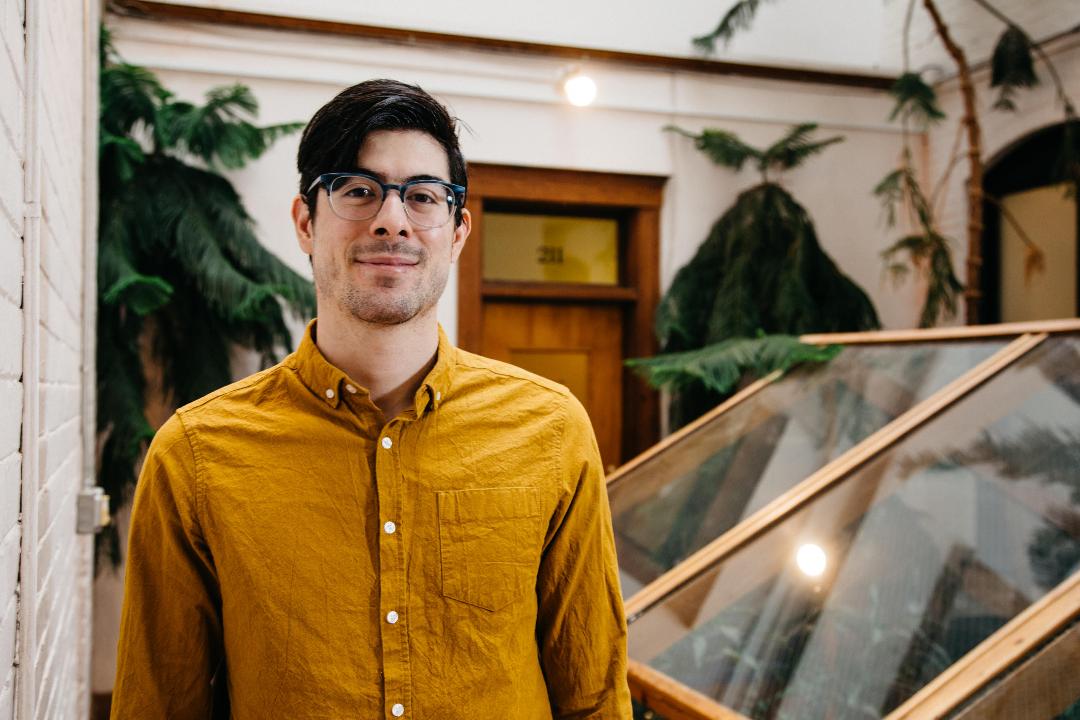 Nov 6, 2020
Q&A With Niko Guardia
Class of 2007 visual arts alumnus Niko Guardia has made a career for himself in the art of animation. He is currently working on an animated series ordered for Apple TV+ called 'Harriet the Spy' with the title character Harriet M. Welsch voiced by Beanie Feldstein (Molly in 'Booksmart'), Jane Lynch (Sue on 'Glee') as Harriet's nanny, and Lacey Chabert (Gretchen in 'Mean Girls') as Marion Hawthorne.
Q: Can you briefly tell me about your journey through Dreyfoos?
A: Ouf- briefly! Okay I'll try. Coming from MSOA I definitely felt pretty comfortable as a freshman, both academically and socially. Marsha Christo's printmaking class had a really big influence on me early on. I realized I loved textures and layering. I think some of that still shows through in my animation work. At some point I took Mr. John Griffin's intro to philosophy class, and that ended up having a pretty profound impact on how I thought about the world. I really had a lot of interests but always had an eye working in animation. Towards my senior year I remember it was a lot about art college and where to apply and how to get scholarships. Being a first generation American, and having parents that didn't go to college, I'm thankful for having DSOA help guide me through that process.
Q: How has Dreyfoos helped get you to where you are today?
A: I guess in some ways I answered that in the above. But really, when I think about it, Dreyfoos helped me get to where I am because it enabled me to be an adolescent that was true to who I wanted to be. Having visual art, and the arts as a foundation for education, and the ripple effect of how that changes social dynamics, I think is hugely important. Like, kids dressed how they wanted without being afraid of jocks, and I didn't have to worry about how I wasn't on the football team, and I had tons of friends to talk to about how much I like The Venture Bros. and Akira. It just felt welcomed at Dreyfoos. I think in some ways, I'm a more confident adult having been to a high school that felt so supportive and nourishing in an artistic way.
Q: How did you get into animation design?
A: It was a long-time goal. I was a huge Adult Swim fan while at MSOA and Dreyfoos and I thought it would be so cool to work on those shows after college. While I was in high school, I used to google the names of artists in the credits of DVDs so I could check out their blogs and see the work they're doing. In college I had an assignment to email an industry professional I admired, so I contacted this Art Director that was on The Venture Bros. at the time, Liz Artinian, with all these questions about Venture and the industry. I attached a link to my personal work, and she recommended me to be an intern at the studio she was working at, Titmouse Inc. With some trials and rejections along the way, 10 years later I'm still working at Titmouse, now as an Art Director.
Q: Explain the process of animation for tv?
A: Ouf, this is a big one! Basically, animation is a giant assembly line with multiple phases going on at once. It all starts with the script, and then everything is compartmentalized and accounted for and assigned out to different teams. It mostly starts with storyboards met with audio, in what we call an animatic. From there, everything gets designed, EVERYTHING, from the dust cloud in a footstep, to the backgrounds, to the characters, to the cars, all of it. Animators make the people move, compositors and editors put it all together. There's a ton more, but this is a general idea.
Q: Have you met any celebrities working on the show?
A: Ha! With Covid I haven't met anyone on 'Harriet the Spy'. I've rubbed elbows with a few people here and there over the years. Maybe most notably for this interview I did meet Eric Andre through a work thing several years back. Of course, we connected over being Dreyfoos alum.
Q: What stage is the project currently in? And when will it debut?
A: Right now, we're smack in the middle of production. We're working on many episodes at once, all in different stages. They haven't announced an official date for air.
Q: Who's your favorite animator or animation?
A: Genndy Tartakovsky (Dexter's Lab, Primal, Samurai Jack) Jackson Publick (The Venture Bros.) and Akira
Q: Do you have any advice for current Dreyfoos students looking to get into animation?
A: Hmm- well, I'd say two things:
Sharpen your foundational drawing and painting skills but focus on construction. Meaning, draw through your shapes, get those ellipsis right, understand perspective. It will always come in handy, and then when you start to develop a style, you can know the rules you're breaking.

Don't ignore your other hobbies or interests, and definitely don't ignore academics. As animators, or people working in animation, what we're really doing is storytelling. And to tell those stories you need ideas from lots of different places and influences, not just stuff you like on Instagram, cartoon shows, etc. I think it's important to be well rounded, that way, when you're working on a show, you're equipped to come at it with fresh new ideas that aren't self-referential to say, Steven Universe or another crazy popular show, but to something that's unique to your own experience. And to be clear, I'm not saying your favorite shows or animation can't influence you or motivate you, that's important. But the other non-animation/illustration influences are just as important.
You can check out Niko's artwork and follow his projects on his website: www.nikoguardia.com.
Written By: Marion Randolph