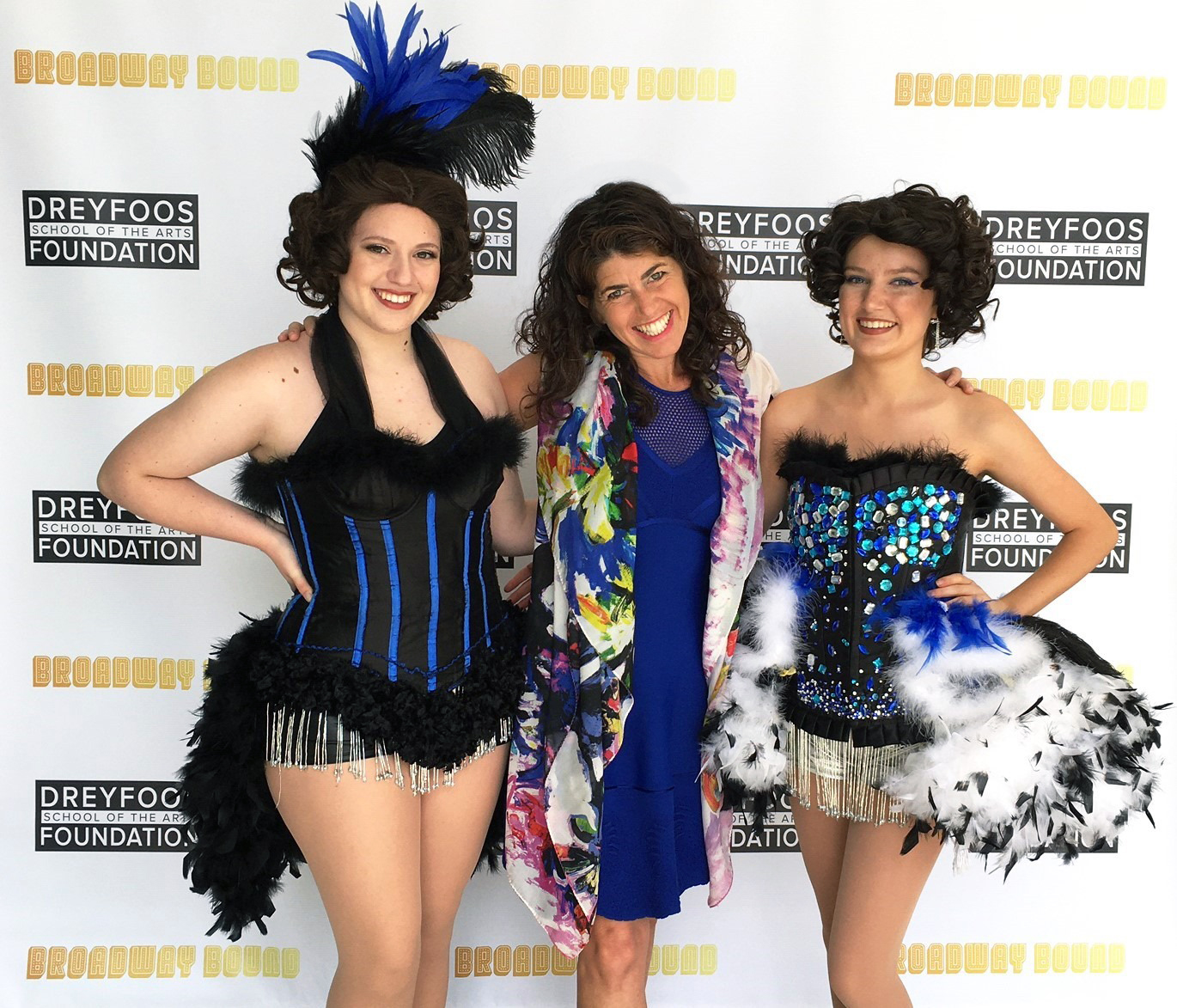 Mar 1, 2021
Q&A With Dena Lyons
Class of 1998 visual arts alumna Dena Lyons is living in an artist's paradise. Situated between South Florida and France, she spends her days painting in her garden terrace overlooking the Mediterranean Ocean. Since graduating, she's used her love of painting to create her own accessory line, donning custom designs for anything from masks (including our SOAFI logoed art masks) to scarves to pillows. Though she is living a dream come true, Lyons still looks back on her time as a Dreyfoos student as a fond and formative moment at the start of her artistic career. This interview transcription has been edited for brevity and clarity.
Q: Give us a brief description of what you do and the kind of art/design work you create.
A: I paint portraits of trees and flowers, and I enhance their characters through bold colors and bring them to life with expressive brushstrokes. And then I take imagery from these paintings, and I have amazing fabrics that I have them printed onto. They're turned into scarves, clothing, and pillows. Everything, whether it's my artwork itself, the imagery for my artwork, or the clothing and accessory lines — they're created to make you feel good every day.
Q: What was the process behind starting your own design brand and accessory line? What were some of the challenges you faced along the way?
A: The mindset of an artist is different than that of a businessman. First, as an artist, you have control over your artwork and rely on yourself only. Running a scarf company however, you have to relinquish control as there are many people involved. With every scarf I create there are at least 100 people somewhere along the lines with their hands involved.
Ultimately, I am responsible for any flaw in a scarf or other problem, but at the same time it is not all under my control. Running a company is like being in the ocean. One must adapt to any and all circumstances at a moment's notice with the change of the tide.
Q: What do you do when you struggle to find inspiration to create your artwork?
A: We all have days where we're a little tired, or it's grayed out, or we have things on our mind — particularly when I'm running my company, it's a lot of stress. So sometimes you just have to push through it, you just have to keep painting. I get up, I paint, and that's what I do, and you don't know where it's going. But sometimes it's those days where you're struggling that you end up with the best artwork.
And some days you just decide, 'You know what? It's not going to go anywhere.' And I'm going to read a book or listen to some music, or go take a walk in the sun, and then come back to it later.
Q: You seem to incorporate a lot of vibrant colors into your designs. What's your creative reasoning behind this?
A: Each individual has an innate color palette. Mine happens to be joyful and vibrant! I do love the subtle colors as well, [they] make the bold colors pop. But I just love every color. I like putting them all on one canvas in various proportions. And I just think they're fun, too.
Q: How did your time at Dreyfoos shape you into the person you are today?
A: The Dreyfoos school always encouraged students to proceed with their passion, whether it's an art form or other. And it sort of had a contagious positivity and vision that gave me the encouragement I needed to develop into being what I've become. I don't think I would have done that without the support of the staff at the Dreyfoos school.
[At] Dreyfoos, every day was really inspiring. I remember how wonderfully wild the school was. There were ballerinas pliéing down the halls, students were hanging paintings everywhere, and just the ethos of the school bred inspiration and ideas.
Q: How did studying at Dreyfoos affect your artistic style?
A: I always loved [my teachers]. They're always fascinating and fun and unusual and creative and inspiring… [Dreyfoos has] amazing teachers that create amazing projects that allow you to dabble in all sorts of different things, including the other art forms. Each one gave perspective as to what I was doing as an artist, which led me down the path I ended up.
It was because of the Dreyfoos school that I felt confident in pursuing my artwork. It was Dreyfoos that lead me to the exhibition whereby I was awarded a scholarship to study in France [and I] fell in love with France. I moved here 18 years ago to travel and paint in the countryside.
Q: Could you please touch on your relationship to Dreyfoos School of the Arts Foundation (SOAFI), and why you believe that it's important to support the work that they do?
A: I always had ample paint at school (which can be expensive!). I owe a lot to SOAFI and will always be happy to donate or help out where I can. As I have a clothing company, donating scarves and creating custom masks or other accessories is a no brainer for me.
Q: What impact do you hope to have on the people that experience your art or buy your products?
A: I kind of believe in energy flow, and the energy you put into the artwork is what comes out of it. So, my artwork is intended to inspire you each day. Whether with a human-scaled flower, or with the silk scarf, whether it's in your dining room, or something you're wearing on your body —I put lots of energy [into it]. Everyone knows I am full of energy; I can't stop buzzing around. I just throw it all into the colors, all into the artwork. And I just want that to come out and inspire you and make you happy each day, and just brighten every day.
Q: What advice would you give to aspiring artists who may want to enter the artistic industry or start their own business after high school?
A: I would say do what you love, then you'll always be happy. That said, I believe in the old adage, '80 percent perspiration, 20 percent inspiration,' so you still have to put in a bit of effort. But do what you love, and ultimately, you won't get bored, you'll be happy, and just keep pursuing it.
Anyone that makes a min. $100 donation to our 30th anniversary resilience fund here will receive a beautiful SOAFI art mask designed by alumna Dena Lyons.
To learn more about Dena Lyons and her work, visit her website: denalyons.com.
Written By: Sophia Roud