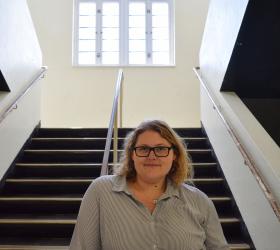 Aug 30, 2015
Q&A With Lacey Van Reeth
Spotlight Date:
August 31, 2015
Download Original
]" class="imagefield imagefield-lightbox2 imagefield-lightbox2-spotlight_thumb imagefield-field_spotlight_photo imagecache imagecache-field_spotlight_photo imagecache-spotlight_thumb imagecache-field_spotlight_photo-spotlight_thumb">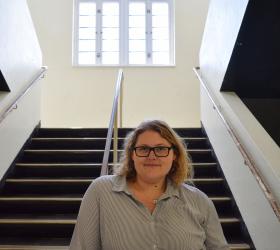 If you have heard one of the past few valedictorian speeches, you have heard the top-ranked students mention 'LVR' in their summation of fond Dreyfoos memories. If you are a Dreyfoos alumni, you might know 'LVR' as Lacey Van Reeth, a Class of 2002 Visual Arts alumna, and obvious student favorite. Newly appointed as the Dean of the Visual Art Department, we caught up with Lacey to ask her a few questions before the busy school year began.
Q: Favorite Dreyfoos teacher?
A: Jenny Gifford, Jane Grandusky and Tom Ruth! I can't pick one!
Q: What is the most profound change you experienced at Dreyfoos?
A: Realizing that your peers at school could be your friends and support you! My middle school experience was not the most positive.
Q: College attended?
A: I started at Kansas City Art Institute - then transferred to Florida Atlantic University where I graduated with a BA in Art History. While working as an Artist in Residence here at DSOA I earned my Masters in Art Education from the University of Florida.
Q: When did you first decide you wanted to become a teacher?
A: By pure accident! Jenny Gifford invited me to teach one section of regular Art History as an Artist in Residence during the 2009-2010 school year. I love working with the kids, and loved giving back to this school that gave me so much. I took over the AP Art History courses the following year and that sealed the deal. I put in tons of my own time learning the ropes and ultimately elected to also earn my Florida Teaching Certification while attending the University of Florida.
Q: You started at Dreyfoos as an Artist in Residence, what was the transition to full-time teacher like?
A: Over my years at Dreyfoos as an Artist in Residence, I gradually asked to take on more responsibilities to help out my department as a whole. As a result, the transition wasn't that huge in terms of time or responsibilities.
Q: What have been some of your favorite experiences?
A: Every year, AP Art History exam day is the culmination of my year with all my little APAH (Advanced Placement Art History) nerds. I love seeing their nervous preparatory cram-sessions the morning-of and all the panicky faces as they enter the gym. Graduation is also an amazing experience: I particularly remember the lovely graduation speech and musical number of Christopher Wan, valedictorian of the Class of 2013.
Q: What do you feel has been the highlight of your career so far?
A: Definitely the day Dr. Atherley offered me a faculty position at DSOA.
Q: This year you start your position as Dean of the Visual Art Department, did you ever see yourself running the program you graduated from?
A: Absolutely not. Never in a million years. That goes to show you that you never know! I will forever be in the shadow of my amazing predecessors Jane Grandusky and Jenny Gifford.
Q: How is it to get to work with other Dreyfoos (SOA) alums on a daily basis?
A: It's so much fun because we often reminisce about our times here when we were students; we all have big love for this school and want to help carry on its legacy.
Q: What recommendations do you have for our current DSOA students?
A: Take full advantage of all of the awesome faculty and opportunities DSOA offers you on a daily basis - there really is nothing else like it.
Q: In a brief statement can you explain "What Dreyfoos means to me"?
A: To me, Dreyfoos is a safe space where the teachers genuinely care and the nerdier you are, the better.