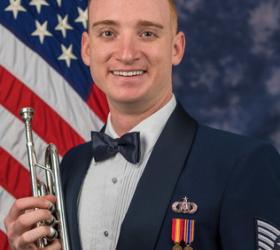 Mar 24, 2019
Q&A With Forrest Sonntag
Spotlight Date:
March 25, 2019
Download Original
]" class="imagefield imagefield-lightbox2 imagefield-lightbox2-spotlight_thumb imagefield-field_spotlight_photo imagecache imagecache-field_spotlight_photo imagecache-spotlight_thumb imagecache-field_spotlight_photo-spotlight_thumb">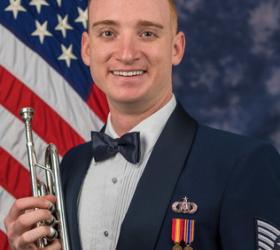 Class of 2009 alumni Forrest Sonntag practices his passion and serves his country daily as the Principal Trumpet of the United States Air Force Concert Band in Washington, D.C. Since he began performing with the band in 2017, Sonntag has played alongside musicians across the country on biannual national tours. After attaining his Bachelor of Music degree from the Manhattan School of Music, Sonntag immediately began pursuing a career in his art, working for various symphonies before joining the Air Force band. Currently, he is concluding a national tour, and will next appear in concert in South Florida.
Q: What did you major in at Dreyfoos, and what year did you graduate?
A: I majored in Music and I graduated in 2009.
Q: Where did you attend college?
A: I attended the Manhattan School of Music in New York City and studied Classical Trumpet Performance
Q: Where did you work before your Air Force career, and what made you pursue the Air Force Concert band?
A: I had a few different jobs before the Air Force. I started out working as a freelance musician in South Florida after college in 2013, and played lead trumpet for a summer with Royal Caribbean Cruise Lines. In 2014, I won the position of 2nd trumpet with the Southwest Florida Symphony in Ft. Meyers, FL, and was there for one season. Early in 2015, I won the position of 2nd trumpet with Jacksonville Symphony in Jacksonville, FL, and performed with them for two seasons until 2017, when I took the audition for the Air Force Concert Band in Washington, D.C. I always had heard that the concert band was a great job option and had actually taken three auditions for them in college, ending the third audition as a "qualified" runner-up. When I took the audition that I ended up winning in 2017, I was really in need of a change of pace from Jacksonville Symphony, and it was perfect timing that a position opened up.
Q: Describe your job in the Air Force Concert band.
A: Wow, where do I start?! Being in the Air Force Concert Band means that we are America's International Musical Ambassadors. The organization is made up of six different musical groups, and I currently am Principal Trumpet of the Concert Band, a position I was fortunate to win just a few months ago after our previous principal trumpet left the group. We also have a rock band, a chorus, a jazz band (the Airmen of Note), a strings group, and a ceremonial brass group that mainly plays funerals for fallen soldiers in Arlington National Cemetery. Furthermore, the strings and concert band can be combined to make a full orchestra. So technically, it is seven groups!
In the concert band, we perform concerts all around the D.C. area in various halls and outdoor venues. We also go on two national tours every year to various locations around the country. We are just finishing up a tour through Colorado, Nebraska, Wyoming, and Iowa, and in the fall are coming down to South Florida! We travel to the far corners of America honoring those who have served while positively impacting local communities by using music to bridge language, cultural, societal and socio-economic differences. The band's performances advance international relationships and inspire positive and long-lasting impressions of the U.S. Air Force and the United States.
Q: What is your favorite thing about your job?
A: I would say my favorite part about my job is the fact that I get to serve my country and still get to do what I love to do, which is making music. The musical opportunities I have been given since I've been in [the band] have been endless. I love the people I work with and the many places the band has brought me to around the country. The smiles and expressions on people's faces that may never come in contact with another active duty military person ever again in their lives, are priceless.
Q: What is the most challenging thing about your job?
A: Going through Basic Training! We go through the same process as all young Airmen coming into the Air Force. We aren't exempt! After Basic, the job is a dream.
Q: Did attending Dreyfoos impact your career choice? If so, how?
A: Dreyfoos definitely impacted my decision to become a full-time musician. I think I was around halfway finished with my junior year when I decided I wanted to perform music full-time and truly started to immerse myself. It was through the support of my music teachers that I fell in love with music and decided it was what I was meant to do!
Q: While at Dreyfoos who was your favorite teacher(s) and why?
A: This is a hard question! I really did like most of my teachers. Obviously though, it would have to be Mr. Miller, who at the time was my band teacher. He gave me the support I needed to grow as a young musician.
Q: What is your most memorable experience at Dreyfoos?
A: My most memorable experiences were the annual incredible Prism concerts put on by the Music Department and Spirit Week. Everyone's true colors came out during Spirit Week!
Q: What advice would you give to current Dreyfoos students?
A: I would say the best advice I could give is to make sure you are passionate about what you do. There is no better feeling than going to work now, knowing that it this is what I love doing. As you're going through high school, don't worry about what other people are saying or doing around you; focus on what really makes you happy as an individual.
Written By: Maddy Rubin