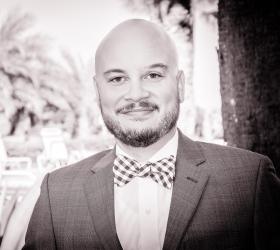 May 29, 2017
Q&A With Alum Santo DiGangi
Spotlight Date:
May 30, 2017
Download Original
]" class="imagefield imagefield-lightbox2 imagefield-lightbox2-spotlight_thumb imagefield-field_spotlight_photo imagecache imagecache-field_spotlight_photo imagecache-spotlight_thumb imagecache-field_spotlight_photo-spotlight_thumb">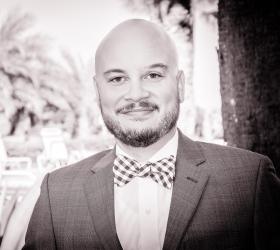 Santo DiGangi graduated from Dreyfoos in 2002. A trombone player at Dreyfoos, Santo dual majored in Political Science and Criminology at the University of Florida, where he went on to complete law school. Now an Associate Attorney at Critton, Luttier & Coleman, Santo has previously worked for the State's Attorney's Office in Miami, and the Fifteenth Judicial Circuit in West Palm Beach. Recently, Santo has joined the Dreyfoos School of the Arts Foundation Board of Directors as our ex officio Alumni Representative.
Q: Favorite Dreyfoos (DSOA) teachers?
A: With so many talented and gifted teachers at DSOA, it is extremely difficult to narrow down this category. I would have to say my favorite teacher was probably the teacher to whom I caused the most grief over the span of 6 years, our band director Wayne Miller. Every single day he challenged me to become a better musician and an even better person. Looking back, it is remarkable he never gave up on me in spite of my hormonal teenage antics.
Q: What is the most profound change you experienced at Dreyfoos?
A: This is a tie between gaining the ability to grow facial hair and my voice changing and dropping an octave as a 13-year old. But in all seriousness, DSOA helped me understand the importance of friendships and the ability to hold meaningful friendships with people from all walks of life regardless of race, sex, religion, or sexual orientation. At DSOA, I met the people that I still call my best friends today. We've walked alongside each other through graduations, career changes, marriages, and now parenthood. It was at DSOA that I realized friends can be family too.
Q: When did you decide you wanted to pursue law?
A: It was my goal as a 5-year old to become an attorney and that never really changed. My father was a lawyer in Sicily, but never practiced law in the United States. I was his first-born son and after he passed away, it always remained my goal to honor his memory with my career.
Q: Is there something Dreyfoos could have provided that would have better prepared you for college and your career?
A: I cannot say enough about DSOA and how it helped shape me into the person I am today. My well-rounded education prepared me not only for college and law school, but for the "real world." DSOA taught me that education is more than just learning for the sake of achievement; it's about learning to understand the world around us and how we fit into that world.
Q: Before going to work for a private firm, you worked for the State's Attorney's Office. Tell us a little about the pros and cons of each.
A: I have been very fortunate in my career thus far. Working at the Miami-Dade State Attorney's Office as a prosecutor was an incredible experience that provided me with the unique opportunity to serve the public. I was also able to gain a tremendous amount of trial experience that most attorneys will sadly never experience. However, working as a prosecutor limited my practice to solely criminal law. My current position as a civil trial attorney with Critton, Luttier & Coleman has exposed me to a variety of areas of law including complex commercial litigation, legal malpractice, business litigation, personal injury, and so much more.
Q: How do you believe your education in music has benefitted you in your current career?
A: Having a background in music, or any art for that matter, activates and cultivates a whole different part of your brain that cannot occur through academics alone. I truly believe that attending DSOA and receiving an education in the arts has helped me to view most matters from a different perspective and to always think outside the box. In legal matters, this ability can be very beneficial in resolving the most difficult cases.
Q: Do you still play trombone?
A: Much to my wife's chagrin, the trombone makes the occasional appearance after a big Gators win! I played trombone throughout college in the University of Florida Gators basketball band and even played in the Gators marching band one year. However, I am no longer the trombonist that I was in high school.
Q: What has been the highlight of your career so far?
A: A few years ago, I represented a local citizens group called Citizens for Thoughtful Growth in a case against the City of West Palm Beach. We were able to obtain a precedent-setting victory in the appellate division of the Fifteenth Judicial Circuit by successfully challenging the City of West Palm Beach's procedure in allowing the City Commission to consider an application for rezoning a parcel of land to a Residential Planned Development ("RPD") without the requisite findings by the Planning Board. This was the first time in over twelve (12) years that the Fifteenth Judicial Circuit acting in its appellate capacity granted oral argument to hear this significant legal matter. I performed the oral argument on behalf of Citizens for Thoughtful Growth and there was a published opinion by the court in our favor.
Q: You have recently joined the Foundation's Board of Directors as the Alumni Representative. What inspired you to do this?
A: I am so honored to have been appointed to the Foundation's Board of Directors as the Alumni Representative. During my time at DSOA, I knew I was part of something special. Unfortunately, as a teenager you aren't able to truly grasp the significance of what you are accomplishing at such a young age. Serving on the Board will do a small part in helping to ensure future generations of students can experience the world class education at Dreyfoos that I was lucky enough to receive.
Q: You are also a part of the Kiwanis Club among other organizations in town. Why do you feel it is important to be involved in the community?
A: The community you grow up in helps shape the person you will become one day. I am lucky to be in a position to help give back to the same community that helped shape me. I wouldn't be where I am today without those people and organizations that supported me when I was growing up. I believe it is our responsibility to support the next generation of leaders and inspire them to do the same.
Q: Have you had the opportunity to work with any other Dreyfoos alums?
I've been lucky to maintain a number of friendships with many DSOA alums. I'm always excited when I see one of my classmates in a courtroom, in the newspaper, or on television screen, and am constantly impressed by the wide array of careers DSOA alums have pursued. Of note, my brother Luigi DiGangi is a class of '05 theater major and my cousins Luigi Montante ('98) and Maria Montante ('00) are fellow band majors. So Dreyfoos really is a family affair for me!
Q: What recommendations do you have for our current DSOA students?
A: Don't take the indescribable opportunity you have been given by attending Dreyfoos for granted. Make the most out of your art classes because those are the memories you will treasure the most after you graduate.
Q: In a brief statement can you explain "What Dreyfoos means to me"?
A: DSOA isn't just a school, it is a family. The education I received at DSOA was more than just words in book; it opened my eyes at a young age to strive to become an accepting, open-minded, and well-rounded person. The camaraderie that was fostered by DSOA and founded upon the creation of art with my friends and classmates will last a lifetime.