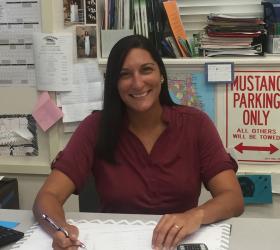 Sep 29, 2016
Q&A With Alum Rachelle Lowen
Spotlight Date:
September 30, 2016
Download Original
]" class="imagefield imagefield-lightbox2 imagefield-lightbox2-spotlight_thumb imagefield-field_spotlight_photo imagecache imagecache-field_spotlight_photo imagecache-spotlight_thumb imagecache-field_spotlight_photo-spotlight_thumb">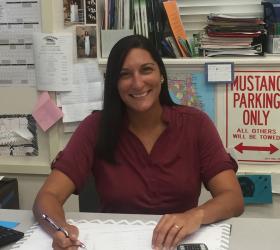 Rachelle Lowen (nee Rubin), a Class of 2001 Communication Arts alumna, couldn't stay away from Dreyfoos for very long. After attending the University of Florida and Baruch College – CUNY, Rachelle worked in Marketing in New York City before deciding to make a switch to teaching. Now in her fourth year at Dreyfoos, Rachelle has been named the Head of the Math Department, and also spends her time coaching the swim team, and heading up the Student Government Association.
Q: Favorite Dreyfoos teacher?
A: I can't choose! They were 'Weber', Deluz, Ruth, Senora Smith
Q: When did you first decide you wanted to become a teacher?
A: I suppose growing up I always wanted to become a teacher. Many factors led me towards business, but in the end I was led to my true calling. After many years of working in New York City, I decided to leave my Marketing career and become a teacher.
Q: What made you want to come back and teach at Dreyfoos?
A: Becoming a teacher already fulfilled so many aspects of my life. But to have the chance to teach at a school that meant so much to me, and gave me my own wonderful experiences, was an opportunity I could not pass up. This was a way of giving back to this school, as well as sharing in the continuous magic of working with such talented students!
Q: What have been some of your favorite experiences?
A: Coming back to teach alongside some of my role models and leaders has been a fun part of my experiences here. Seeing my favorite teachers just as involved now, as they were when I was a student, reminds me of how special the teachers and staff are at Dreyfoos. I attribute more of my success as a student to having these amazing and talented teachers by my side throughout my high school career. Seeing everything behind the scenes now makes it all more evident of how special they were and how they each made an impact year after year with so many students.
Q: What do you feel has been the highlight of your career so far?
A: My current roles of teacher, leader, coach, sponsor, chair, member have created my 'highlight year' of my career which would be my day to day duties of this school year all wrapped up in one. I am proud to be the Math Department Head, and will help continue to grow our students success in mathematics. I enjoy being the SAC Chair, and working with community members towards achieving success on our School Improvement Plan and strategic goals. I love sharing my experiences in the arts with my students, and how Communications has played a pivotal role in so many aspects of my life. Having the opportunity to relate my experiences as an arts student, while teaching students Algebra 2, is a gift and a highlight indeed!
Q: This year you start your position as head of the Math Department; did you ever see yourself running this department?
A: When I transferred here four years ago, I was finishing my coursework for my Masters in Educational Leadership. Although I had leadership in my future plans, I did not have the math department head on my radar. I am honored to have the opportunity to lead the math department, and offer my support to teachers, some of whom I sat in their classroom as a student. As department head I hope to help enhance learning experiences for students, and increase technology available in our classrooms.
Q: You are also head of the Student Government Association. What inspired to you take on this role?
A: As a Dreyfoos alum, Spirit Week was always one of those memories that one will never forget. From the dress up days to the float parades, it was something that set Dreyfoos apart from all other schools. So when I was approached by Mr. Miller to take on the role of SGA Sponsor, I thought of how fun it would be to help create this experience for the whole school. Not only do I get to plan Spirit Week, but I work with an amazing group of students and future leaders who are dedicated to their school and student body. It's a pleasure to work with these talented individuals across departments and grade levels, all to instill spirit and an arts culture in the Dreyfoos experience.
Q: How is it to get to work with other Dreyfoos (SOA) alums on a daily basis?
A: It's very cool to get to work with Dreyfoos alums. There's just an understood bond that no one else would really understand.
Q: What recommendations do you have for our current DSOA students?
A: It is important to keep working hard and never give up! But, don't overburden yourselves. It is ok to say no, for sake of not spreading yourself too thin. There's always another show, event, meeting, tutoring, something taking place, and between homework, studying, practicing, eating, and sleeping, our kids are tired and over committed. It's a habit that will stick with you for a long time, if you don't work on saying no now! It is something I am working on myself, but I see it in many of our students, and is a trait common among many Dreyfoos alum!
Q: In a brief statement can you explain "What Dreyfoos means to me"?
A: Dreyfoos means so much to me it's hard to wrap up in one statement. It is a place that shaped who I am today, and it is where I will continue to create lasting memories for me and my students to come. It is always a place that I will think of fondly no matter where my future takes me.