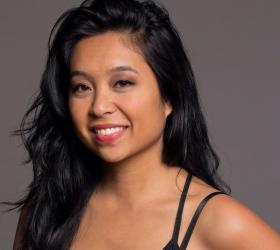 Mar 18, 2015
Q&A With Alum Maritte Go
Spotlight Date:
March 19, 2015
Download Original
]" class="imagefield imagefield-lightbox2 imagefield-lightbox2-spotlight_thumb imagefield-field_spotlight_photo imagecache imagecache-field_spotlight_photo imagecache-spotlight_thumb imagecache-field_spotlight_photo-spotlight_thumb">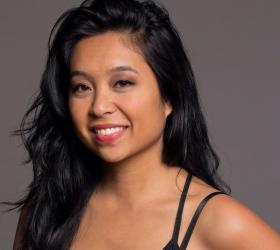 Maritte Go, class of 2000 Theatre alum, was on her way to Austin for the South x Southwest Film Festival (SXSW) when she answered our questions about her busy life as a producer, her memories of Dreyfoos, and her recent project, "Guest Room". "Guest Room", s
tarring Glee's Lauren Potter,
is an official selection for SXSW and
follows the feature film she also produced titled "Love Land".
Q: Favorite Dreyfoos (SOA) teacher?
A: Mr. Johnston. He really inspired me to write and was very supportive of my crazy stories. He really believed in me and I'll never forget that. He gave confidence to my voice and that I had something interesting to say.
Q: What is the most profound change you experienced at Dreyfoos (SOA)?
A: SOA brought me out of my shell. In previous schools, I felt that I needed to shove myself down in a corner and to know my role. As one of the only Asian girls at any of the previous schools, I felt like an outsider. People would call me names. When I got into SOA I met the craziest theatre people, specifically a girl named Danielle Worth who remains my best friend today. She inspired me to be myself and not be afraid of what people think. That was the best thing about SOA. The weirder, more different, and more talented you were, the more you were admired. People could be their weird selves and be loved and appreciated for it. That's completely opposite of the outside world.
Q: Is there something Dreyfoos (SOA) could have provided that could have better prepared you for your college and career?
A: I would have loved to know the business aspect of selling myself as an actor ... when I was an actor. Now I'm not. I'm a producer now because I wanted to know the business side of it. It's great to be creative but knowing how to make money and support yourself for it is equally as important. We learned everything creatively, but being an artist also requires being a savvy business person. I had to learn that the hard way.
Q: College attended?
A: Florida State University - BFA in Acting
University of Southern California - MFA in Film and Television
Q: College graduation year?
2013 USC
Q: A short film you produced, "Guest Room", has been selected for the 2015 South x Southwest Film Festival, what has that been like?
A: "Guest Room" is a follow up to a feature film I produced 2 years ago. It's about a young woman with Down Syndrome who finds out that she is pregnant. Both films center around individuals with disabilities. We feature actors who have the same disabilities as the characters they are written for. It has been the most rewarding experience of my life, to work with actors who'd never gotten the experience or even the chance. Roles are being given to able bodied actors but that's like giving a female role to a male. We have plenty of actresses, why are we giving it to a man? It's like that. Anyway, I am very proud and honored to bring the film to SXSW. I think people will be surprised with the talent in the film. Lauren Potter from "Glee" stars in it alongside Michael Iovine from our previous feature film called "Love Land." They both have Down Syndrome and are forces to be reckoned with.
Q: As a producer, what is your day-to-day like on set?
A: Producing is like being an octopus. I'm doing 20 things at the same time all the time and numerous projects simultaneously. I'm on a bunch of projects right now; pre-production on a feature, prepping a commercial that shoots next weekend, prepping something I'm directing in early April and will premiere at LA film fest, and all while going to SXSW. Every day is an adventure with a new project and a new location and new challenges. I love it.
Q: Apart from producing, you have also been a director, editor, and writer for a number of other projects. What role would you say is the most rewarding?
A: The best part about that question is that I don't really have to choose because I do enjoy doing all those things. Filmmaking has allowed me to do all those roles. I get bored easily so changing it up is what's most exciting. If I had to choose, maybe directing is the most enjoyable because it's closest to acting, my first love. Working with actors is my favorite. Makes me feel alive.
Q: What have been some of your favorite experiences?
A: My favorite experience was watching the whole cast of "Love Land" accept the jury prize at the New Orleans Film Festival. It was so rewarding to see them so happy and finally getting recognized for their talents.
Q: What do you feel has been the highlight of your career so far?
A: I find that this year in particular is a culmination of all the years I have been working towards the purposes of equal opportunities for people with disabilities. It took us years to make "Love Land" and "Guest Room." To finally have the short premiere at SXSW is an honor, then showing "Love Land" at Cleveland International Film festival next week is such an honor. I also just produced 5 films that will be played on Comedy Central hosted by Jon Stewart. It's called "Night of Too Many Stars" and it is to bring awareness to autism. There's so much to go for me and so I try not to feel too satisfied with what I've done so that I can keep pushing harder for the next thing.
Q: Have you had the opportunity to work with other Dreyfoos (SOA) alums?
A: Francesca Ramsey (Theatre, Class of 2002) has really been a supporter for our message. She wrote an article about us and featured it in Upworthy. She's amazing and helped us spread the word. I've also had so much support from my best friends, like Danielle Worth, who helped donate to our films.
Q: What recommendations do you have for our current DSOA students?
A: The thing I've realized about producing is that you can really achieve anything you want as long as you push hard enough for it. I've had to find the most impossible things in the most impossible situations with no money and everything against us to make movies happen, and I never take no for an answer. When someone says no, there are a million other doors to knock down to find that yes. That goes for anything in life. Keep pushing and asking and showing up. Work harder than anyone else and stay humble. People will see and your reputation will precede you.
Q: In a brief statement can you explain "What Dreyfoos means to me"?
A: Dreyfoos means happiness, freedom of expression, and to love yourself.