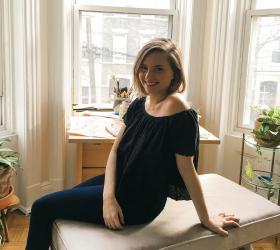 Mar 22, 2016
Q&A With Alum Lillian Farag
Spotlight Date:
March 23, 2016
Download Original
]" class="imagefield imagefield-lightbox2 imagefield-lightbox2-spotlight_thumb imagefield-field_spotlight_photo imagecache imagecache-field_spotlight_photo imagecache-spotlight_thumb imagecache-field_spotlight_photo-spotlight_thumb">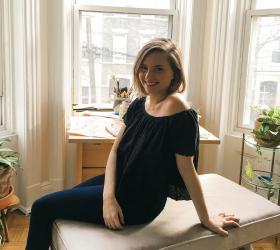 Lillian Farag, a Class of 2003 Visual Arts alumna, spent over 6 years at Macy's as a textile designer after graduating from Savannah College of Art and Design with a BFA in Surface Design/Fiber Arts. Now on her own doing freelance print and textile design, Lily is busy working on projects for Anthropologie, DSOA alum founded companies Flagpole Swim and Paper Epiphanies, as well as her own line of products and accessories, to name a few.
Q: Favorite Dreyfoos teachers?
Marsha Christo first and foremost! Pete Stodolak, Jenny Gifford, Connie Rudy and Jane Grandusky ... basically all of the visual art teachers that had a hand in forming me as an individual artist and allowing me to have a voice, whether I knew it at the time or not.
Q: What is the most profound change you experienced at Dreyfoos?
I remember during my sophomore year, realizing that I was no longer intimidated by our mandatory figure drawing classes and there was a shift in my confidence as an artist. There is something about being surrounded by incredible talent. You feed off of each other's ideas and motivation. I never felt I was one of the top visual arts students in terms of technical, traditional talent. I had to work hard to keep up with my class, and suddenly realizing I had my own thing going on and that it was accepted by my peers and teachers was what I needed to explore that path further.
Q: When did you first realize that textile and print design was something you wanted to pursue?
I actually think about this moment a lot, it was during one of my printmaking/screen printing classes with Mrs. Christo. We were always encouraged to use different materials and experiment. That was by far my favorite thing to do. I learned a lot of printmaking techniques and how to use materials and tools, but then we were left to sort of venture on our own. I experimented a lot with fabric, different paper and other non-traditional surfaces. It was during that course that Marsha suggested I start looking into fiber arts programs and schools that offered surface design. My artwork always had a sort of design element to it so I started thinking of the bigger picture.
Q: Is there something Dreyfoos could have provided that could have better prepared you for your college and career?
Yes, while I was extremely prepared for the intense critiques and various foundation courses during my first year, I was not prepared with the financial difficulty that I would face in the coming years. When I was applying to colleges I was so focused on where I would fit in the best, what schools would help me get to where I needed to be. I did not educate myself with the fact that college can be very, very expensive.
There are a lot of grants and opportunities out there for financial help and unfortunately, I was not in a position at home to get the proper guidance to take advantage of all there was to offer at the time. I often look back wishing that there was a point person or course that could have worked with me in conjunction to applying to colleges as well as their financial aid programs. Something that could have helped me identify the proper opportunities for my situation and help fill out the paperwork needed. Graduating high school was a busy time in my life and with all the change that comes with that, it's very difficult to also think about long term financial decisions, let alone make them. It's really the only thing I regret not taking more seriously before graduating.
Q: You previously worked as a textile designer for Macy's. What was it like to work for such a large company?
Macy's! Yes, it is a large corporate company and I worked there for 6 1/2 years! It was my first real job right out of college. Looking back I think that was a smart move on my part at the time.
I learned a lot of what I know now during my time there. During those years I moved around within the company, working for various "in-house" brands and was able to get a good overall sense of print design and how high-fashion can be interpreted for a mainstream customer. I was able to get firsthand experience on how to get from an idea to a finished product, and seeing my designs on the street was by far the best part of working for a company that large. I still see some of the designs I worked on while riding the subway or randomly while I'm out and about. It's very rewarding.
That being said, I'm glad I checked "big corporate company" off my list, because I realized that moving up a corporate ladder was not for me. I also realized that I really loved painting and having the knowledge of print design in fashion and accessories, I had a better vision of how I wanted to apply my skills onto my own ideas.
Q: What made you decide to make the switch to freelancing?
I realized that I had hit a wall in terms of learning new and exciting things and I felt that it was time for change. I have always been more of a "hands on" artist and wanted to explore other design opportunities that allowed me to paint and pitch my own ideas. I also felt confident that I had the tools and experience I needed to be a successful freelancer and I had a lot to offer.
Freelancing allows me to collaborate with other designers/brands and that is something I felt I was missing working for such a large company.
Q: What is your day-to-day like? How do you balance your various projects?
Balance is something I am still trying to find a rhythm to. Everyday tends to be quite different. Some days I work from home which usually entails: painting, creating prints or making products for my website or other clients, scheduling meetings or pitching ideas to potential clients. etc..
Other days I work "in-house" for larger companies creating original artwork for any particular season.
I plan my weeks/months according to the projects that I have going on. I tend to have a range of about 2-4 projects at one time and on top of that I have a small business making my own products and accessories that could quite possibly be its own full time job. Needless to say, I work A LOT of weekends.. but hey, who's complaining?! :)
Q: What would you say is the biggest challenge?
My biggest challenge by far is running a business. Sure I get to paint and make "things" for a living - it is all great! However, when that becomes your means for living, there is an overwhelming pressure that goes along with it and can sometimes block your creative channels and motivation for new ideas.
I have to constantly work and set aside time to paint for myself. I've learned through the years that, its where all the big ideas and breakthroughs happen. I also try and make time for taking classes on the side. Being around other independent artists is a great way to boost your creative thinking.
Q: What is your favorite project you have worked on so far?
This is a hard one to answer. Every project that I get handed is always a new challenge and reminds me that I will never get bored doing what I do.
I was recently asked to create a few illustrations for the Anthropologie Style Blog and I guess I would say that was quite different for me and had me thinking outside the box. There wasn't much direction which can sometimes be daunting. They liked my artwork, gave me a few photos of products to work with and basically said "run with it".
Any opportunity for me to collaborate on something different is always a challenge that positively impacts my ability as an artist, even after the project is finished.
Q: Have you had the opportunity to work with any other Dreyfoos (SOA) alums?
Yes! I have, a few of them actually!
I work closely with Jaime Barker (Class of 2007) and Megan Balch (Class of 2007) who founded Flagpole Swim in 2013. They have had an amazing hand in my success as an independent print designer. Early on we met and discussed what sort of prints would sit well with their collection. We worked together to pull inspiration and ideas and created a great collaborative process that works well for the both of us. It's been a dream to work with them each season. They just launched their Spring 2016 line which debuts our "Summer Sails" print that I am very excited about!
I also just finished a great project for Paper Epiphanies, a luxe stationery and letterpress line founded by Victoria Venturi (Class of 2003). As a fan of their sassy cards, I approached her with the idea of possibly collaborating on her next line. We discussed a few ideas and I developed prints for various products including printed desktop weekly notepads that will be launching at the National Stationary Show in May.
Q: What recommendations do you have for our current DSOA students?
I think it's important to embrace the artistic freedom you are given while still in school. I am always baffled when I think about how much freedom we were given as young artists while at Dreyfoos. If you can dream it, you can make it. Acknowledge the support and tools you have at your fingertips, and don't be afraid to tap into that.
Try to break boundaries with your ideas and allow yourself to move forward and grow, don't get too hung up on a bump in the road. It's really hard to stand out in this age of Instagram and Pinterest where you are exposed to so many amazing things. I often get intimidated by all the talent that I am exposed to. It's important to remind yourself that if you truly like what you do; the art begins to speak for itself.
Q: In a brief statement can you explain "What Dreyfoos means to me"?
Dreyfoos means a lot me. I would have never explored an artistic career if I had not had the people around me constantly striving for the best. It is contagious; I carry a lot of that motivation with me today.
I think in one word I can describe what Dreyfoos stands for as freedom. Dreyfoos allowed me to become my own artist, it allowed me to work better with other artists (not just visual artists) Musicians, Actors, writers etc... Never conservative in their ideas of what it means to be an artist. I think back on how often we would see other students carrying around instruments and playing them in the halls. Having class outside because the weather is nice; Coming together as a class combining all of our different talents during spirit week.
All of these things add up to what I called a very open, embracing high school experience and it is so unique. I feel really lucky to have had that kind of freedom so young.