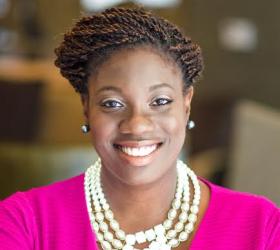 Nov 19, 2015
Q&A With Alum Jonelle Henry
Spotlight Date:
November 20, 2015
Download Original
]" class="imagefield imagefield-lightbox2 imagefield-lightbox2-spotlight_thumb imagefield-field_spotlight_photo imagecache imagecache-field_spotlight_photo imagecache-spotlight_thumb imagecache-field_spotlight_photo-spotlight_thumb">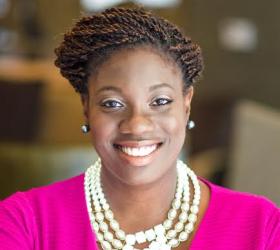 Class of 1995 Communications alumna Jonelle Henry went on to study Telecommunications at the University of Florida before getting her Masters in Communications from John Hopkins. Now an International Producer for C-SPAN, she also stays very involved in the Washington, D.C. community as Founder and Host of Districtly Speaking, Editorial Board Member of emPower Magazine, Communications Chair for the DC Gator Club, and as a neighborhood Girl Scout Troop Leader.
Q: Favorite Dreyfoos (SOA) teachers?
Mr. Deluz. SOA was brand new at the time when I attended. So to oversee a program in its first year must have been challenging. We were the first students there. He was so patient with all of us. I'm sure we drove him crazy at times! But he witnessed our growth from bright-eyed middle schoolers to polished and talented young artists.
Q: What is the most profound change you experienced at Dreyfoos?
We had an artist-in-residence who was a local TV reporter. She helped me put together one of my first news packages and would later encourage me to pursue a career in broadcasting. I did exactly what she said.
Q: Is there something Dreyfoos (SOA) could have provided that could have better prepared you for your college and career?
We were so new back then, but I really felt prepared for college. I felt I was surrounded by the best and even though I didn't know what to expect in college, I felt confident and sure of my future. I truly believe those values were instilled in me during my time at SOA.
Q: As an International Producer for C-SPAN, what is your day-to-day like?
Oh boy. Wild and crazy sometimes! But on most days, I'm juggling research on international public affairs and deciding what events C-SPAN should cover on the world stage. I serve as a liaison between C-SPAN and legislative bodies around the world. So I'm always researching ways we can bring in parliaments, international conferences, and world leaders to our audience. I produce our weekly Prime Minister's Questions coverage, which I've learned is an audience favorite! I also host meetings with foreign delegations who are typically interested in learning more about the political process in the U.S. or starting their own "C-SPAN" in their respective countries. As you can imagine, my work hours can be all over the place too since I'm working on everyone else's time zone. Some days I'm in at 5am and other days at work until 2am. During the 2015 British Election, I spent the night at work!
Q: In addition to your work at C-SPAN, you are the Founder and Host of Districtly Speaking, can you tell us a little bit about this?
Yes! I think deep down I've always wanted to host and moderate events. I found myself doing this in conversations with friends and associates. I was up on the issues because of my profession, but felt there wasn't a vehicle where we could have every day discussions on these important political and social issues. So one Sunday afternoon, in my friend's living room, I hosted an event to discuss the midterm elections. It was a packed house. So, I decided to open this project to the general community and hosted my first official town hall on October 18, 2011, discussing the legacy of the MLK's "I Have a Dream" speech. The town hall coincided with the opening of the MLK monument in Washington, DC. Four years later, we've hosted dozens of town halls and launched a few networking series and happy hours. Earlier this year, in response to the Black Lives Matter movement, we launched our first "tweet hall" to engage our community on Twitter. I'm so excited about what's to come!
Q: You also stay busy with other organizations such as emPower Magazine, the DC Gator Club, the Alliance for Women in Media, and Girl Scouts as a local Troop Leader. Why do you feel community involvement is so important?
I love staying active. Some people go to the gym. I serve on boards and in organizations to keep my "fitness" level up! (I like the gym too!). Serving in this capacity keeps me motivated and aware of what's around me. I take these roles very seriously and I'm always ready to give my time and energy. I also like to laugh and have fun in the middle of it all. I can't do everything, but I've selected projects and organizations that really matter to me the most. Be the change you want to see, right?
Q: What has drawn you to these organizations?
I believe we are all multi-passionate. And I also believe you need to get your hands dirty. I love serving for the greater good. It's not just a saying, but it's something I believe in and put into practice daily. Plus, I love community and I genuinely love connecting people. I am definitely a people person.
Q: What do you feel has been the highlight of your career so far?
Field producing our 2008 Election Night coverage in Chicago and then meeting President & Mrs. Obama at the White House Christmas Party. It was both a personal and professional highlight for me. I will never forget that experience. I also feel exploring my entrepreneurial spirit is another highlight. I own Districtly Speaking and my travel business, DS Traveler.
Q: Have you had the opportunity to work with any other Dreyfoos (SOA) alums?
Yes! I was so excited when the amazing and brilliant Fredara Hadley (Class of 96) was a panelist on my "tweet hall" discussing the Black Lives Matter movement!
Q: What recommendations or advice do you have for our current DSOA students?
I graduated with the most well-rounded and dynamic classmates. And thanks to Facebook and our wonderful 20th year high school reunion, we're all still connected. We were all multi-passionate and not just defined by our SOA department. SOA was a great exploration process. I thought I wanted to be a writer, but here I am a TV producer and host. Brand your career the way you see fit. The Communications Department helped me figure out what I wanted to do with my career and what I didn't want to do. But communication is still at the core of all of my projects and dreams. One more thing -- what you post, share, tweet stays with you for life! Be careful...especially if you plan to run for office someday!
Q: In a brief statement can you explain "What Dreyfoos (SOA) means to me"?
Dreyfoos (SOA) was an amazing educational and community experience that taught me the value of hard work and an appreciation for the arts. I will always treasure my time at SOA.
To connect with Jonelle, follow her on Twitter: @jonellehenry