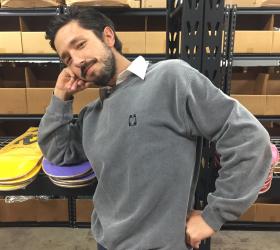 Nov 15, 2017
Q&A With Alum Grant Yansura
Q: Favorite Dreyfoos teachers?
A: All of the visual teachers were so real with their students. If I had to choose, I would say I drew the most inspiration from Mrs. Christo and Mr. Deluz. They are saints. Thank you for not making me feel dumb.
Q: What is the most profound change you experienced at Dreyfoos?
A: I'm not sure how to answer this one, what did other alumni answer? Is that cheating if I look at their answers?
I can't think of an abrupt change, but I think during my years at Dreyfoos I learned how to work with people creatively, take constructive criticism and learn from it. That and CityPlace lunch.
Q: Is there something Dreyfoos could have provided that could have better prepared you for your career?
A: The High School me would hate this answer, but taxes could have been talked about. Especially since a lot of creative jobs are independent contractors who could use some knowledge on the subject to save money. Other than that, Dreyfoos was harder and more informative than college for me. Can time management be taught? I could have used a class in that.
Q: When did you first realize that film was something you wanted to pursue?
A: It was a gradual progression honestly. I started filming my friends skate because none of them wanted to hold the camera. It kind of snowballed from there. Any chance I could use filmmaking as a medium for a school project, I did. When I wasn't in school I was skateboarding; both kept a camera in my hands.
Q: You left college to pursue a job offer. Tell us about how that came to be and what went into your decision to ultimately take the offer.
A: In the Summer of 2009 I interned in Los Angeles for one of the largest skateboarding companies at the time, called The Berrics. I didn't really think anything of it, went back to school and a year later I got a call from them offering me a job. I knew the offer wouldn't still be there if I stayed another year and a half to finish school. Not finishing school wasn't ever really a thought I had before this offer was on the table. I had to ask myself if I thought school or this job would lead to more opportunities. I chose to take the offer and get a head start on my career. Looking back I'm glad I made that decision.
Q: Through that opportunity, you made some connections at Nike and began working for them. What were some of your favorite experiences while shooting for Nike? Favorite places you traveled to?
A: Traveling the world with skateboarders I grew up watching (Lance Mountain, Eric Koston, Brian Anderson) and hearing all their stories in the van was unreal. I got all the questions I had for them since I was 13 off my chest.
Norway, Copenhagen, and Chile top the favorite places list but bringing them to West Palm Beach was the best trip in a different way. Having these skateboarders ranging from 20 to 50 years old over at my parent's house for dinner was a trip. To my left, my mom was showing Koston baby photos. To my right, my dad was on the couch talking to Brian Anderson about dogs haha. CityPlace tour, Howley's breakfast, Russo's subs (R.I.P)… the whole West Palm experience.
Q: What inspired you to start WKND?
A: Working for Nike was a dream but at the end of the day the concepts, the direction, the music used, everything had to be filtered through a team of people at the corporate offices in Portland. By the time an idea had gone through all the necessary levels it would come out completely different. So I started a brand to fill the creative void and give a home to the odd ideas I'd come up with my friends. Ideas that don't go over so well at a conference table.
Q: How did you decide to make the switch from working for a globally recognized company to working full time on your own venture?
A: I would work on WKND when I wasn't traveling and then it started to grow. I was trying to balance it and keep up with emails on my phone while traveling but eventually it got to a point where I had to decide to give it full attention or let it suffer and keep working for Nike. I chose to give WKND a shot. It's been 2 years since that decision and we're not out of business yet!
Q: Recently, WKND did a collab with Nike on a shoe release. Tell us about that.
A: Luckily I'm still really good friends with some people at Nike so they reached out about doing a collaboration. We designed a shoe with them which took about a year. They sent us to Hawaii to come up with a content piece to release online with the shoe. The shoe we designed was all white leather and was inspired by old sandlot baseball shoes so for the release party we played a baseball game WKND vs. NIKE. We won…
Q: What is your day-to-day like?
A: I would have thought starting a skateboarding company meant I'd get to skate more and do whatever I want. Instead I'm at my office 5 days a week. I usually go in in the morning with a creative task in mind but emails and daily production responsibilities consume most of the day. Those stop rolling in around 5:00 and then I'm able to edit or film, whatever it may be that day.
Does that sound boring? We do long lunches at the office! On weekends I'm out skating and filming whatever projects we're working on at the time.
Q: What would you say is the biggest challenge?
A: It just never stops……………
Q: What has been the highlight of your career so far?
A: We have a warehouse with offices and it's filled with my friends. That's the best part.
Q: Have you had the opportunity to work with any other Dreyfoos (SOA) alums?
A: Yep! Alia Huffman (Communications, '09) is in charge of production and design and Amy Ferguson (Communications, '08) is in charge of the books, but it's casual Friday over here so they're both wearing a bunch of hats.
Q: What recommendations do you have for our current DSOA students?
A: Keep those Dreyfoos friends close, you're gonna need them one day. A bunch of freaky-deaky talented people up in there and you're one of them so don't sleep on it. Also, pay attention in Spanish. I need to take Spanish again.
Q: In a brief statement can you explain "What Dreyfoos means to me"?
A: I think it means you didn't have a football team. Collaborating instead of competing. Being surrounded by so many driven students and teachers is a rare thing. I work with a lot of different people creatively and find it easy to do so. I blame Dreyfoos and all the teachers that inspired us.