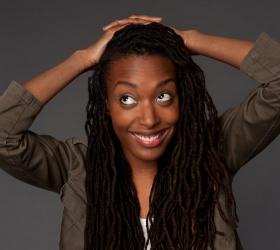 Oct 27, 2015
Q&A With Alum Franchesca Ramsey
Spotlight Date:
October 28, 2015
Download Original
]" class="imagefield imagefield-lightbox2 imagefield-lightbox2-spotlight_thumb imagefield-field_spotlight_photo imagecache imagecache-field_spotlight_photo imagecache-spotlight_thumb imagecache-field_spotlight_photo-spotlight_thumb">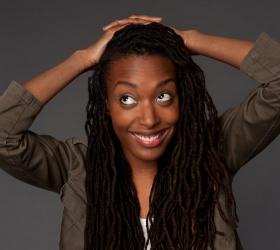 Franchesa Ramsey, Class of 2002 Theatre alumna, has been busy. Her YouTube channel has over 250,000 subscribers and her videos have over 27 million views. Francesca's 2012 YouTube video, "Sh*t White Girls Say…to Black Girls" (SWGSTBG) went viral and was featured on news outlets internationally. Since then, Franchesca has been a writer for Upworthy, has become the host of an MTV Web Series called "Decoded" that tackles social issues in a comical and inspiring way, and has moderated a panel at the White House, "Champions of Change: Young Women Empowering Their Communities", to name a few accomplishments.
Q: Favorite Dreyfoos teachers?
Mr. Ruth, formerly Sr. Ruth, Mrs. Williams, Mr. Robins, Mr. Lewis, Mrs. Macon
Q: College attended?
University of Michigan and Miami International University of Art and Design
Q: College graduation year?
2007
Q: What is the most profound change you experienced at Dreyfoos?
Before Dreyfoos I went to a small private school and was rather sheltered as a result. Dreyfoos really opened my eyes to a lot of different kinds of people and showed me that being different was something beautiful.
Q: Is there something Dreyfoos could have provided that could have better prepared you for your college and career?
Well, social media as we know it today, YouTube, Twitter, Tumblr and Facebook didn't exist when I was in high school. And most of them weren't around until I was half way through college! These days social media is an essential part of my career so I don't think there's anything DSOA could've given me to better navigate them.
Q: You are an actress, comedian, graphic designer, vlogger, and host of the MTV web series Decoded, how do you juggle it all?
Good question! Some days, I struggle to get it all done. But I'm a big fan of making lists and I try to keep my calendar super organized.
Q: A lot of your content deals with race and gender issues, why do you feel it is important to discuss these on a platform like YouTube?
YouTube is really cool because it reaches people worldwide, you can access content at your convenience and the audience and content creators can interact almost instantly. You don't get any of that with traditional media like television or film. So when it comes to talking about things that are "taboo" or more difficult, YouTube gives the audience an ability to connect with the content in a completely new and collaborative way which can make things easier to digest.
Q: In the past year, it seems as though your career has really flourished, expanding beyond the YouTube stardom of SWGSTBG, what do you think led to your increased visibility?
I think it's been a combination of things as opposed to one specific event. Each project, collaboration and video all kind of worked together to help grow my audience and lead to bigger opportunities. But I'd say one thing that made an impact on my career was my job at Upworthy. I worked there as a writer/curator for a little over a year and I learned so much about tackling touchy issues and creating content people would want to read, watch and share. That had a trickle-down effect and led more people to my videos, which eventually helped me get the opportunity to create MTV Decoded.
Q: What do you feel has been the highlight of your career so far?
There are too many to count! But last year my videos helped me connect with a little girl named Tiana Parker. Her mother reached out to me on Facebook after Tiana was suspended from 3rd grade because her locs violated her school's dress code. It was a pretty traumatic situation for Tiana and her story went super viral. It eventually led to her parents moving her to a new school and her old school ended up changing their dress code policy.
Her mom sent me a message and shared that Tiana had been inspired to loc her hair because of me! So when the family got invited to New York to be part of a news story on Tiana, we went out to lunch. Meeting Tiana and her family was truly a career highlight. It was so wonderful to meet a young black girl who was learning how to love and accept herself despite the world telling her that something as simple as wearing a natural hairstyle was "distracting." The fact that she would credit me with part of learning to love who she is was really incredible. The whole experience made me that much more committed to talking about important issues online and being a positive role model for other young girls like Tiana.
Q: Our students want to know: Is Danisnotonfire as adorable in person as he is on screen?
Ha! It's funny because I had no idea how popular Dan was when I met him at Vidcon (don't judge me!), but his reach is truly impressive. Dan is very charming, friendly, sweet and surprisingly tall. All the makings of someone adorable online and off ;).
Q: Is Hank Green as endearing in person as he is on the screen?
Yes! Hank is really one of the nicest people you could meet from YouTube. I'd say his only competition would be his brother John. Considering how successful they've both been both online and in traditional media, it's really cool to see how normal and humble they both are. Hank is always a text or email away if I have a question about something and despite breaking box office and literary record left and right John still manages to check his DMs on Twitter. It's remarkable.
Q: Have you had the opportunity to work with any other Dreyfoos (SOA) alums?
Not as much as I'd like to, but thankfully I still get to see a lot of DSOA alums around New York and whenever I go home or visit other states. Also, my husband is also an alumni, so we see people all the time. In college I used a bunch of Dreyfoos people in school projects as actors and models and they basically helped me graduate! Since then I've made a few videos and collaborated on project with, Michael Scriatto, Freddie Bennet, Katie Morrison (formerly Middleton), Rochelle Oliver and Kristina Donello.
Q: What recommendations do you have for our current DSOA students?
Take risks! Make stuff that's weird, challenging, funny, heartbreaking and everything in between. Don't be afraid to make mistakes - that's how you learn and become a better artist. Be nice to your teachers because they're awesome. Be nice to your classmates because they're super talented and you never know what you can learn from them or create with them.
Q: In a brief statement can you explain "What Dreyfoos means to me"?
Dreyfoos is an amazing community of artists that is changing the world for the better.