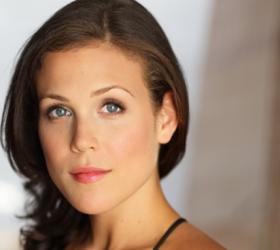 Apr 23, 2015
Q&A With Alum Erin Krakow
Spotlight Date:
April 24, 2015
Download Original
]" class="imagefield imagefield-lightbox2 imagefield-lightbox2-spotlight_thumb imagefield-field_spotlight_photo imagecache imagecache-field_spotlight_photo imagecache-spotlight_thumb imagecache-field_spotlight_photo-spotlight_thumb">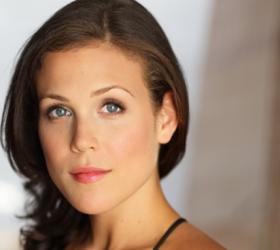 Erin Krakow, a Dreyfoos Theatre alum, is gearing up for the season two premiere of the Hallmark Channel original series "When Calls the Heart". Erin stars alongside Lori Laughlin and Daniel Lissing in the fan favorite period drama that returns this Saturday, April 25th. We were able to catch up with her so she could answer a few questions about her budding career, her fond memories of Dreyfoos, and some words of wisdom for current students.
Q: Favorite Dreyfoos teacher?
A: I'm going to get myself in trouble if I answer this one! I am grateful for every teacher I've had for their own unique reasons, but I am particularly grateful to Beverly Blanchette, Dennis Sims, Tom Robbins, and Garry Q. Lewis.
Q: What was your favorite performance while at Dreyfoos?
A: As usual, I'm having a hard time narrowing them down. Two shows that stand out the most in my memory are "A Chorus Line" and "All My Sons." Dennis Sims directed both projects. They were very different shows and very different roles for me, but both projects really helped me grow. In "A Chorus Line" I played Maggie Winslow – I remember replaying the dance steps in my head as I'd fall asleep every night after rehearsal. In "All My Sons" I played Ann Deever – a role and show that connected me to the power of human emotion.
Q: Is there something Dreyfoos could have provided that could have better prepared you for your college and career?
A: I felt incredibly prepared for the next step in my life post-graduation! I went to The Juilliard School and continued my drama training there. The time and energy that went into college audition preparation at Dreyfoos was invaluable! We certainly could have spent more time discussing what the professional life of an actor would be like, but I think it was wise not to jump that far ahead. I probably wouldn't have been ready to really digest that information.
Q: College attended?
A: The Juilliard School, BFA
Q: When was your first television role? What was that transition like from theatre?
A: My first television role came as a small recurring role on Guiding Light, but I continued to do plenty of theatre. Having a theatre background has been beyond helpful in my work in television. It doesn't feel like a big transition from one to the other necessarily, just an opportunity to discover new tools – but I find that to be true of any new role/project.
Q: You are currently starring in the Hallmark series "When Calls the Heart", tell us a bit about what that experience has been like.
A: It's been a dream! I get to do what I love every day and I get to do it with an incredibly talented cast and crew and network! "When Calls the Heart" is an episodic TV series inspired by the well-loved books by Jeanette Oke. The show takes place in the early 1900s. It really has something for everyone. I've heard from elementary school students to teenagers to husbands and wives to grandparents who are all enjoying the show and sharing it with their friends and families. We've been completely overwhelmed by the response! The 2-hour Season Two Premiere airs Saturday April 25th at 8/7c on Hallmark Channel. Subsequent episodes will air Saturday nights at 8pm through June 13th.
Q: How is it different starring in a period drama?
A: I love it! It feels like I take a time machine to work everyday! We have such a creative team of artists working together to create the world of "When Calls the Heart" – the sets, the props, the costumes etc. They try to honor every detail of the time period, which makes our job as actors so much easier! When we show up to set, we feel completely transported. The work that I do as an actor doesn't really change though. Obviously the world and time in which a person lives affects them, but a character is a character regardless of the time period. That's why everyone can relate to our show. The themes are universal. The human experience transcends time. The main difference for me in working on a period piece is wardrobe. They are GORGEOUS, but the corset does get a bit uncomfortable by the end of the work day!
Q: With the series taking place in British Columbia, how much time do you spend there during filming?
A: It depends on the length of the season, but approximately 4-5 months.
Q: Have you had the opportunity to work with other Dreyfoos (SOA) alums?
A: No, but I'd like to! Let's do it!
Q: What recommendations do you have for our current DSOA students?
A: Congratulations!! Pursuing a career in the arts is hard work. It is work that requires bravery and perseverance and you should feel very proud of the journey you have chosen! We can all slip into believing that the path to being a professional artist is destination based, but please remember that it will always be about the journey. There is no "right way" to be an artist. You are in a unique and special place at Dreyfoos. This is the time - the opportunity - to explore. Don't hold back. Take on creative challenges that stretch who you are as an artist! Be silly! Play! Allow yourself to grow!
Q: In a brief statement can you explain "What Dreyfoos means to me"?
A: I am so grateful for my time at Dreyfoos. I will always look back on that special place and time with absolute joy and pride. It helped shape me into the actor I am today, and I am so glad that future generations of artists get to experience that magic for themselves.