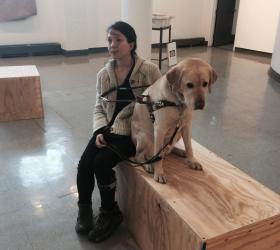 Jan 27, 2015
Q&A With Alum Emilie Gossiaux
Spotlight Date:
January 28, 2015
Download Original
]" class="imagefield imagefield-lightbox2 imagefield-lightbox2-spotlight_thumb imagefield-field_spotlight_photo imagecache imagecache-field_spotlight_photo imagecache-spotlight_thumb imagecache-field_spotlight_photo-spotlight_thumb">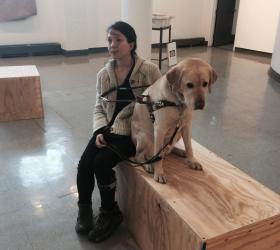 Emilie Gossiaux, a Class of 2007 visual arts alumna, recipient of an Award of Excellence from the Kennedy Center for the Performing Arts in Washington D.C., and a recent graduate from The Cooper Union speaks with us about her life as a working artist.
Born in New Orleans, Louisiana, Emilie began losing her hearing at the age of five due to an untreatable disorder; however thanks to a cochlear implant she is able to hear and speak. In 2005 Hurricane Katrina closed her arts high school program and she decided to relocate to West Palm Beach to finish her education at Dreyfoos. Then, in 2010 while attending Cooper, Emilie was riding her bicycle in Brooklyn when she was hit by a tractor trailer, an accident which left her completely blind. After rehabilitation and hard work Emilie returned to Cooper Union and graduated with her BFA in 2014.
Getting where she is today has taken dedication, willpower, and courage – to say the very least.
Q: Favorite Dreyfoos teacher?
I can't choose a favorite teacher. I really loved all of them: Scott Armetta, Jenny Gifford, Marsha Christo, Peter Stodolak, and Connie Rudy were all amazing teachers to me.
Q: What is the most profound change you experienced at Dreyfoos?
The change from moving to New Orleans to West Palm Beach was a big one, the cities are so different. Also living with a host family with people I've never met before was a little difficult, but exciting. The daughter of one of the host families I lived with ended up becoming my best friend, and we are still really close.
Q: You transferred to Dreyfoos from New Orleans Center for Creative Arts. What, if any, were the major differences in the schools/programs?
Dreyfoos is a much bigger school, with more students and a bigger campus. NOCCA was an off-campus site, which students from many different public and private schools could come to either after the full school day, from 3-5, or half day from 1-3. At Dreyfoos, I thought it was awesome that I could go to all of my art classes on the same campus as the regular classes.
Q: Is there something Dreyfoos could have provided that could have better prepared you for your college and career?
No, I felt like I was in very good hands, and had a lot of great support from my teachers at Dreyfoos when I was applying to colleges.
Q: While still in college, you were injured in an accident that took your sight, how has that changed the direction of your art?
I never stopped wanting to create art, so I developed new processes and learned new skills. My art has always been very tactile and sensual. I was always very sensitive to material and texture, so those things have not changed. I remember during my first years at Cooper, my sculptures were very monochramatic, I didn't use a lot of color. I stuck with mostly black and white. But after losing my vision, I feel like I have become more interested in using color, and thinking about color theory. How colors react to each other, and their cultural significance.
Q: What was that transition like when returning to finish your degree?
My last 2 years at Cooper were definitely my favorite. It was an amazing opportunity to be back, and it felt so good to have a studio again.
Q: Now that you have graduated, what is in store for you? What have you been working on?
I have had some of my art exhibited in different galleries, including Pippy Houldsworth Gallery in London, and 5 Press street gallery in New Orleans. Since I have graduated, I've been interning at the Metropolitan Museum of Art in the Access and Education departments. This year I started the training process at the Met to become a Museum Educator, so I will teach art making classes and lead gallery tours in the museum. I also have been working in a studio in Brooklyn on a few of my own sculptures.
Q: What recommendations do you have for our current DSOA students?
You must never underestimate yourself. Don't take this time in your life for granted. You must realize your full potential, and then you can do great things.
Q: In a brief statement can you explain "What Dreyfoos means to me"?
To me, Dreyfoos gave me a lot of freedom and independence. I moved to West Palm Beach from New Orleans by myself and lived with a host family for 2 years. This taught me how to discipline myself and take up responsibilities. Going to Dreyfoos also gave me a lot of freedom: to express myself, to stay in the class rooms after hours to complete projects, and to have fun with the art I was making. The atmosphere was wonderful, to be in a school where you are constantly learning from your peers, and being inspired by them as well.