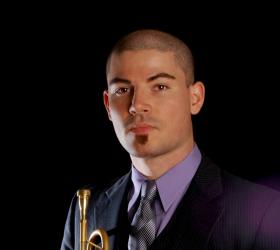 Feb 21, 2016
Q&A With Alum Charlie Porter
Spotlight Date:
February 22, 2016
Download Original
]" class="imagefield imagefield-lightbox2 imagefield-lightbox2-spotlight_thumb imagefield-field_spotlight_photo imagecache imagecache-field_spotlight_photo imagecache-spotlight_thumb imagecache-field_spotlight_photo-spotlight_thumb">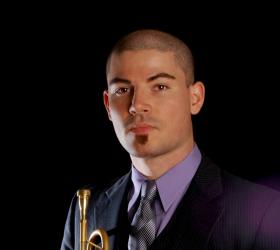 Class of 1996 alumnus Charlie Porter is a multi-genre trumpeter with a rich diversity of experience. Among the many awards to his credit, he was the first ever to receive 1st prize in both the Jazz and Classical divisions of the National Trumpet Competition. Charlie has performed throughout most of the United States and abroad with his eponymous quartet, Jazz at Lincoln Centers' Rhythm Road, the New Jersey Symphony, The American Symphony Orchestra, and the Dallas Brass. As a composer he was commissioned by Chamber Music America and The Doris Duke Foundation to compose "The Buddy Bolden Suite" which premiered at The Jazz Gallery and Jazz at Lincoln Center's Club to sold-out crowds.
This week, Charlie will be performing at the Alexander W. Dreyfoos School of the Arts 25th Anniversary Gala as one of our acclaimed alumni. Next week, he will be teaching a master class to our jazz students and holding a special workshop for the trumpet students.
Q: Favorite Dreyfoos (SOA) teachers?
Randy Sonntag and Wayne Miller, of course. They were most influential to me.
Q: What is the most profound change you experienced at Dreyfoos (SOA)?
The first time I ever improvised. I'll never forget it. I was playing with the Jazz band outside at lunch one day and Randy Sonntag, who was directing the band back then (I think it was 91') said "take a solo" and I said "I don't know what to play. What if I play the wrong notes?" and Mr. Sonntag said "Don't worry, just watch me" and proceeded to just play anything...not showing off, but purposefully kind of hitting the wrong notes and just having fun, and I thought "I could do that" and so I did! That was a game-changer for me. From that moment on I had no fear about improvising. Of course I needed to improve at it, but having someone show me that you could have fun, even at very the beginning, was SO important. I still try to keep that in mind...having fun.
Q: College(s) attended:
The Juilliard School – Bachelor of Music
The Paris Conservatory (France) - Fulbright Scholar
Manhattan School of Music – Master of Music
Q: Is there something Dreyfoos (SOA) could have provided that could have better prepared you for your college and career?
Financial Education. I don't remember ever having any economics classes or anything of that sort. A short class in the business of music would have been helpful. It is important as an artist to know how to leverage your abilities so that you aren't just earning money when you perform. Teaching, recordings, published music and instruction books, masterclasses, etc. are other ways in which a musician can gain income while still working on their craft.
Q: What was your first big break?
Well, I'm not sure that I have one "big break" to speak of, but many smaller breaks do come to mind. That being said, the big break was probably getting into Juilliard and winning the concerto competition as a freshman. Not to mention, having Wynton Marsalis for a mentor.
As for smaller (yet important) breaks, when I was 18, I was working as an assistant editor on a score by Phillip Glass for the Martin Scorsese Film "Kundun." This was a gig I got through the gig office at Juilliard. This already cool opportunity got a lot better when one day while they were recording the music for the film they realized that there were three trumpet parts but only two trumpeters were hired. The manager knew that I played trumpet and said "you wanna do it?", so then there I was, sitting next to trumpeter Wilmer Wise (who played first trumpet under Bernstein on Westside Story) recording a major motion picture soundtrack - pretty cool! That's New York for you, though. Other small breaks happened shortly after, like joining Absolute Ensemble, which has enabled me to perform and record with Paquito D'Rivera, Jo Zawinul, Peter Erskin, Kenny Drew Jr., plus many more. To add one more, when my band was chosen by Jazz @ Lincoln Center and the State Department to tour as jazz ambassadors in Africa...well, that was amazing!
Q: What is your day-to-day like as a professional musician?
When living in New York as a freelancer, it used to be more chaotic, in a good way. I might have done a rehearsal with the New Jersey Symphony, then a Broadway Show and then a late night jazz gig at Smalls. I think everyone should experience the multitude of things one CAN do in a place like New York and have that pressure of paying rent ;)
Nowadays, I live on a beautiful remote island in the Pacific Northwest, where I primarily compose and write music, getting ready for the next upcoming gig or tour. Now I'm more picky about what gigs I do and don't feel the pressure to take everything that comes my way, like I did in New York. When I'm not on the island "shedding" I could be anywhere ranging from Leipzig Germany, recording original music for an upcoming Television Show or a small jazz club in Portland, OR....you never, know. That is the beauty of it!
Q: What would you say is the biggest challenge?
The biggest challenge is to always keep improving and searching. It's easy once you've reached a certain respectable level to just level off there and rest on one's laurels.
Q: You have toured throughout most of the United States and abroad in Europe, Asia, the Baltic States, the Middle East, and Africa. What is your favorite aspect of touring?
My favorite aspect of touring...well, two things. 1.) Time goes slower when you tour. New experiences make you feel like a kid again. Everything is new and one day in a new place can feel like a week. When I go on a two week tour, I feel like I've lived an extra month or two. 2.) You realize that though places and customs are different that basically people are people, no matter where you go. What I mean is that people on the other side of the world are not all that different from folks in Florida. Playing improvised music makes one realize this even more. What we call "jazz" is nothing more than musical poetry and poetry is a universal language that everyone can speak. When I went to Africa, the Middle East, India, etc. had similar musical conversations with people I could "speak" a word with. If only we communicated through music more often, perhaps our differences wouldn't seem so big and insurmountable.
Q: What do you feel has been the highlight of your career so far?
Can't say that there is one in particular highlights that is better than any other...they are all so different. Being commissioned by Chamber Music American and The Doris Duke Foundation to compose a piece for my Jazz Sextet was an honor...performing and recording with Jo Zawinul in the last year before he died...touring the world with my own group and having spur of the moment jam sessions with local musicians...hard to say - they are all equally important to me.
Q: Have you had the opportunity to work with any other Dreyfoos (SOA) alums?
Well, I did see Ulf Bjorlin at one of his gigs recently in Brooklyn, where I sat in with the band for a few numbers. Other than that, not really, but I do look forward to meeting some other graduates and seeing what they are up to. Would be great to get the old quintet or sextet together sometime down in Florida and get to play with Michael Spur, Anthony McFarlane, Matthew Shae, etc.
Q: What recommendations do you have for our current DSOA students?
Go out to live concerts as much as possible! Seeing Wynton perform at the Carefree Theater, live, changed my life. Nothing replaces hearing great music up close, in person. Learn to play by ear, no matter what genre or style you play. Music is an aural experience and playing "classical" music is no excuse for not being able to play something you hear or not being able to improvise. Remember, Bach and Mozart were both expert improvisers.
Q: In a brief statement can you explain "What Dreyfoos means to me"?
Well, that's tricky because it wasn't called "Drefoos" until after I graduated. So, I will say that what SOA means to me in hindsight. It was the perfect storm of talented kids across different artistic disciplines and teachers that were empathetic to our artistic endeavors that resulted in an experience that was so far beyond anything I could have acquired at any normal school. Sure, we didn't have a football team, but there was always something inspiring in the air at SOA.