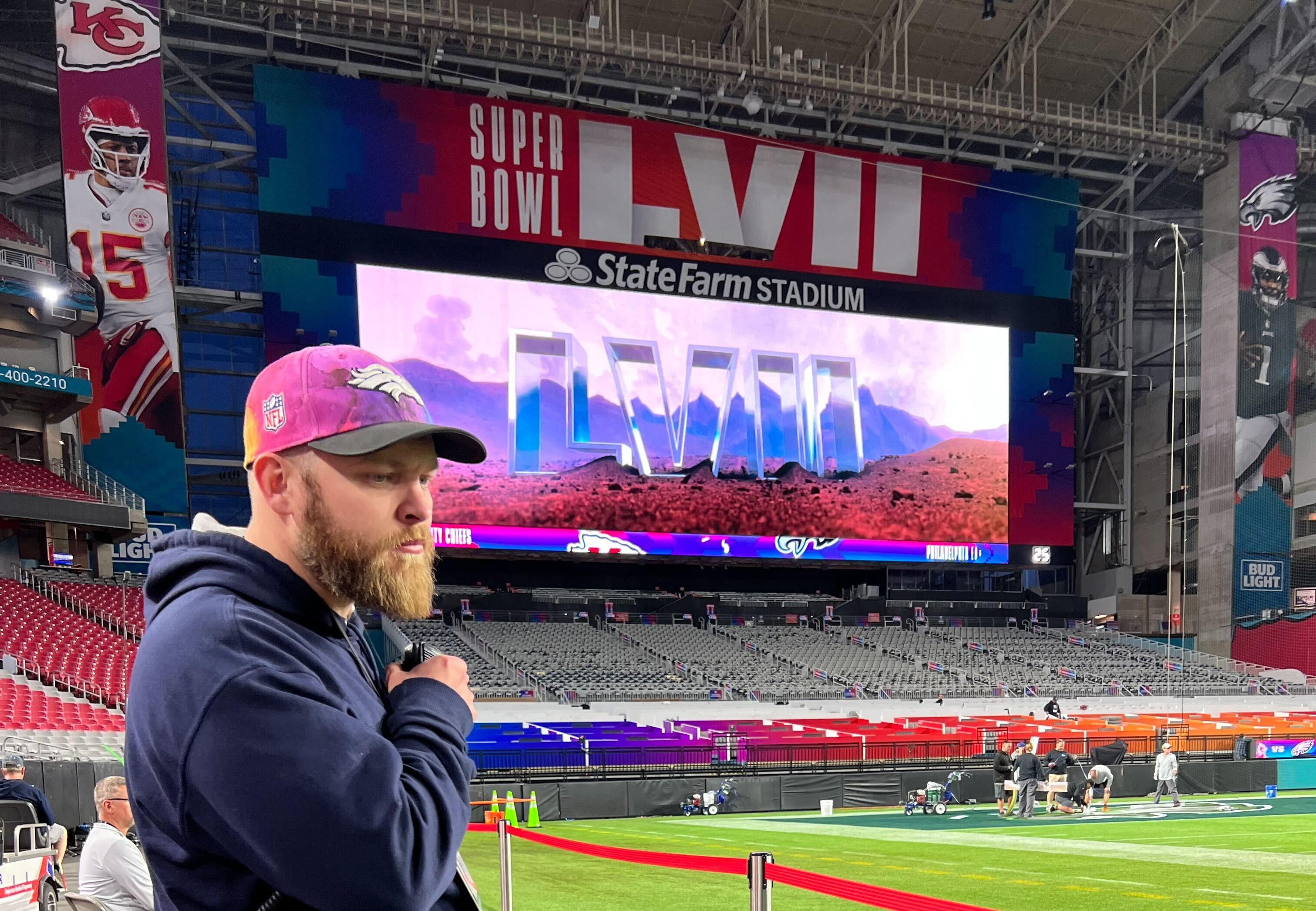 May 15, 2023
From Theater Major to Project Manager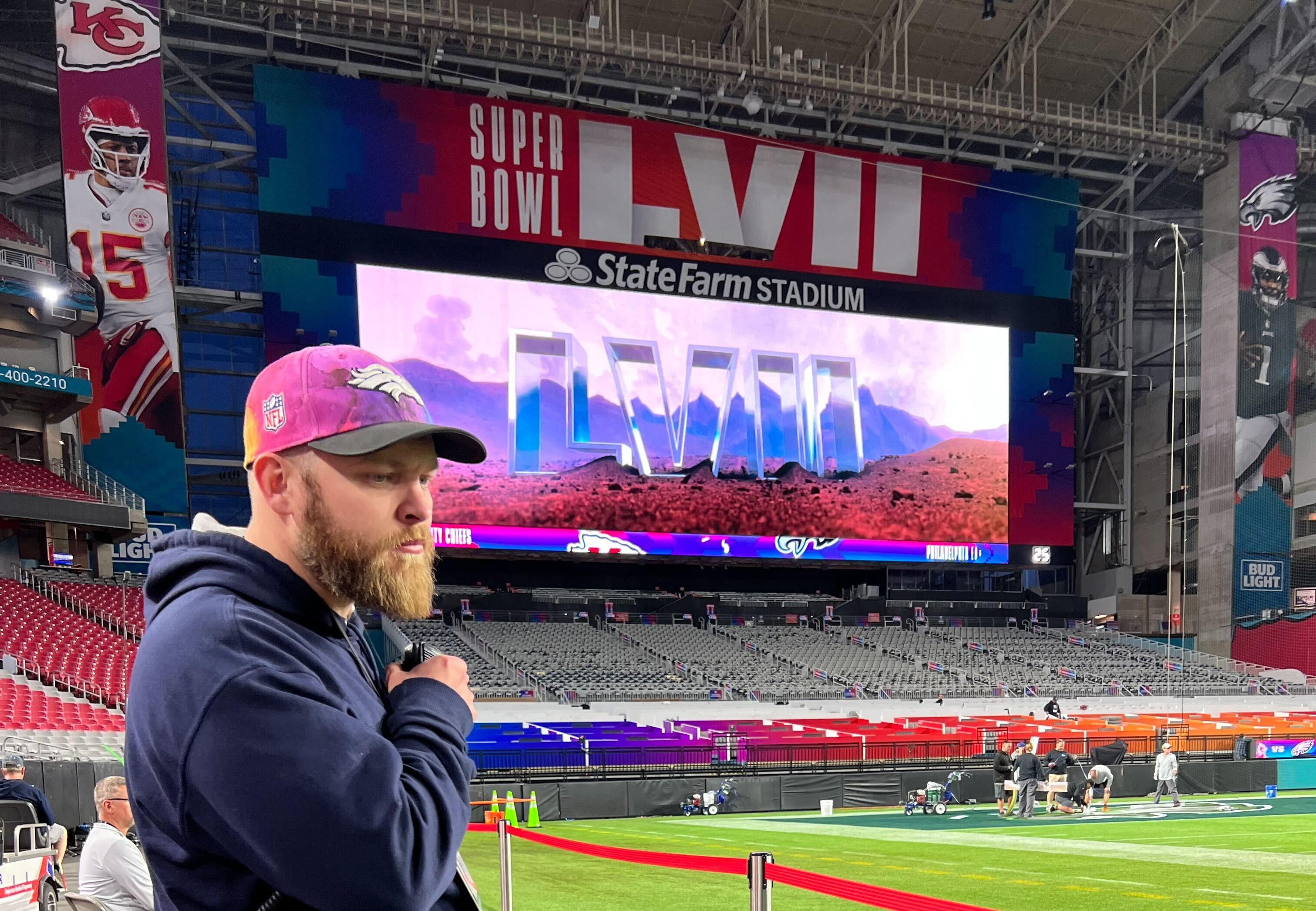 Story by Juliana DeFilippo
From Theater Major to Project Manager
Dreyfoos alumnus Erick Fields served as project manager for Rihanna's Super Bowl Halftime Show
"We have to make it safe, first of all. We have to make it reliable. And we have to make it redundant."
This was Erick Fields' mindset when serving as project manager for the Super Bowl LVII Halftime Show. During this time, he oversaw on-site projects, budgeted, and planned for the performance. Fields and his team provided the flying platforms Rhianna and her dancers performed from, as well as two of the cameras that filmed the show.
"We've flown a lot of pop stars around," said Fields casually. "But flying cameras and having that technology was a new thing and a really exciting effort."
Fields' career trajectory began at Dreyfoos, where he attended as a technical theater major until his graduation in 2012. He recalls working on shows with his peers for the theater department under the auspices of his mentor and teacher at the time Ed Blanchette.
"What he taught us prepared all of us for the world and what the realities are of creating those high-pressure situations, but also knowing that it's a safe space to still fail in high school," said Fields. "Just getting to be a part of some really cool productions and seeing people out there, you just kind of get used to it all."
Blanchette's guidance helped Fields attend Webster University in St. Louis, where he further pursued a career in technical theater and production. He interned for TAIT, a prominent company in live entertainment, where he now works.
On their website, TAIT states that the company is dedicated to "challenging convention and defying the impossible, finding and nurturing the best talent in the industry, and building our proprietary automation technology."
Fields, remaining humble, laughed while explaining it more simply: "We're number one, but I'm trying not to say we're number one."
Starting as a stagehand, Fields continued to work for TAIT, which ultimately led him to serving as the project manager for the Super Bowl Halftime Show, a task that required him to combine technical knowledge with innovation.
"We got a call in October of 2022 that this is what they wanted to do," said Fields. "We flew to the gig, not even knowing what it was. We knew it was going to be something big. We got there, they explained everything to us, and away we went."
Coordinating an event of this scale to go smoothly required a skill that Fields believes was instilled in him during his time at Dreyfoos.
"Collaboration. Collaboration is key. You can be the best in the world, but it doesn't matter if you're by yourself. You have to be able to work in a team. A lot of students graduate with an understanding of how to work as a team, whether that's as an ensemble in theater, or being part of a choir. You always have that sense of teamwork, and I think that goes a long way in life.
Understanding how to take someone else's idea or input in a positive way rather than always a negative way."
Fields' belief in the collaborative nature of Dreyfoos is reflected in his use of the phrase "Dreyfoos Mafia" when referring to fellow Dreyfoos alumni. He feels that he, and other alumni, are still connected to the school.
"Dreyfoos has always been a really special place to me, more so than college, more so than anything else really," said Fields. "It's really cool to see that it's still flourishing, and I'm really excited to always hear when other people are succeeding and that the 'Dreyfoos Mafia' is just growing and growing. It's cool to see that legacy build and continue to live on, and know that we were all kind of a part of something really cool."