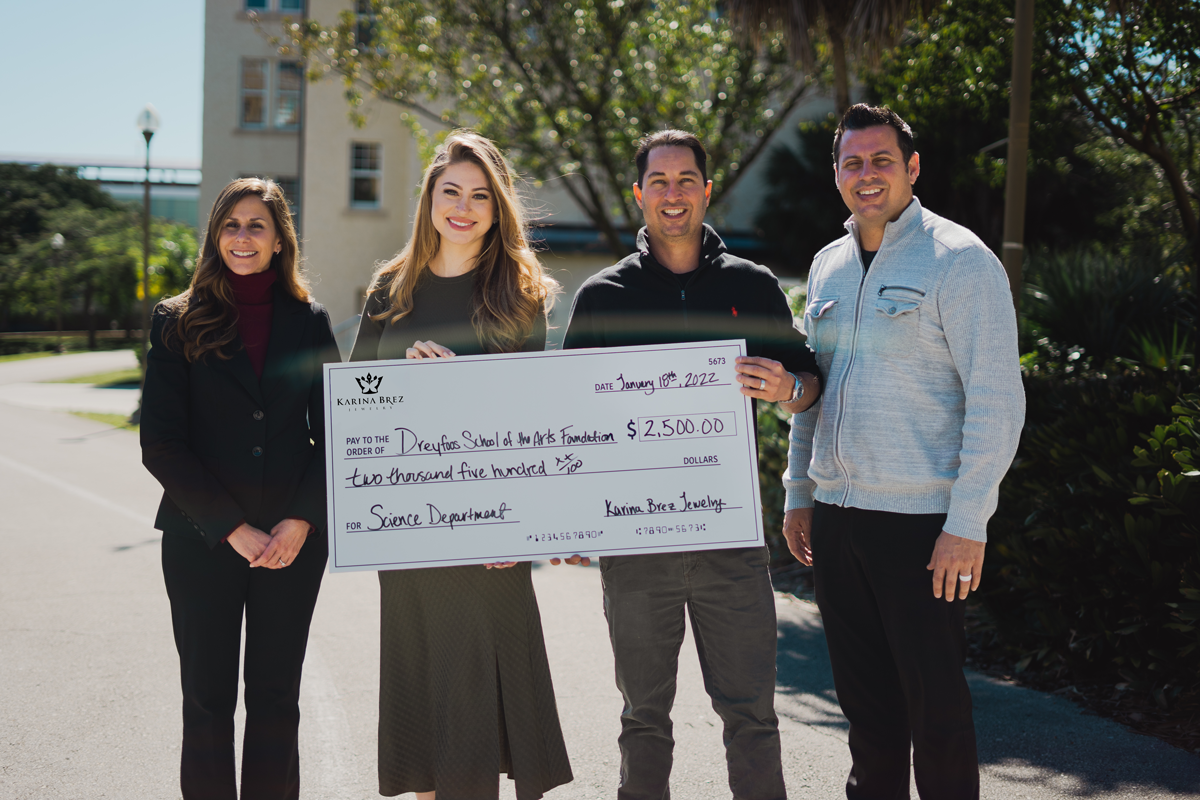 Jan 31, 2022
Dreyfoos School of the Arts Alumna Gives Back to the school that Inspired Her!
Dreyfoos School of the Arts Alumna Gives Back to the school that Inspired Her!

Dreyfoos School of the Arts 2006 Theatre Alumna, Karina Brez hosted a Grand Opening and ribbon cutting of her new jewelry store on Worth Ave, in Palm Beach Florida on November 19th, 2021, where a percentage of the proceeds from purchases benefited Dreyfoos School of the Arts Science Department.

As a proud alumna whose time at the school, especially a freshman year Earth Science class where they learned about rocks and minerals, inspired her to take the path of studying gemology and designing jewelry. "I am delighted to give back to the Dreyfoos School of the Arts. The classes taken there have inspired me to continue on the path that I am currently on. It gave me the opportunity to pick up my first microscope and mineral sets in science class, teaching me so much." She hopes to inspire future generations to study the gemology field and is excited to be able to support the alma mater that inspired her to start her own jewelry company, Karina Brez Jewelry.
For those who want to shop Karina Brez Jewelry in person, her Palm Beach flagship store is at located at 240 Worth Ave., Unit 116, Palm Beach, FL 33480. Karina Brez Jewelry is also available online at karinabrez.com.
###
About Karina Brez
A first generation Ukranian-American, Karina Brez earned the title of Miss Florida USA in 2012, and was inspired to design a jewelry collection after fellow contestants were impressed by the design she created for her own pageant dress. A horse enthusiast with a passion for gemstones, Brez completed the GIA Graduate Gemologist program, is an appraiser, and advocates for non-profits introducing children to the healing power of horses. Her signature fine jewelry collections are Huggable Hooves and Horse LUV. In 2020, Karina Brez was voted one of the top three Equestrian jewelers by Equestrian Living Magazine. She opened a retail location in Palm Beach, Florida in 2021.
###
The Dreyfoos School of the Arts Foundation provides support for the arts and academic curriculum at the Dreyfoos School of the Arts, a public arts high school, named among the top 100 public high schools in the nation, among the ten best schools in Florida, and the #1 public school in Palm Beach County. Dreyfoos School of the Arts Foundation, Inc. | P.O. Box 552, West Palm Beach, FL 33402 | Phone 561-805-6298 | info@soafi.org