Mar 1, 2023
Alumni Feature - Adam Hecht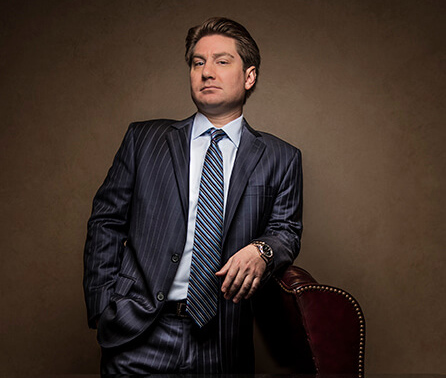 Adam S. Hecht Alumnus Feature
After attending Dreyfoos School of the Arts as a communications major, Adam S. Hecht works as an attorney in South Florida
When asked what his best memory of Dreyfoos is, Adam S. Hecht did not hesitate to say "That's an easy one," as he recalled seeing other students practicing their arts as he headed to his next class.
"I remember walking the halls and seeing the dancers dancing outside, the musicians playing in the courtyard, the visual students painting outside, communications students walking around with cameras," Hecht said. "To be exposed to all of that and watching young students doing what they're passionate about was such a positive, happy, wonderful memory that I look back on."
Hecht attended Dreyfoos as a communications major and chose to focus on debate, having known from an early age that he wanted to go into law. His experience with debate allowed him to excel in higher education, citing the confidence he gained from his time at Dreyfoos as the driving force behind his success.
"What the School of the Arts provides is the confidence to be able to get in front of a room and present. And at the end of the day every day, you're performing, when you're in a meeting or when you're trying to make an argument or sell something."
That same confidence allowed Hecht to pursue several internships during his time at the University of Florida, including one with former Senator Bill Nelson.
"I wanted very much to spend a summer in Washington DC and senator for Nelson. I had absolutely no connection to him, there were no phone calls made on my behalf, Hecht explained. "I was told that I had absolutely no chance because I was not his neighbor, I was not his family member. I applied and I received the internship, and looking back I was told by everyone you have to have a connection to have those opportunities. I had none, I did not listen to those people, I applied and I obviously spent a wonderful summer in Washington DC."
Hecht expressed that Dreyfoos not only prepared him for his career, but extended similar preparation to students of other art areas.
"I always enjoyed performing and being in front of the camera, so that certainly translates well to being a trial attorney," Hecht said. "Even in a different art area - theater, dance - you're performing. So even if you're not going to be on Broadway, but you will want to be in front of the camera or still want to be a presenter, there's so many different avenues for that."
He also conveyed his admiration for the organizational skills Dreyfoos demands, explaining that the time management required to balance art classes and academics prepared him for adulthood.
"You're not only taking your art classes, you're not only participating in extracurriculars almost every weekend and traveling," said Hecht, referring to the debate competitions he frequently attended outside of school. "So you have to learn time management, you have to learn how to prioritize, how to organize. Those would be the three main things I believe I learned from the age of 12 to 18 that have absolutely carried me through to where I am today."
Hecht's fondness for Dreyfoos and appreciation for the time he spent there is clear in his memories of the campus and staff that impacted him. He named Sherry Hubbard, his journalism teacher in middle and high school, John Day, his first speech and debate teacher, and Angela Anyzeski, his debate coach in high school and current dean of communications. His experience at Dreyfoos taught him that, above all, "hard work can pay off."
Today, Hecht is an attorney at Searcy Denney Scarola Barnhart & Shipley and focuses on cases involving medical malpractice, wrongful death, product liability cases, and personal injury.
Story by Communications Major Juliana DeFilippo
Photo from SearcyLaw.com