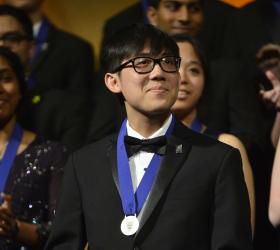 Apr 26, 2017
The Method to Success
Spotlight Date:
April 27, 2017
Download Original
]" class="imagefield imagefield-lightbox2 imagefield-lightbox2-spotlight_thumb imagefield-field_spotlight_photo imagecache imagecache-field_spotlight_photo imagecache-spotlight_thumb imagecache-field_spotlight_photo-spotlight_thumb">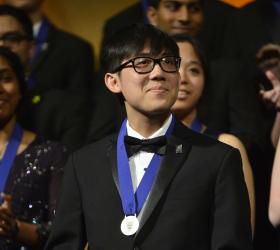 In his time at Dreyfoos, Class of 2017 Valedictorian Stefan Wan has been busy. A piano major that began playing at the age of 5, Stefan also has another passion: science. He has competed and placed 1st in the Regional State Science Fair for his project "Functionalizing biochar with layered double hydroxides for removal of phosphate and nitrate from aqueous solutions", eventually moving on to compete in the International Science Fair where he won 2nd place.
"Competing in science fairs has been a very humbling experience. I've seen projects with titles so complex, I can't understand 90% of the words. These projects represent a wide variety of topics. One project successfully turned skin cells into kidney cells and another project used supercomputer algorithms to develop new flu vaccines. Recognizing just how little I know in the grand scheme of things was the biggest impact that science fair had on me. For my project specifically, I engineered a new way to remove phosphate from water prior to its discharge into the Everglades and recycle the material to enrich farm soil. I integrated biochar, a charcoal-like powder, with layered double hydroxides to adsorb damaging phosphate from storm runoff and wastewater. Phosphate in water is very damaging to the natural ecosystems because it causes algae blooms like the one we had this past summer."
His project recently landed him at a conference in Washington, D.C. as one of the 40 of the finalists from thousands of applicants for the Society for Science and the Public's Science Talent Search. "It was just amazing to be surrounded by 39 other like-minded people for an entire week. Aside from judging, we had the opportunity to meet with our senators and leaders in the various fields of science, tour the monuments in DC, and generally have a fun time." Stefan placed 10th and was awarded $40,000.
Along with participating in science fairs, Stefan has also attended summer programs to further his studies in both piano and science. He attended the Eastern Music Festival in the summer of 2015 where he studied piano for 5 weeks and the Garcia Summer Research Program in 2016 where he conducted scientific research on hydrogen fuel cells for 6 weeks.
Influenced by listening to his older brother Chris Wan (Class of 2013 Valedictorian) practice pianon, Stefan strived to sound like him and believes that his piano studies have offered him balance. "I see my brother as more of a mentor and role model, which definitely helped me achieve valedictorian."
"Dreyfoos has offered me the opportunity to pursue piano as a part of my school curriculum. If I went to my home school, I would have had to choose between piano and science. In addition, Dreyfoos offers academic flexibility. Generally, I was allowed to take the classes I felt would best suit my goals. Dreyfoos is the place where I really became myself."
Stefan Wan has been accepted into MIT where he plans to study chemical engineering before pursuing a PhD.