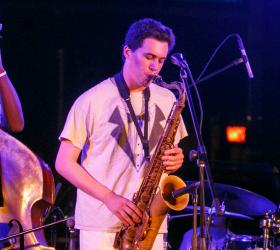 Nov 29, 2016
Jazz: A Universal Language
Spotlight Date:
November 30, 2016
Download Original
]" class="imagefield imagefield-lightbox2 imagefield-lightbox2-spotlight_thumb imagefield-field_spotlight_photo imagecache imagecache-field_spotlight_photo imagecache-spotlight_thumb imagecache-field_spotlight_photo-spotlight_thumb">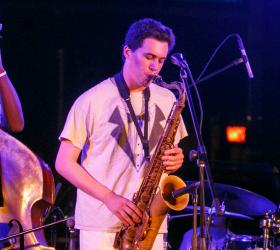 Austin Klewan, a senior in the Band Department, began playing saxophone at age 10. Growing up, Austin listened to classic rock bands, mostly The Beatles, and credits them with influencing his style of playing. "I love playing jazz, but I also try to incorporate stuff like what The Beatles did with music, as well as other rock groups, into my playing to make it more unique and accessible to another crowd of fans."
Before attending Dreyfoos, Austin thought of playing the saxophone as just a hobby, but has since changed it to be his focus. "Dreyfoos has given me a reason to want to play saxophone. In addition to having the best faculty in Palm Beach County, Dreyfoos has a fantastic atmosphere for budding musicians like myself. We are encouraged to get together with each other and play music, and you can hear music being played everywhere around the campus. Not every school has that."
Last spring, Austin and the rest of Dreyfoos' Jazz Ensemble 1 headed to Savannah, Georgia for the Swing Central Jazz Competition. This was the first time Dreyfoos participated in the festival, and were selected as 1 of 12 high school bands from across the country. They took home first place, winning $5,000 for their program.
"Swing Central Jazz was awesome; we had tried out the previous year but were not selected, so there was definitely a sense of progress with the band and that gave us all great spirits to begin with. There were many very talented clinicians at the festival that we worked with, and learning from these distinguished musicians was a fantastic experience. The band and I certainly learned a lot. The icing on the cake was our band winning the competition, which was made even more special considering that we beat the band that had won the previous 2 or 3 competitions there. It was the point in the year where the band came together as a real family, so that was really an awesome feeling we had."
Over the summer, Austin participated in the Brubeck Jazz Institute in Stockton, California, as well as the Berklee Global Jazz Institute in Newport, Rhode Island. "I had never traveled far outside of the east coast before, so going to California was a big trip for me. It honestly felt like a whole new world to me; the music just felt different out there. The Berklee camp also followed that same sort of thing, as they gathered kids from all different places in the country, as well as some international kids from Scotland and Panama. Looking back, I think these camps were trying to show us that jazz was a universal language that is around all over the world. It has inspired me to want to travel the world and play music everywhere I go."
Many have seen Austin perform at our Foundation events, such as Dreyfoos in White, or our Guild Musical Luncheons. At school, some of his favorite performances are the Jazz Combo Concerts. "In the past, the final combo concert of the year has gone on for sometimes 3 or 4 hours with no breaks. It is just a night full of music and fun. It sounds like a long time, but the musicians don't feel it and the audience doesn't either; I'm sure they would agree that it is one of the must-attend performances that Dreyfoos puts on every year."
After graduation, Austin plans to study Jazz Performance in college, hopefully at either the University of Southern California, University of Miami, Northwestern, Juilliard, or the University of Cinncinnati. "If I am lucky enough to end up at USC, then there would be no shortage of opportunities as a session musician for TV shows and movies, as well as playing regular shows around the city." We certainly look forward to hearing Austin in one of our next favorite shows.