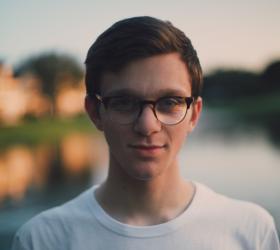 Jan 4, 2017
Art and Activism
Spotlight Date:
January 5, 2017
Download Original
]" class="imagefield imagefield-lightbox2 imagefield-lightbox2-spotlight_thumb imagefield-field_spotlight_photo imagecache imagecache-field_spotlight_photo imagecache-spotlight_thumb imagecache-field_spotlight_photo-spotlight_thumb">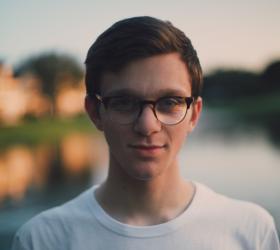 Matthew Nadel spent his middle school years as a theatre student. It was during a film shoot, however, where he learned his true passion. "During eighth grade, I was cast as the lead in a UCF student film called "Safety First" and I was ecstatic. My dad and I drove to Orlando to film, but when I arrived, I found myself distracted: I was much more interested in what the crew was doing – shaping the story, designing shots, dressing sets – than what I was doing – acting. From that point forward, my passion shifted from working in front of the camera to working behind it. I founded my middle school's TV Production Club with an incredible teacher, Ms. Gorora, and my interest in filmmaking has only grown since I arrived at Dreyfoos."
Now a senior in Communication Arts, Matt is not only an active filmmaker, but has served as the President and Speech Captain of Dreyfoos' Speech and Debate team. "I became a member of our Speech and Debate Team while taking Mrs. Anyzeski's speech class during freshman year and have continued in speech and debate since then. I competed in Congressional Debate during my freshman and sophomore years and subsequently transitioned to Original Oratory, a ten-minute speech event that allows me to share my perspective. I have had the incredible privilege of traveling around the country to compete in speech and debate tournaments for four years."
His experience on stage both in theatre and in debate, served him well this past October where he was given the opportunity to present an award at the GLSEN Los Angeles Respect Awards.
"GLSEN is the leading national organization committed to ensuring the safety and success of LGBTQ+ students in schools. I applied to the National Student Council at the end of last year and received news in June that I had been selected and would be invited to Washington, D.C. for an activism summit. Since then, GLSEN has given me an incredible platform on which to serve the LGBTQ+ community. Specifically, I work to promote GLSEN's days of action, like Day of Silence, No Name-Calling Week, and Ally Week; share my story; and bring a youth perspective to their agenda-setting process. GLSEN hosts the Los Angeles Respect Awards every October to honor individuals and corporations that have made a meaningful impact on the LGBTQ+ community, and this year they invited me to speak. They flew me to Los Angeles for a black-tie ceremony, where I presented an award to Target Senior Vice-President Rick Gomez alongside actress Nina Dobrev. It was surreal to meet some of the queer activists and celebrities who really helped me become comfortable with my identity and empowered me to come out."
Here at Dreyfoos, Matt works towards similar goals as a Co-President of the Gender and Sexuality Alliance, a community for the LGBTQ+ students and their allies at Dreyfoos. "Dreyfoos is an environment where self-expression (in a variety of forms), identity, and inclusion are valued. The safety of this space has enabled me to live a better life, make better art, and more fully realize my potential."
Summers do not slow down for Matt, who has spent time at New York University's Tisch Summer Filmmakers Workshop and the California State Summer School of the Arts, where he was given the title of California Arts Scholar in Film. "Summer programs have been instrumental in my development as a filmmaker. At Tisch, I was able to collaborate with other incredible cinematic artists and make films in the greatest city in the world."
Matt has been accepted Early Action to Yale University, where he plans to double major in Film and Politcal Science. "I hope to use my education to connect art and activism, learning to effectively use the media I make (particularly, film) to educate and enlighten audiences and to further the causes about which I'm passionate."