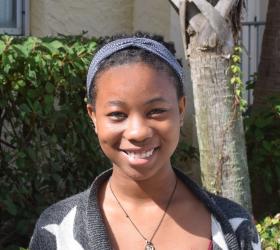 Feb 22, 2017
Acting on an Opportunity
Spotlight Date:
February 23, 2017
Download Original
]" class="imagefield imagefield-lightbox2 imagefield-lightbox2-spotlight_thumb imagefield-field_spotlight_photo imagecache imagecache-field_spotlight_photo imagecache-spotlight_thumb imagecache-field_spotlight_photo-spotlight_thumb">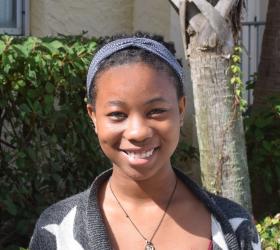 When students make the decision to audition for and ultimately attend Dreyfoos, they are also making the decision to leave their home school, neighborhood, and friends. Often this means travelling from all over the county via train, bus, or car. For Theatre senior Jessica Posey, this means commuting for two and a half hours each way from Belle Glade. "Dreyfoos has offered me the chance to have a theatre education. In my town, arts aren't a big deal; it is more focused on football than theatre."
Jessica got her first taste of theatre in elementary school, where she was in a school play about self-image. She took her role so seriously that her teacher recommended she pursue acting. She didn't consider it until middle school, where she joined drama club and was able to create her own play and put on a show for classmates.
Jessica dreams of becoming a professional actor so she can someday inspire young people. "The acting industry is taking baby-steps to change and become more diverse and inclusive of people of color. I want little kids to be able to see someone who looks like them on stage or on the screen. Films and plays have the power to change how people see the world - I want to be a part of that change."
Although travel time has prevented Jessica from being involved in productions at Dreyfoos, she has participated in productions at the Dolly Hand Cultural Arts Center at Palm Beach State College in Belle Glade.
"Dreyfoos means opportunity to me. I believe Dreyfoos gives a plethora of opportunities to all of their students that they wouldn't have if they went to another school. The opportunity to pursue their art, to thrive academically, and most importantly, the opportunity to be themselves and also find themselves."
Through help by the Foundation, Jessica has been able to attend the Florida Theatre Conference as well as the National Unified Auditions in Chicago. There she was able to audition for numerous theatre programs at colleges and universities. "It's always been a goal of mine to attend college in New York and I hope to do that at Marymount Manhattan College or Pace University."
"I plan to study acting in college to acquire the skills needed to succeed and also make connections to use in the real world of acting so that I can make it a career. I plan to use my voice for all the little black girls and boys who don't see themselves represented. I believe that the first step to equality and diversity is within the media."