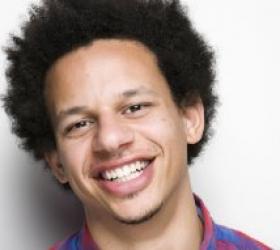 Apr 21, 2013
Q&A With Alum Eric Andre
Spotlight Date:
April 22, 2013
Download Original
]" class="imagefield imagefield-lightbox2 imagefield-lightbox2-spotlight_thumb imagefield-field_spotlight_photo imagecache imagecache-field_spotlight_photo imagecache-spotlight_thumb imagecache-field_spotlight_photo-spotlight_thumb">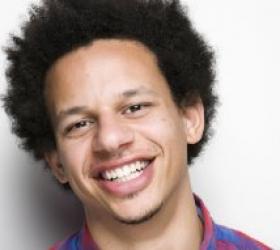 Class of 2001 Music alum, Eric Andre, has put down his bass and stepped into the comedy spotlight. Eric is a hard working stand-up comedian who has parlayed his natural comedic talent into several acting roles and his own talk show The Eric Andre Show on the Cartoon Network's Adult Swim. You might also recognize him as the Barry the barista On ABC's Don't Trust the B---- in Apartment 23 or as a Geico caveman!
Eric has a unique interview style. Whether he is the one asking the questions or the one being asked, you never know what is going to come out of his mouth or what is going to happen. Nothing appears to be off topic or taken too seriously. The Eric Andre Show is a hilarious spin-off of the standard talk show format. Here is what we were able to pry out of Eric.
Q: Favorite DSOA teacher?
A: Mrs. Beermann
Q: Is there something Dreyfoos (SOA) could have provided that could have better prepared you for your college and career?
A: No, DSOA was the best! I learned a little from all the art forms and had a great nurturing creative environment.
When Eric graduated from Dreyfoos he went on to attend Berklee College of Music and was a Bass principal; he received his BFA in 2005. But music just wasn't in the cards for Eric; he was disillusioned by the music industry and turned to stand-up comedy.
Q: For people who have never watched The Eric Andre Show can you briefly describe what they are missing?
A: The most miserable talk show of all time.
Q: How would you categorize your style of stand up?
A: Psychedelic
In reality The Eric Andre Show was highlighted in a New York Times article titled "The Rise of the Anti-Talk Show" which read, "Mr. Andre, a stand-up with a lopsided smile, has nervy, flailing energy. He is either barreling forward … or falling apart, defeated, humiliated, often nude. His performance has a reckless volatility bubbling up close to the surface."
Q: What recommendations do you have for our current DSOA students?
A: Work really hard and treat people with kindness.
Q: What does Dreyfoos mean to you?
A: Dreyfoos allowed me to make the best personal relationships I still keep and allowed me to grow in a creative environment that I wouldn't have been a part of at my local high school. It also wasn't full of racist sexist homophobic jocks, so that was good.
Eric has some exciting projects coming up. He is slated for several stand-up gigs around the country including a set at Bonnaroo Music and Arts Festival in Tennessee this June, he is in pre-production for season 2 of The Eric Andre Show and you can catch him on the big screen this summer in The Internship starring Vince Vaughn and Owen Wilson.
Check out his unique interview style on
Late Night with Jimmy Fallon
, where he among other things talks about his "stand up" behavior at DSOA.
For more clips and to see when Eric is coming to your town visit his website
www.ericandre.com