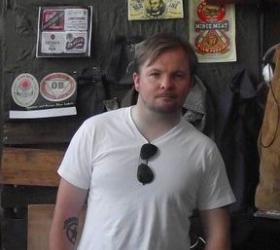 Sep 21, 2012
Q&A With Alum Brandon Brady Fitzpatrick
Spotlight Date:
September 22, 2012
Download Original
]" class="imagefield imagefield-lightbox2 imagefield-lightbox2-spotlight_thumb imagefield-field_spotlight_photo imagecache imagecache-field_spotlight_photo imagecache-spotlight_thumb imagecache-field_spotlight_photo-spotlight_thumb">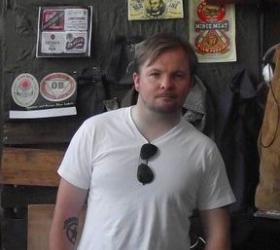 Class of 2000 Dreyfoos School of the Arts Visual Alumnus Brandon Brady-Fitzpatrick has just accepted a position as Senior Designer of Apparel at New Era. New Era has been making the official field cap of MLB for decades and was recently contracted to design the official field cap of the NFL. Brandon will be developing New Era branded urban sportswear to go with their iconic caps. The concept and release dates are still very hush-hush at this time but truly exciting things are just on the horizon.
With the guidance of then Visual Dean, Jane Grandusky, Brandon changed his plans from wanting to pursue animation to realizing his goals as a fashion designer. Upon graduation he went on to attend the prestigious Parsons The New School for Design.
While at Parsons Brandon quickly stepped into the design world doing creative jobs for Ralph Lauren and as an Associate Designer for Orvis Signature Label Men's Sportswear where he picked trends and fabrics for upcoming seasons and looks. He opted to not graduate and instead pursued the garment industry with a fever. Brandon was most recently the head designer at Nat Nast, a menswear designer, where he managed a small team of designers to execute seasonal looks and designs.
Along with his many years of freelance work Brandon has been quietly launching his own brand, The Brooklyn Sheriff Clothing Company. Brooklyn Sheriff is a vintage inspired menswear line. Think Gangs of New York with a modern twist: rugged jeans, tweeds, distressed leather all with dandy tailored refined elements. The inspiration came from New York City during the industrial revolution; a time when millions of immigrants from all walks of life were constructing the city of New York to become the metropolis it is today. Keep your eyes peeled for his line.
As New Era looks to the future of their brand there in no doubt Mr. Fitzpatrick's keen eye for design and aesthetic will help them on their way.
Do you know an alumnus who deserves to be in the Spotlight? Email the Foundation.