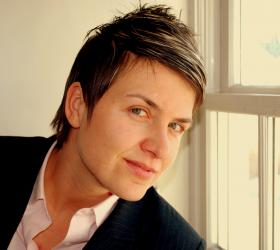 Nov 21, 2012
Q&A With Alum Kasia Reterska
Spotlight Date:
November 22, 2012
Download Original
]" class="imagefield imagefield-lightbox2 imagefield-lightbox2-spotlight_thumb imagefield-field_spotlight_photo imagecache imagecache-field_spotlight_photo imagecache-spotlight_thumb imagecache-field_spotlight_photo-spotlight_thumb">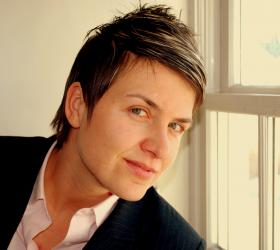 Kasia Reterska, a class of 1997 Communications alum took some time out of her busy schedule to candidly answer some questions about her experiences at the School of the Arts and how that shaped her career.
Ms. Reterska is currently Vice president at Fenton, the largest public interest communications firm in the United States with offices in New York, San Francisco, Washington, D.C., Los Angeles and London. They combine decades of expertise with creativity and innovation to accelerate progress on today's most pressing global and national issues. Their first client was Nelson Mandela.
Kasia manages several corporate and nonprofit clients with multiple teams with budgets totaling about $2 million. Her focus is on crisis management, message and brand development, leadership positioning, stakeholder engagement and corporate and public affairs management. Her recent and current clients include: ACLU, Avon, CDC, Enerkem, GE, General Mills, Half the Sky Movement, Kate Spade, Merck Foundation, Novartis, United Nations Development Program, Warner Bros. and a former deputy prime minister of Russia (by far the most colorful experience of them all).
During her time at the School of the Arts Kasia majored in communications, "though I dabbled in Theatre for a year, which was catastrophic. Thanks Mrs. Blanchette for putting up with me".
Q: What is the most profound change you experienced at SOA?
A: I cut my hair short and never looked back...it was so liberating not to mention lessened the fuss of getting ready each morning - not that I wore beauty queen hair every day, but still. Also, meeting and developing a magical and lasting friendship with Cotter Douglas Christian. He continues to be a force of greatness in my life. Also, watching my brother Milosz (an SOA alum too) transform from a high school kid to the globetrotting, brilliant rockstar he is today. Making and maintaining other super friendships helped shape me, too. Like with Susi Kandel. And others...you know who you are.
Q: Favorite DSOA teacher?
A: That's a tough one. I had a number of favorites for different reasons. Ms. Sherri Catalano Hubbard (née Mills), Señora Smith (despite her insistence that I was a thief for stealing a yellow plastic Quidado Piso Mojado sign from a janitor at a store on Worth Avenue; it was purely a symbol of my devotion to the Spanish language and my contribution of a real world artifact to her classroom. She and I never saw eye to eye on that, unfortunately), Mr. Deluz, Ms. Marshall, Lady Pfeffer (the lovely standby substitute teacher and Stephanie Pfeffer's mom).
After high school graduation Kasia attended NYU film school, and received a BA in Communications, she then went on to earn her MA in international affairs from Marymount Manhattan, New School.
Kasia doled out a little advice for college students, "Always remember to confirm you properly dropped a class if/when you're adding/dropping at the start of the semester. I have a horrendous recurring dream where two weeks before graduation I'm told I got an F in English class and consequently need to repeat a year because I didn't drop the class the right way". Luckily that didn't happen and she graduated, on time.
Ms. Reterska went on to explain how she arrived at her current career.
A lot of it was serendipitous. I always liked storytelling - my own stories and those of people who had no voice. My first job in New York outside the fascinating and sometimes unsavory nightlife scene involved working with Cuban and Haitian refugees for International Rescue Committee. The next job I worked on an HIV/AIDS communications advocacy campaign for Save the Children in Malawi. Then I worked as a press officer for a human rights organization that sought to bring war criminals to justice in post-conflict countries (Liberia, Sri Lanka, Cambodia, Former Yugoslavia, Rwanda, Colombia, and so on). Just before the Beijing Olympics I was hired by Edelman, the largest global PR firm, to help message and publicly position some of their Fortune 500 clients about corporate responsibility, specifically regarding human rights. From there I came to Fenton, where I currently work, to help build the corporate responsibility practice - essentially to help companies and public sector organizations have positive social impact while conducting business in a sustainable--and profitable--way.
Q: What recommendations do you have for our current DSOA students?
A: Getting good grades in school is important, yes, but it's not everything and certainly not something to lose sleep over. In my view it's critical to go outside your comfort zone, be endlessly curious, learn by doing (beyond the classroom) to become a valuable contributor to the world. Look for real life experience outside of school. Get an internship in something completely different from your studies. Volunteer helping Haitian refugees. Travel to a place that makes you uncomfortable. Be scared every now and then. And try to have as much fun as you can along the way.
Life is so much more fun after high school. My two kids, dog Penelope, and Nicolle, my partner of 12 (!) years are proof that it gets better. Embrace who you are and don't let bullies bring you down.
Do you know an alumnus who deserves to be in the Spotlight? Email the Foundation.