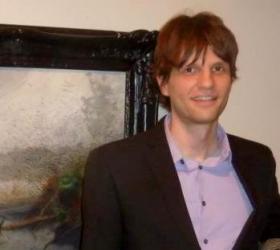 Mar 21, 2013
Q&A With Alum Scott Armetta
Spotlight Date:
March 22, 2013
Download Original
]" class="imagefield imagefield-lightbox2 imagefield-lightbox2-spotlight_thumb imagefield-field_spotlight_photo imagecache imagecache-field_spotlight_photo imagecache-spotlight_thumb imagecache-field_spotlight_photo-spotlight_thumb">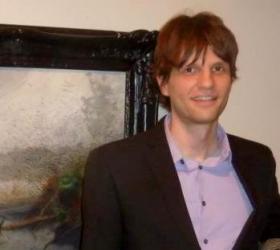 Scott Armetta is a painting and design teacher at Dreyfoos School of the Arts as well as a working artist. Scott is also a Visual Department alum from the class of 1994 --- the first graduating class! He is one of the few who have experienced the school from both sides. Scott took some time between classes to answer a few questions about his experience.

Q: What was it like being in the first graduating class of Dreyfoos (Palm Beach County School of the Arts)?
A: It was great - I'm fortunate, one year older and I would have missed it! It was very small. We had 99 graduates, 100 if you counted Burt Reynolds who was made an honorary graduate. He spoke at the graduation. It was nice being in an environment where you pursued your interests without backlash from faculty or other students. There was an openness. There was, and still is in my experience, an artistic and intellectual rigor while remaining friendly.
Q: Favorite Dreyfoos (SOA) teacher?
A: Jane Grandusky and Connie Rudy – they helped influence me to think in a richer way, not only about art, but generally as well.

Q: What is the most profound change you experienced at Dreyfoos (SOA)?
A: A significant part of it was a thoughtfulness, to think through rather than more mechanically responding. My critical thinking was developed here.

Q: How did you arrive at your current career?
A: I moved to New York after I graduated college and had various jobs- photo assistant, guard at the Metropolitan Museum of Art. I was accepted to Hunter College and decided to move back to Florida to save up money for my graduate school. Jane Grandusky called me for an Artist in Residence position, so I basically became a part time teacher. This was the first job that I really liked and it stayed interesting and vital, so I was fortunate enough to make it my full time job.
Q: What differences do you see from the old school and the new school?
A: The old school was intimate - very small. But the new campus is beautiful, distinctive. Having more space also allows more students the opportunity to go here.

Q: What do you feel has been the highlight of your career so far?
A: Being able to work with, and hopefully positively influence, the students here – as artists, but perhaps more importantly, as critical thinkers, because that relates to art in addition to just about every other endeavor they'll take part in.

Q: What do you think makes a good artist?
A: To be thoughtful enough to create as sincere a body of work as possible - to find what really moves you - to not get too distracted by what is particularly hot now.

Q: What do you think makes a good art teacher?
A: The ability to let the students see and experience as many ways of expression as possible. When they are aware that all of these modes of creation exist, they become more able to choose among them while developing their own work.

Q: You recently had a solo show at the Armory Art Center how did that come about?
A: Talya Lerman, the Director of Education at the Armory, as well as an SOA graduate asked if I would be interested based on some of the work she'd seen of mine, so we set up a studio visit and I was fortunate enough to be able to show there. It was a great experience.

Q: How long does it take for you to create one of your pieces / what is your process?
A: The time it takes depends on the work. If it is a painting the time scale for it to really feel finished for me is generally in months, not weeks. I go out and gather images that move me and I find ways to manipulate them until I enhance the aspects that intrigue me and eliminate or obscure the non-essential areas.

Q: What recommendations do you have for our current DSOA students?
A: To really think through what it is that you want to do. An art college may be great for the right students but it isn't always the most appropriate choice. For example, some may want to go to a university to experience a wider scope of classes and options while they find out what they really want to do. College debt is also something to be very aware of.

Q: In a brief statement can you explain "What Dreyfoos means to me"?
A: It's a place where students of varied backgrounds can find encouragement and a strong educational background, both artistically and academically, so they can become more thoughtful and engaged with the world.

Do you know an alumnus who deserves to be in the Spotlight? Email the Foundation.