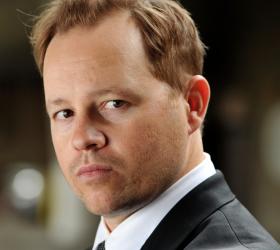 Dec 21, 2012
Q&A With Alum Joshua Harto
Spotlight Date:
December 22, 2012
Download Original
]" class="imagefield imagefield-lightbox2 imagefield-lightbox2-spotlight_thumb imagefield-field_spotlight_photo imagecache imagecache-field_spotlight_photo imagecache-spotlight_thumb imagecache-field_spotlight_photo-spotlight_thumb">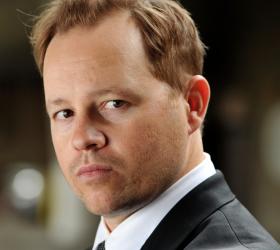 Joshua Harto, a class of 1997 School of the Arts Theatre alum, is an actor, writer and producer. Since beginning his career at age 15 on the Nickelodeon series "The Mystery Files of Shelby Woo" he has appeared in numerous award winning and critically acclaimed plays, television series and films; most recently opposite Michael Sheen and Sam Jackson in Gregor Jordan's controversial film, Unthinkable. Many of you may remember him as the blackmailing attorney 'Coleman Reese' in The Dark Knight.
As a television writer and producer, Josh along his wife Liz W. Garcia, has sold TV pilots to CBS, ABC, FOX and NBC. Their show Memphis Beat ran for two seasons on TNT with George Clooney's Smokehouse Pics producing and starring Jason Lee and Alfre Woodard. This year they are creating a project for NBC with Gordon Ramsey attached as an executive producer.
Josh has worked extensively on the New York stage, premiering plays for the likes of Doug Hughes and John Guare and starring opposite legends such as Kate Burton and Amy Wright. His long list of Independent films includes The Believer opposite Ryan Gosling and Swimming opposite Lauren Ambrose.
When asked how his experience at the School of the Arts shaped his career path Josh offered this explanation:
"It isn't profound enough of a statement to say that my SOA experience shaped my career path in some way. My SOA experience is directly responsible for any and all professional success I have had. SOA has the ability to see a hidden spark of something special in otherwise "ordinary" kids, helps them to hone in on it and develop it. Had the faculty not seen that and allowed me to attend, it's difficult to imagine who or where I would be today. I can say with a good deal of certainty though that I would not be the fully realized adult I am.

The school helped me to define myself as a young adult, and artist, and businessman based on the specific and unique qualities I possessed. Not on a set of general, one size fits all, criteria handed down by some kind of legislative board. Yes, there were all the tangible opportunities that come with attending an art school: being able to work at your chosen art every day, perform on stage, learn about design and music and history, receiving professional help, learning about the business of the business, meeting talent agents and industry professionals. But most importantly, SOA fostered an environment where it was safe to explore who you were becoming as an emerging adult. SOA taught me that it was okay to be my own unique self. And I can't stress what an important quality that is. I see it over and over again, as the single most important shared characteristic of those who are the most successful in the professional arts world. And I would venture to say the same is true in most arena of employment.

I talk about this with fellow alumni often. Each and every one of whom, whether they followed an art career path or not, are contributing something special and unique to the world. My wife loves to watch over my shoulder as I scroll through Facebook, delighted at the incredible, unusual and profound achievements, bold ideas and rich voices everyone one of them posses. Though she attended one of the top high schools in the country, she is constantly surprised and fascinated (and I think a little jealous) by our experience at SOA and the stables of prolific individuals the school has turned out."
A few weeks ago when I asked Josh about his career highlights he responded, "I have a good one that I think will be exciting, but I won't be able to talk about it until Wednesday at 1pm west coast time." The suspense was killing me … I updated my Google alert and waited. This past summer Josh produced and starred opposite Kristen Bell in The Lifeguard which his wife Liz wrote and directed. On November 29th it was announced that The Lifeguard was selected to compete at Sundance!
Josh commented on what attending the School of the Arts meant to him, "It really means everything to me. I wasn't a kid who was blessed with a wealthy family, or any kind of special connections. There really shouldn't have been any kind of easy path for me to achieve my goals. But SOA came along. It was the defining factor in my life. The school, the teachers, the staff and my fellow students as a whole were the opportunity I needed to change the direction of my life." He concluded, "I am who I am, where I am, able to do what I do (a job that, by the way has the ability to affect countless others) because of the School of the Arts. And I am just one of so many that I know feel the same way."
Do you know an alumnus who deserves to be in the Spotlight? Email the Foundation.