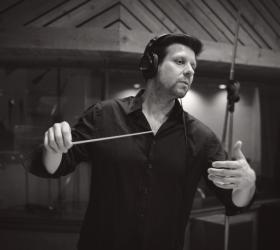 Feb 17, 2013
Q&A With Alum Carlos Jose Alvarez
Spotlight Date:
February 18, 2013
Download Original
]" class="imagefield imagefield-lightbox2 imagefield-lightbox2-spotlight_thumb imagefield-field_spotlight_photo imagecache imagecache-field_spotlight_photo imagecache-spotlight_thumb imagecache-field_spotlight_photo-spotlight_thumb">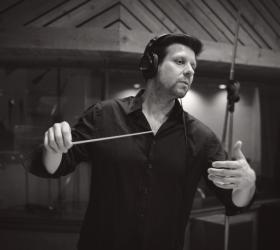 Carlos José Alvarez is a Los Angeles based film composer and percussionist. As a child in a musical Cuban household, he was exposed to a spectrum of music, ranging from the Cuban masters to the great symphonies. Enthralled by Cuban rhythms, Carlos took up percussion. He is a class of 1998 Music Department alum who had the experience of attending both Palm Beach County School of the Arts and the newly named Alexander W. Dreyfoos School of the Arts.
Carlos has contributed his talents to notable films such as Deadline (starr. Brittany Murphy, Thora Birch), One for the Money (starr. Katherine Heigl), 9 (starr. Elijah Wood), Fame and Discover The Gift. Additionally, he has composed the music for numerous national and international commercials including BMW, Acura, Best Buy, Kia, Home Depot, and Expedia. He considers himself as much a storyteller as a composer; breathing life into the characters and luring the audience into the story.
Q: What is the most profound change you experienced at SOA?
A: My first year there was pretty life-altering. I had come from an even smaller private school and the transition was scary for me. I didn't know whether or not I would fit in or what to expect. But I was excited to meet other artists and I immediately felt at home within that community. Mr. (Wayne) Miller pushed us, believed in us, and inspired us. He always saw us greater than we saw ourselves. I knew it was where I belonged. We were a little weird and different and it was all ok.
Q: What was it like being the first class to graduate from the newly named Alexander W. Dreyfoos School of the Arts?
A: We were all pretty nostalgic about leaving the old campus. It was our training ground and we took with us so many memories. It was where we had grown together as friends and as artists. But I think moving campuses was a perfect lesson in how to adapt and transition at that age, and I think in some ways it prepared us for the next step in our lives. We were such an incredibly talented class and I felt a sense of pride in the legacy we were leaving behind at the new campus.
Q: How did you arrive at your current career?
A: I was obsessed with films as a child and was mesmerized with the roll music played in them. There were few things that excited me more than sitting in a dark theater. The first album I ever owned (which I saved up for) was John WIlliam's score to "Jurassic Park". I would play it over and over again while standing on my bed conducting to it. I wanted to be a part of it and had made a subconscious decision that I would one day work in Hollywood. Though I don't think I publicly acknowledged it until my senior year of high school.
When I got to college, I started composing music for student films, trying to figure it all out. One thing led to another and after graduating, I made the decision to move to Hollywood. It was a bit tough in the beginning, but I found my way and had great mentors. It's been quite the roller-coaster and I remind myself everyday how lucky I am to be doing this.
Upon graduating from Florida State University with a BA in music, Carlos was honored with a scholarship to attend the prestigious Berklee College of Music, graduating magna cum laude with a diploma in Film Scoring. He then accepted a conducting fellowship to study with maestro Michalis Economou with the Athens Symphony Orchestra
Q: What do you think makes a good film composer?
A: Writing a great piece of music is one thing, but understanding how music shapes a story, a scene, a character, a line of dialogue… that is a different skill entirely. I think the great film composers are as much committed to the story-telling as they are the music. They are passionate about the marriage of music and image and have that special sensibility of knowing what is needed and when it's needed.
Q: What do you feel has been the highlight of your writing career so far?
A: Personally, I would say it's my most recent score to the film Cubamerican. I've dreamed of the opportunity to compose music that would celebrate my Cuban heritage and serve as a tribute to the sacrifices made by my parents and grandparents' generation. It's a really great film and was a labor of love for everyone involved. I was able to record the score using first-class Cuban musicians along with the City of Prague Philharmonic Orchestra. It was kind of a dream gig.
Q: What is your next project?
A: I'll be composing the scores to two films: The first one is titled "Una Vida: A Fable of Music and the Mind". It's a drama about a neuroscientist's journey to uncover the mysterious past of a New Orleans street singer stricken with Alzheimer's. It's actually a very moving story. The other, is the action film "Payday: The Heist" which is a modern day Robin Hood story based on the Sony online video game. Both could not be more different and will have their own unique challenges. I'm very excited.
When asked what Dreyfoos means to him, Carlos put it simply, "SOA is where I discovered who I was and where I was going. It is where I decided that music and my artistic expression would be my life's work. It was the foundation for everything to come."
Visit www.cubamericanthemovie.com to watch the trailer to Cubamerican
Do you know an alumnus who deserves to be in the Spotlight? Email the Foundation.