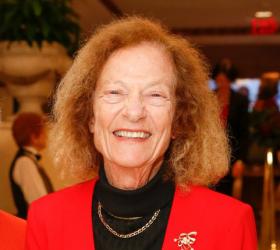 Sep 28, 2016
Steadfast Support
Spotlight Date:
September 29, 2016
Download Original
]" class="imagefield imagefield-lightbox2 imagefield-lightbox2-spotlight_thumb imagefield-field_spotlight_photo imagecache imagecache-field_spotlight_photo imagecache-spotlight_thumb imagecache-field_spotlight_photo-spotlight_thumb">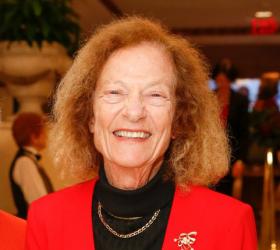 Many of our Dreyfoos supporters have a personal connection to the school, a student, or were introduced by another supporter. For Audrey Halperin, curiousity and a love for the arts sparked her interest in the School. "My husband and I would regularly attend performances at the Kravis Center and we wondered about the school that was right next door. We did some research and found out about Dreyfoos and all the wonderful performances they had. We attended several performances and met and talked with the students. We were thrilled by the excitement of the students and the education they receive from all of the teachers, Artists in Residence, and Guest Artists."
Since then, Mrs. Halperin has become a member of the Foundation Guild, attended Musical Luncheons, and wouldn't miss the Prism Concert. "I love the Prism Concert. I remember seeing it when it was on campus, but the year it premiered at the Kravis Center I was blown away!" Just this week, Mrs. Halperin made sure to attend the first Philharmonic Orchestra concert of the school year.
The Arts have always been a major part of Mrs. Halperin's life. "Growing up we were always surrounded by art – everyone in my family played the piano including my Mom and Dad. My sister's artwork covers my walls. I took modern dance lessons, because I couldn't keep up with my sisters on the piano, and I loved it. I love going to see the Miami City Ballet, all the performances at Kravis, and as many shows as I can fit in at Dreyfoos."
Supporting Dreyfoos remains just as important to Audrey now as when she and her husband first discovered the School. "I have four kids and 10 grandchildren, my husband and I always had an interest in fine education. Dreyfoos is such a great example of this in our area. After my Husband passed away I wanted to continue supporting the Foundation and School because of what it provides to the students no matter their background." This year, she is sponsoring the Foundation's newest event, Dreyfoos LIVE!, an evening cocktail reception that is part of the Guild Musical Series.
"When these students go out into the world they bring so much joy to everyone they come in contact with. They make our community, any community, a better place. The Foundation provides support to kids who cannot afford lessons, or instruments. Thanks to the extra support they receive these exceptional students get a chance to develop into greatness - a chance they wouldn't get at a traditional school."